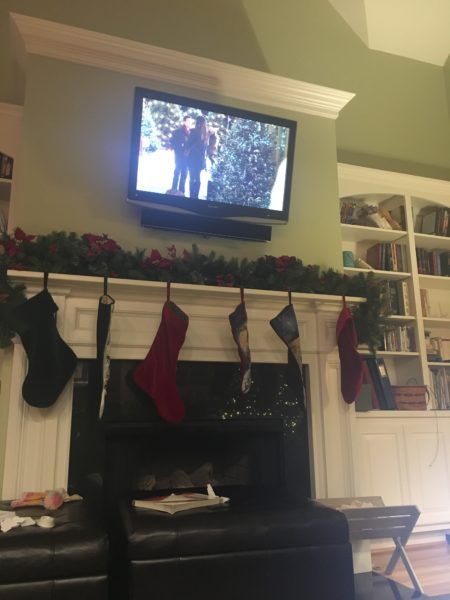 We are still decorating around our house. Even though we started the Saturday after Thanksgiving, the process of moving things all around leaves me wanting to clean off my shelves and make space. So it never ends up being a simple process. Right now there are boxes of books we are trying to sell and meanwhile find a spot for the decorations we love.
I may also have the Hallmark Channel on as often as I can. Typically the tv isn't on in our house, but since Thanksgiving when the Christmas movies started…well, that's a little different. Where we live we can't get cable, so we are trying a month of Sling TV (it's still a little hard to buffer live).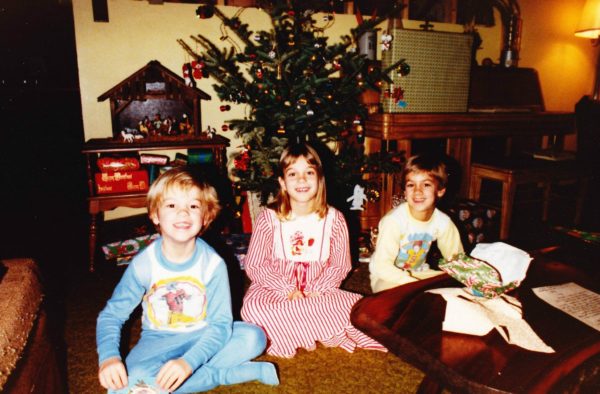 For decorations this year we added a creche. Growing up we had one (see it behind our hilarious tree?). This picture is one of my favorites of me and my brothers because it has so much of what I remember from being young.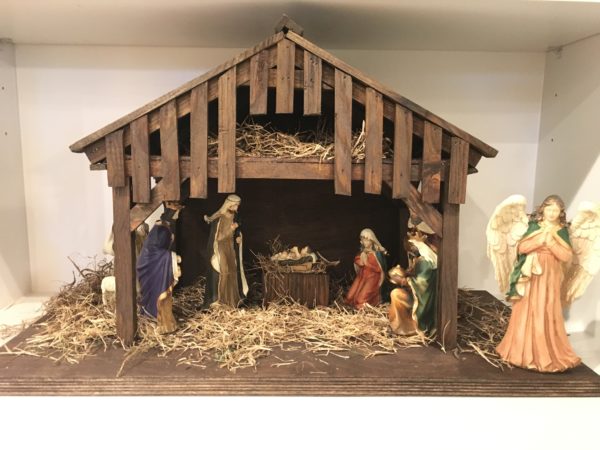 Last year I asked my dad to make a creche similar to the one we had and have our boys help. He finished it up this weekend and we set it up in our bookshelf. We found some figures for it and I love it. My dad is going to make some for my brothers as well and then hopefully we can make one for each of our kids too. I'm all about passing along traditions to our kids, and this one definitely is one to keep going.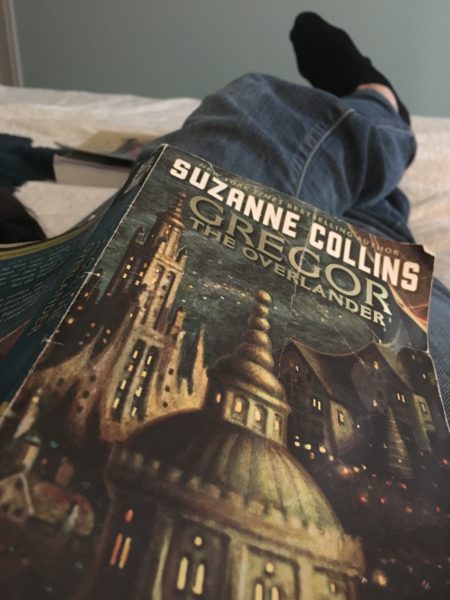 The boys and I have spent a lot of time reading this week. Years ago our entire family read the Gregor the Overlander series (so good!!), so when the boys asked to read this again, I was happy to oblige.
You all, I really do enjoy reading out loud. Sadly, I'm easily distractible and will admit that with the boys it's harder than it was when the girls were involved. The girls could sit for hours and the boys aren't always as thrilled. I haven't been as committed this fall with reading out loud, so we are trying to remedy that.
Now that we've finished this book, I have a few on hand for the boys to choose from, so we'll see what happens after Christmas.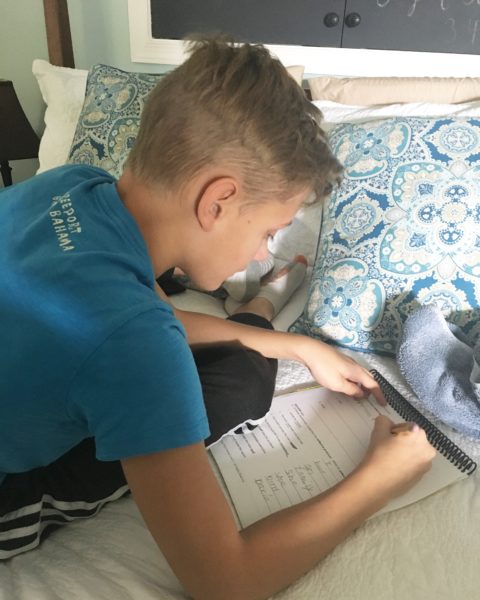 My bed has been the place where quite a bit of Kaleb's learning has been happening this week. It's warm and cozy in my room (and snuggling can happen). Kaleb has wrapped up his handwriting book and will start on typing after Christmas, so in the meantime I've had him do a LOT more of his own writing in his workbooks.
Writing is honestly one of Kaleb's least favorite things. He doesn't mind handwriting books (go figure), but when it comes to completing other assignments – the eyes roll and the whining begins. It hasn't gone like sunshine and roses, but he is getting to the point now where he is mostly ok with it (grins).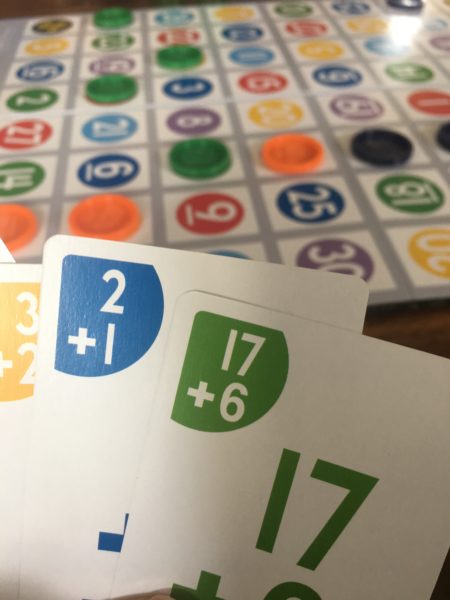 On Wednesday, Kaleb was having trouble getting the laptop to work, so we put his math aside for the day and instead pulled out Numbers Sequence and played a few games – thus fulfilling my love for games and a bit of fun for the day too. :)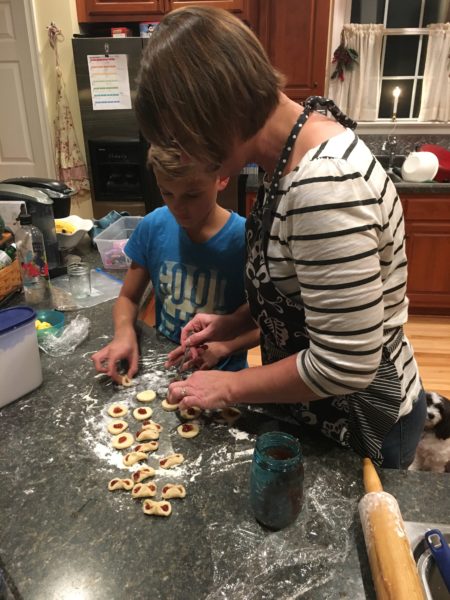 After we finished school for the day, Kaleb helped me make a Dutch cookie recipe. I have one cookie I remember having when we were little, but my mom can't remember what in the world I am talking about.
I did a little research (it wasn't a sweet cookie, but more of a savory – if that makes sense) and the closest thing I could come up with was a cream cheese cookie (super simple for the most part). I want to try them again, but this time minus the jam, since that will be a little closer to what I remember.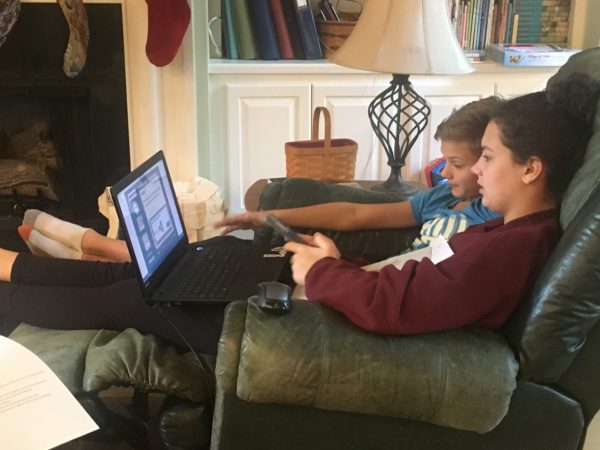 One of the chairs in our living room lost a leg this past week, so we brought up a huge recliner we have in the basement. The kids are rather enjoying it, and have decided that it is a fabulous place to do just about anything.
Thursday morning, I had a doctor's appointment and just before I left, looked over to see this happening. McKenna was working on her Geometry, and Kaleb decided to sit and watch with her. She was explaining how to do the problems and it was hilarious because he was figuring out some of the problems in his head.
Three of the kids headed out on Thursday night to go to a swim meet all day Friday. Laurianna and I get to spend the morning together working on Pre-Calculus together – exciting times, no? :)
That's about it for our week – what have you been up to? How was YOUR week?