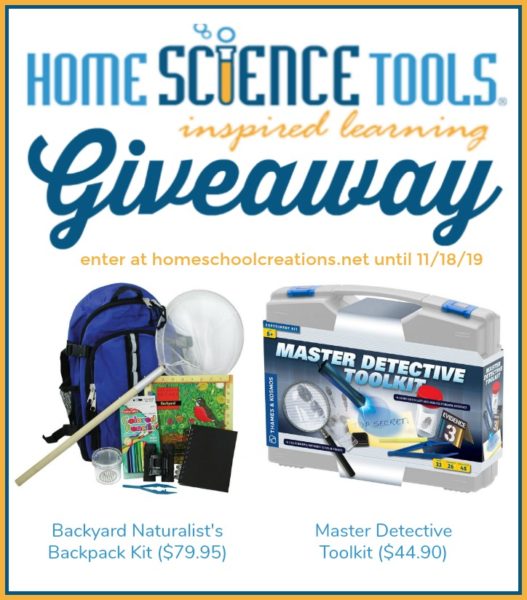 Science and fun experiments are definitely something we love in our home. More recently we have been ordering our lab supplies from Home Science Tools, but their company offers so much more than just lab materials!
Over the next several days, I will be sharing some great giveaways from Home Science Tools to both get your family thinking of science-related gifts for Christmas and to put some tools in your hands that will make science even more enjoyable!
Today's giveaway features TWO products and both are described a bit below, but I'd encourage you to visit the Home Science Tools website and check out their science gift guide as you begin your second semester planning and holiday shopping.
Backyard Naturalist's Backpack Kit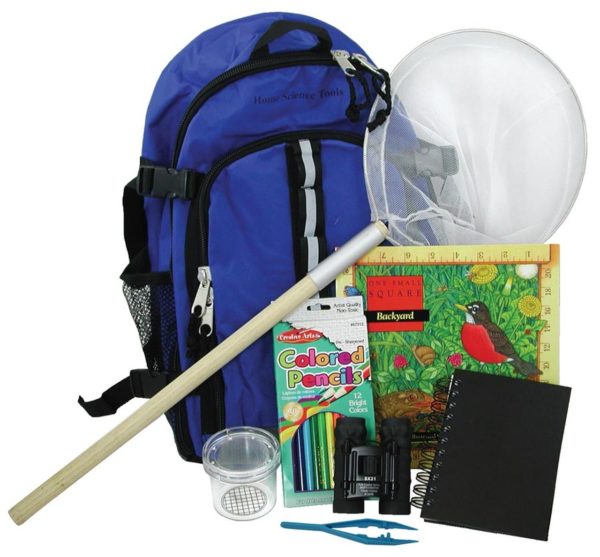 This Naturalist's Backyard Backpack Kit is designed for children ages 5-12, with age-appropriate tools to help them get the most of the outdoors, starting with their own backyard. The kit includes the following items:
Nature Backpack – Your kids can easily take this durable backpack with them wherever they explore! It will comfortably hold all of their nature investigation tools. Padded shoulder straps and back.
One Small Square: Backyard – This book will teach kids how to observe and understand the ecosystem of plants and animals that live and depend on one another right in your backyard.
Insect & Butterfly Net – This net has a sturdy wooden handle and mesh net that is ideal for catching everything from tiny bugs to delicate butterflies.
Compact Binoculars – These quality binoculars that are small, light, and easy for kids to use. Great for watching birds, squirrels, and other animals.
Deluxe Magnifier Jar – View bugs, rocks, leaves, and more. Small air holes and a 3X magnifier in the cover allow up-close viewing without hurting the specimens.
Nature Notebook – A small, spiral-bound notebook with blank pages for recording nature observations with drawings and notes.
Colored Pencils – With these, sketches can show the unique coloring of animals and plants.
Plastic Forceps – Use to gently pick up beetles, feathers, worms, etc.
Specimen Collection Bags – 15 plastic bags of varying sizes work perfectly for transporting rocks, pinecones, etc.
Instructions – Our instructions include tips on how to use the insect net, binoculars, and more.
This kit is packaged in an environmentally-friendly white cardboard box.
Master Detective Toolkit
The Master Detective Toolkit (ages 8+) provides all the tools needed to start solving crimes right out of the box, including barrier tape, fingerprint dust, and evidence specimen canisters. The full-color manual explains how to analyze the gathered evidence along with some fun facts.
The kit includes more than 30 pieces, plus a full-color, 48-page manual (you provide some common household items).
Download the 21 Winter Science Experiments Ebook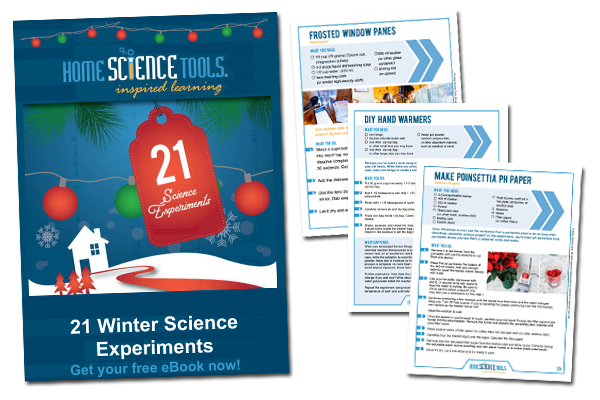 Home Science Tools is offering my readers a FREE ebook: 21 Winter Science Experiments, which includes some great projects to work on in the upcoming months, including DIY Hand Warmers, Poinsettia PH Paper, and so many others! Download it HERE.
Enter the Giveaway!
Ready to enter? All you need to do is follow the directions in the Rafflecopter widget below. Giveaway is open to those with a US mailing address only. Giveaway ends on Monday, November 18, 2019 at 11:59pm.