Preschool age is one of my favorite age groups to work with. First of all, they are curious, every little thing becomes a learning opportunity, and they LOVE pretty much everything.
Keeping them occupied can be a predicament though. Because attention spans are short on those in the five and under crowd. Finding activities that keep kids learning, little hands busy, and make life easier for the parents – well, that's a definite win in my book.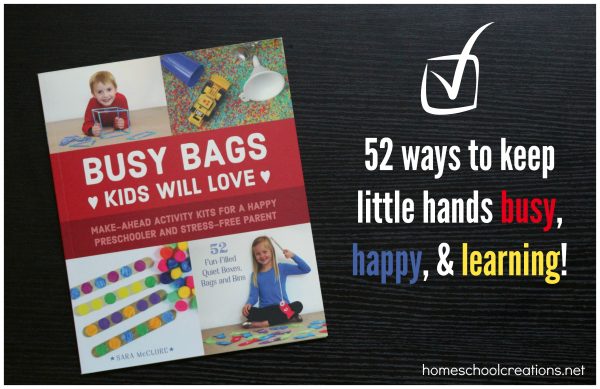 My friend Sara, from Happy Brown House, recently wrote a book that does all three of those things. Busy Bags Kids Will Love is full of quiet boxes, bags, and bins (52 to be exact) that can be made ahead and brought along to play with in the van, at doctor's visits, church – anywhere really!
Why Busy Bags?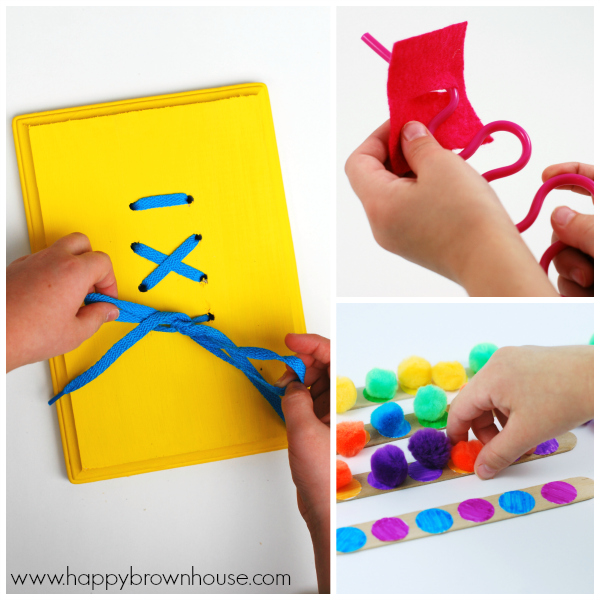 The name 'busy bags' can be deceiving. Busy bags are more like educational activity kits that parents (or teachers) put together for children to play with either in moments a parent may need a little break (maybe you're helping another child or trying to cook dinner) or when a quiet activity is needed.
Busy bags also take on many different forms – from items in an actual bag, to bins full of fun, or even a box packed with learning supplies. In essence though, they are intended to keep the attention of little ones while providing something educational and fun.
Creating Your Own Busy Bags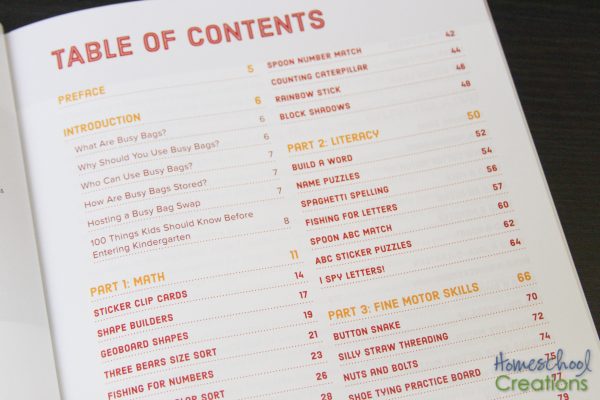 In her book Busy Bags Kids Will Love, Sara shares 52 activities that are easy to put together and focus on several specific learning areas:
math
fine motor skills
literacy
and just plain ol' fun.
While we don't have preschoolers in this house at the moment, we do have nieces and nephews that visit, so we'll be making up some of these ideas and also sharing them with the grandparents. Between visiting kids and games our girls grab when babysitting, these are goldmines!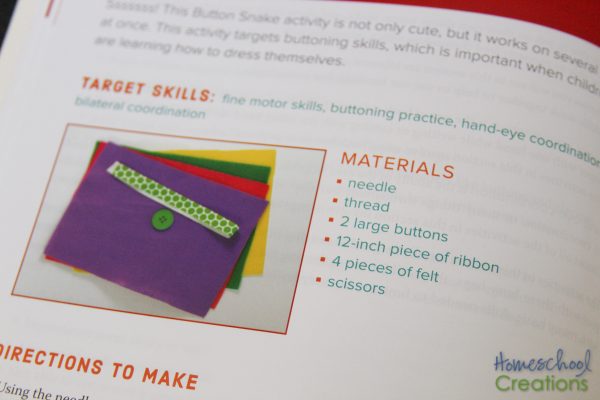 Each activity includes skills that are targeted, materials needed to create, and detailed directions to make the activity with full color pictures. She really makes it very simple!
The bulk of the materials used are ones you can find in your own closet or inexpensively at the dollar store. There are some that require very little prep, while a few may need a little more time, BUT they are all easy enough for you to make.
What I love most about these activities is the full intent for LEARNING that is packed into them. Yes, they will keep little hands occupied, but as they are busy, they will also be taking in and processing key information for this early stage: 1:1 counting, matching colors, identifying numbers, matching ABCs and so much more!
In addition, Sara also shares 100 things children should know or be able to do before entering kindergarten. Sometimes it's not all just about the alphabet and numbers. Overall, the book is truly a fabulous resource for any family with young children or those who work with them.
Grab a copy for your home or school from these sellers:
Win a Copy!
To celebrate the release of her new book, Sara has generously offered to give a copy to one of my readers. Follow the directions in the Rafflecopter widget below. Giveaway is open to those with a US mailing address and ends on Sunday, June 25th at midnight.