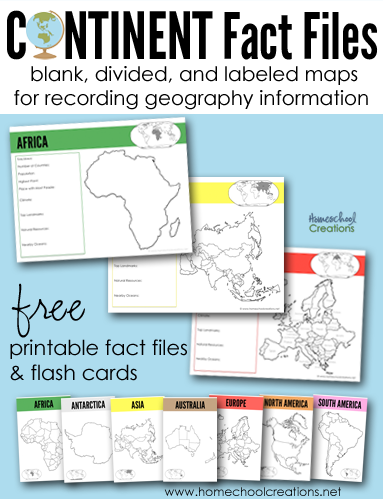 This year Kaleb and I have been wandering around the world via books, Little Passports, and various other things we come across in our travels. We have a slew of resources and to go along with a few of our books, I put together some printables where we could track important information related to the countries.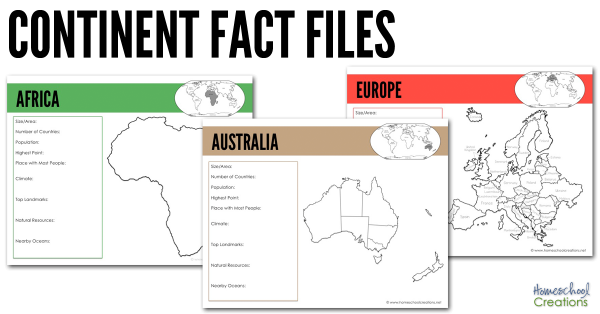 There are several pages for each continent: a blank continent image, one showing countries/territories within the continent, and another labeling each of the countries/territories within the continent (Antarctica only has one page).
All continent fact pages were designed using the traditional Montessori colors: Africa (green), Antarctica (white), Asia (yellow), Australia (brown), Europe (red), North America (orange), and South America (pink).
Each page has room to record the following information and also shows where that continent is in comparison to other continents:
Size/Area
Number of Countries
Population
Highest Point
Place with Most People
Climate
Top Landmarks
Natural Resources
Nearby Oceans
We've been using the below books to help us fill in the information blanks on each continent fact file: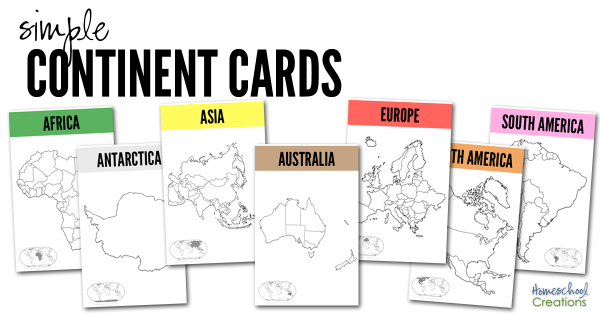 The set also has seven half-sheet printables we recommend printing off onto cardstock and laminating. Use them as larger flash cards to show the various country/territory divisions on the continents. We have a copy in each of our continent boxes and will put them on the wall above our map when we are studying the continent.
We also highly recommend taking part in a Little Passports subscription! Not sure which adventure to choose for your explorer? Check out these Little Passports blog posts and learn more about their four subscription options:
Download the Continent Fact Files & Continent Cards
Your family is more than welcome to download the 23 page Continent Fact Files as well – and we hope they are a help to you!

More Geography Resources
Click on one of the globe to search for geography resources by continent. Each page has downloads for flag coloring and information pages, mapping pages, and links to blog post full of lesson plans and additional information.