The last two weeks our home has been filled with the Word of God playing throughout and hearts memorizing new verses. Can I tell you how much I love hearing voices singing along?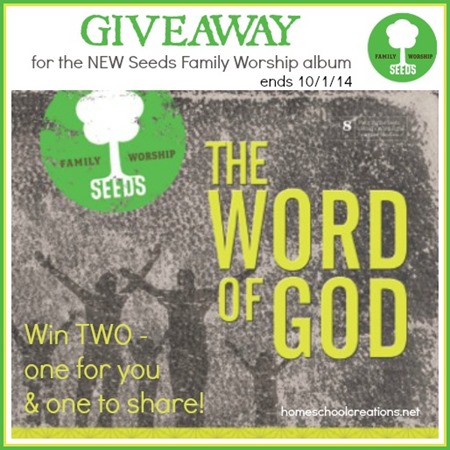 Seeds Family Worship recently released the CD "The Word of God" and it is FULL of songs and verses to learn together as a family. Our kids already have their favorites (and so do I). Before you think that Seeds is just your standard 'kid music' – let me set you straight. This is music that parents will ENJOY listening to and learning alongside your children. In our family you'll find the albums playing all over – iPods, school room, the van, the house – literally everywhere.
Having Scripture set to music has been such an effective way for our family to learn portions of the Bible. Seeds has been a part of our family for over four years now (I can hardly believe it's been that long!). In the past I've shared our thoughts on their earlier CDs, some ABC verse flashcards I created that were largely based on the verses we've learned through the CDs, and ways that music has helped us learn Scripture.
One of the main things that I love about Seeds are the lyrics which are directly from the Bible. Nothing watered down, but every word comes straight from God's word.
A Peek at The Word of God CD
And the new Word of God CD? We all think that Seeds has done an amazing job. The kids and I were talking about several of the songs today and how one has a bit of an 80's feel to it (they like that). We also love the difference in 'tone' between a song written specifically for boys (Act Like Men – 1 Corinthians 16:13-14) and one for girls (Woman Who Fears The Lord – Proverbs 31:30 ). Overall, the album is well-loved and is getting a lot of play time where ever we are.
Here's a look at the songs on The Word of God album:
1. The Word of God – Hebrews 4:12
2. Your Life is Hidden – Col 3:2-3 performed by Matthew West
3. Impress Them – Deuteronomy 6:4-7
4. Jesus Christ is Lord – Philippians 2:9-11
5. Breathed Out – 2 Timothy 3:16-17 performed by Jared Anderson
6. Your Word In My Heart – Psalm 119:9-11
7. Do What It Says – James 1:22
8. Genuine – Romans 12:9-10
9. Act Like Men – 1 Corinthians 16:13-14
10. A Woman Who Fears The Lord – Proverbs 31:30
11. Your Life Is Hidden – (Bonus Acoustic Version)
12. H.E.R.O. – Philippians 2:9-11 (Bonus VBS Version)
Psst – several of these songs will also be a part of the upcoming Passport to Integrity from Family Life (the makers of Passport to Purity). We may be very excited about that as well!
If you'd like to hear a little sample, be sure to watch the below video of album's first song, The Word of God.
Feed readers can watch the full video here.
Help Plant 'Seeds" of God's Word Too!
Another thing that we love about the albums from Seeds Family Worship are the encouragement to SHARE and pass along their music. When you purchase any of their albums,  you will receive two identical full-length CDs – each in its own package and individually shrink wrapped. One album is for you and one to give away!  Seeds wants you to be a 'seed planter' and encourages you to pray about who God wants you to share this second album with.
What does that mean? The $12.98 for an album is actually TWO CDs! That alone is a great deal! Order before 9/27/14 and use the code FREESHIP during checkout, and you'll also get free shipping!
The Power of a Song in Learning God's Word
Years ago, when Kaleb was just 3 years old and Seeds had first appeared in our home, we were at the park playing. He stopped on a part of the playground and didn't want to cross a 'shaky' bridge made of chains because he was too scared. A few attempts were made to encourage him, but he stayed put. I turned away for a bit and suddenly heard singing.
"I can do everything through Him who gives me strength."
As he sang those words, he put one foot in front of the other and crossed the bridge – and then ran off to play. Meanwhile, I stood there bawling – because I had watched how the word of God had been implanted in his little 3-year-old heart and had been applied when needed. No prompting from me, but God's word in action because he had listened and taken to heart those words. (Yeah, that still makes me cry thinking about it!)
THAT is what it is all about and why we are so thankful for the work that Seeds Family Worship is doing with their music. When I tell you we love the CDs, know that we've purchased them for Christmas gifts, handed them out to friends and family, and 100% recommend each and every song!
You May Also Like…