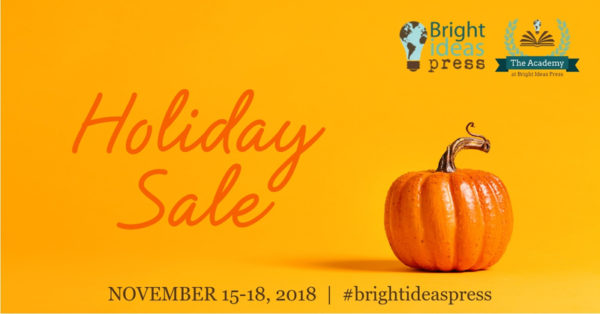 From November 15-18, 2018, you have the opportunity to save up to 20% on products from Bright Ideas Press. Our family has used (and still uses) a variety of their products over the years, from Mystery of History, Wondermaps, North Star Geography, and Christian Kids Explore Chemistry – and we have loved them.
Sales on their products don't happen often, but here's a peek at the savings.
Shop and save 20% on Bright Ideas Press published products.*

This includes many of your favorites:
The Mystery of History Volumes I-IV
WonderMaps (including WonderMaps – Ancient Civilization Edition to complement The Mystery of History Volume I and WonderMaps Medieval Edition to complement The Mystery of History Volume II)
North Star Geography
All American History
Christian Kids Explore Science series
A Young Scholar's Guide to Poetry
A Young Scholar's Guide to Composers
Civitas: The Government Card Game
*Bundles, audio books, and clearance items are excluded.
Additionally, you can save 15-20% on online classes for middle and high school students. If you have a subject that's become a regular challenge for you or your child, check out the courses offered through Bright Ideas Press! Many of their courses can be joined halfway through, allowing you to make some needed changes and revitalize your school year!
If you're feeling like something's got to be different next semester, take a look at their classes. Both self-paced and online teachers are available.
These are the lowest prices you will find in their store.
Ready to save? Save now on your favorite homeschool curricula or those online classes you have been eyeing.

This four-day event will begin at 12:01 a.m. on Thursday, November 15, and will end at 11:59 p.m. on November 18, 2018. (All times are ET.) No coupon required. Sale prices will be reflected at checkout. Additional coupons cannot be used in conjunction with this sale.