For just TWO DAYS, the Ultimate Homemaking Bundle (aff link) is available again for purchase. Over $2,000 worth of products for $29.97.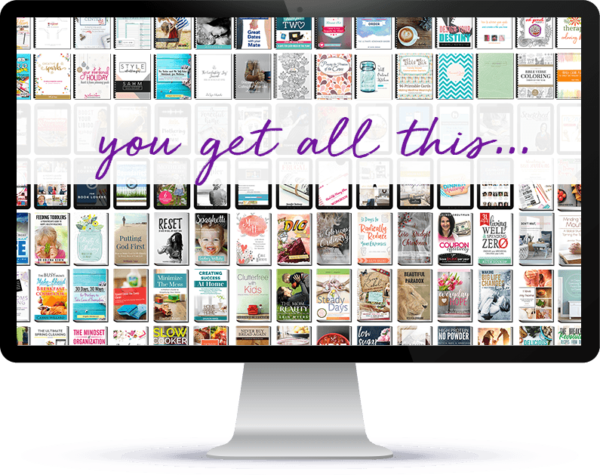 You all – I am STILL going through all the goodness included in this bundle. Yes, it is mildly overwhelming at first, but there are truly some great ebooks, courses, and freebies that were a part of this bundle. From housekeeping, mothering, cooking, to homeschooling – there is a little something in each category that will help you out!
A Peek at What's Inside the Ultimate Homemaking Bundle
This is my third year as a contributing author to the bundle. I am thrilled that one of my printables, the Yearly Planner, is included as a part of this special sale. In additional to several homeschool resources, here are the topics you'll see inside:
Creativity…discover how to take better photos of your kids (and edit them like a pro, too!)

Faith…find resources to help your kids learn to study the Bible and pray on their own.

Finances…make Christmas memorable – with very little money.

Cooking & Meal Planning…find a style of meal planning that works for you.

Home…create a cozy living space your family will love living in

Intentional living...maximize your morning routines

Marriage…rekindle the romance in your life

Motherhood…find parenting help and ideas no matter how old your kids are, from babies and toddlers to middle schoolers and teens.

Organizing – simplify your home and create systems that really work.

Recipes – make healthier breakfasts and school lunches, even with your busy schedule

Self-care – Find joy in even the toughest moments of parenting

Working from Home – learn how to overcome the hustle and thrive as a working parent
Take a look through the categories, as well as the full list of eBooks and eCourses (aff link). There are some fabulous resources from bloggers like 1+1+1=1, Money Saving Mom, The Nester, Ruth Soukup, Lisa Jo Baker, The Better Mom, Jessica Turner, and more!
There is a catch though – the Ultimate Homemaking Bundle (aff link) re-release will only be available from 12:00 a.m. EST on Monday, October 23rd until 11:59 p.m. EST on Tuesday, October 24th. JUST TWO DAYS!!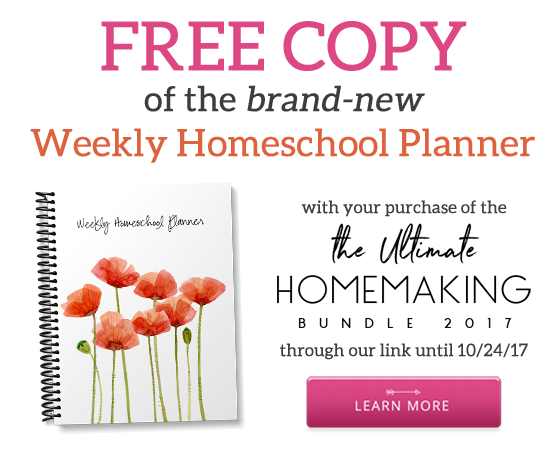 As an added bonus, if you purchase your bundle through Homeschool Creations, you'll get a FREE copy of my brand new Student Planner OR the Weekly Homeschool Planner. Purchase through THIS LINK and then email me a copy of your receipt – and I will send you your freebie and coupon code!
Your Purchase is 100% Guaranteed
You can buy the Ultimate Homemaking Bundle (aff link) with confidence because your purchase is covered by the Ultimate Bundles one-year guarantee: you have a full year to enjoy all the books and courses in the bundle, and if you don't feel like it's made a huge difference to your family, you'll get your money back in full!
Read the fine print about this bundle and read the answers to frequently asked questions about the bundle. Don't forget – this bundle is only available until 11:59 p.m. EST on Tuesday, October 24, 2017.
Disclosure: As a contributing author (since my printables Yearly Planner is included in the bundle), our family benefits from each purchase that goes through Homeschool Creations. We value your support – thank you! We pray this bundle and bonuses are a blessing to your family as they are to ours!