For just TWO DAYS, the Ultimate Homemaking Bundle (aff link) is available again for purchase. Over $900 worth of products for $29.97.
You all – I am STILL going through all the goodness included in this bundle. Yes, it is mildly overwhelming at first, but there are truly some great ebooks, courses, and freebies that were a part of this bundle. From housekeeping, mothering, cooking, to homeschooling – there is a little something in each category that will help you out!                                               
A Peek at What's Inside the Ultimate Homemaking Bundle
This is my second year as a contributing author to the bundle. I am thrilled that one of my printable packs, the Pocket Chart Bundle, is included as a part of this special sale. In additional to several homeschool resources, here are the topics you'll see inside:
Cleaning… create a healthy, toxin-free home

DIY/Homemade… fun and frugal ways to express your personal style

Devotionals and Faith… take a break from the daily grind to renew yourself

Finances… build a budget that works

Cooking & Meal Planning… serve easier, tastier meals in less time

Holidays & Special Events… brighten up old family traditions and create new ones

Homeschooling… homeschool with grace and ease

Marriage… heat up your marriage

Motherhood… find peace, balance & joy in mothering

Organizing… conquer the clutter and simplify your life

Pregnancy & Babies… enjoy a healthy pregnancy and prepare to nurture your baby

Health & Wellness… soothe aches & pains with natural remedies, and

Working from Home… hone your talents, live your passions and earn money to help your family
Take a look through the categories, as well as the full list of eBooks and eCourses (aff link). There are some fabulous resources from bloggers like 1+1+1=1, Money Saving Mom, Keeper of the Home, Homeschool Creations, $5 Dinners, The Better Mom, We Are That Family, and more!
There is a catch though – the Ultimate Homemaking Bundle (aff link) re-release will only be available from 12:00 a.m. EST on Monday, November 2nd until 11:59 p.m. EST on Tuesday, November 3, 2015. JUST TWO DAYS!!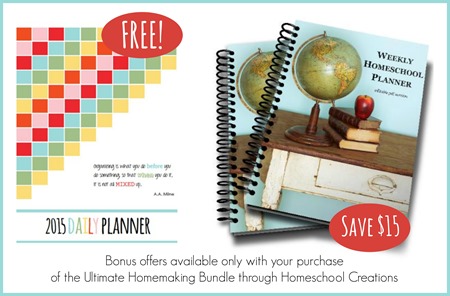 As an added bonus, if you purchase your bundle through Homeschool Creations, you'll get a FREE copy of my brand new Student Planner OR the Yearly Personal Planner as well as a discount code for $15 off the Weekly Homeschool Planner (a 75% savings!).  Purchase through THIS LINK and then email me a copy of your receipt  – and I will send you your freebie and coupon code!
Your Purchase is 100% Guaranteed
You can buy the Ultimate Homemaking Bundle (aff link) with confidence because your purchase is covered by the Ultimate Bundles one-year guarantee: you have a full year to enjoy all the books and courses in the bundle, and if you don't feel like it's made a huge difference to your family, you'll get your money back in full!
Read the fine print about this bundle and read the answers to frequently asked questions about the bundle. Don't forget – this bundle is only available until 11:59 p.m. EST on Tuesday, November 3, 2015.
Disclosure: As a contributing author (since my printables Pocket Chart Calendar Bundle is included in the bundle), our family benefits from each purchase that goes through Homeschool Creations. We value your support – thank you! We pray this bundle and bonuses are a blessing to your family as they are to ours!