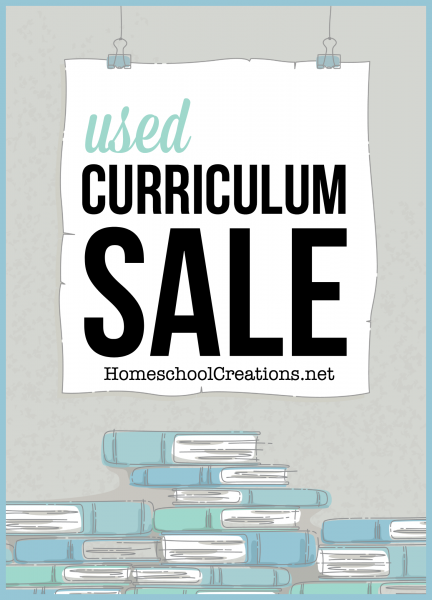 You're likely in the middle of figuring out what the plan is for next year's school like we are. As our lists are being made, there are curriculum pieces being pulled off the shelves that we are no longer using – and they would love to find a new home (maybe in yours!).
Below you'll find used homeschool curriculum listed by category along with a short description and price. If you have any questions, please feel free to email me and ask.
Before You Buy
Please remember, I'm a homeschooling mom – just like you. Please keep the following in mind:
I've tried to include as much information as possible on each item listed. The bulk of the curriculum is in very good or excellent condition. Any other condition is noted.
All prices include postage (ppd) for items shipped to US addresses. At this point, shipping overseas is not an option.
All sales are final – no returns. Please ask any questions before purchasing.
Packages will ship on Mondays and Fridays. Depending on when you purchase, your packages will be mailed out promptly (unless noted during purchase). All packages ship Media Mail (cheaper for both you and me, but it may take a little longer depending on location).
As the items are purchased, they will be marked through or removed.
If you have any questions or would like a picture of a set, please feel free to email and ask: homeschoolcreations@gmail.com. Payments will be completed through Paypal or Venmo, but please do not send payments until sale is confirmed. :)
Feel free to pass along the sale to your friends.
Math
Teaching Textbooks 5 (set 1) – version 2.0 self-grading. Includes student book (with some water damage, cd-rom set, and answer booklet. $60 – pictures available
Teaching Textbooks 5 (set 2)- version 2.0 self-grading. Includes student book, cd-rom set, and answer booklet. Like new condition. $75
Life of Fred Decimals and Percents – $10
Life of Fred Beginning Algebra – includes main text and Fred's Home Companion $20
Language Arts & Reading
Growing with Grammar 4 – student text only $7
Ready Readers Middle School – teacher guide from Center for Lit (original edition called Ready Readers 3), covers Treasure Island, The Hobbit, The Bronze Bow, Carry on, Mr. Bowditch, and At the Back of the North Wind $14
Learning Language Arts Through Literature Blue – includes teacher's guide, student workbook (some pages missing at the very start), student readers $25
Learning Language Arts Through Literature Orange – teacher's manual $10
Shurley English Level 2 (Orange) – includes teacher's manual with CD, student workbook (approximately 10 pages have been used with pencil), and practice booklet. Retails for $56 new $25
Shurley English Level 3 (Green) – includes teacher's manual (no CD), and unused student workbook $20
Easy Grammar Grade 6 – main text $13
Word Build Foundations Level 2 – teacher's edition $6
Writing
WriteShop Junior Book E – Teacher's Guide $25
WriteShop Junior Book F – Teacher's Guide (B/W version) and student packet – $25
History/Geography
BJU Press High School World History 3rd Edition – includes teacher's edition, student text/activities, tests, and test answer key. Some markings in student book (on side of book and a few underlinings) $28
Story of the World Book 1, Ancient Times – includes softcover text, activity book (in binder), and tests/answer key $19
Science
A Reason for Science Level D – includes teacher guidebook and materials kit almost intact $90
Vintage Remedies for Tweens by Jessie Hawkins $10
Misc & Book Series
Oracles of Fire series – young adult fiction series by Bryan Davis includes Eye of the Oracle, Enoch's Ghost, Last of the Nephilim, and The Bones of Makaidos $30
A Bluestocking Guide to Economics $7