I See, I Spell, I Learn is a blog sponsor and we received this product free for the purpose of reviewing it. All opinions expressed are my personal, honest opinions. You can read my full disclosure policy for more details.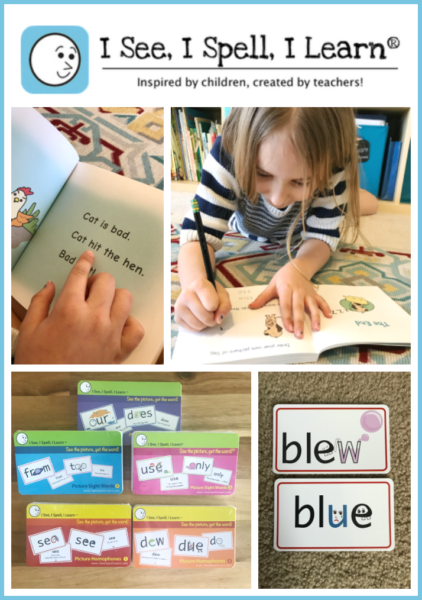 There are certain words in the English language (who are we kidding – a LOT of words) that require quite a bit of decoding for kids. Certain words are rule breakers, meaning they don't follow the typical phonics rules, and then when you add in homophones (words that sound the same but are spelled differently), it can be overwhelming for children. I See, I Spell, I Learn offers early literacy materials to help children tackle and learn tough words through the use of visual clues.
Recently our family (and friends) were sent the Reading and Spelling Program for Homeschoolers from I See, I Spell, I Learn to review and share with our readers. While all of our children are reading, we were able to work on some of the reading materials with a friend's daughter and we are also using the sight word cards, homophone cards, and workbooks with our youngest son.
Don't forget to read all the way through for a 10% coupon code!
I See, I Spell, I Learn Program Overview & Sequence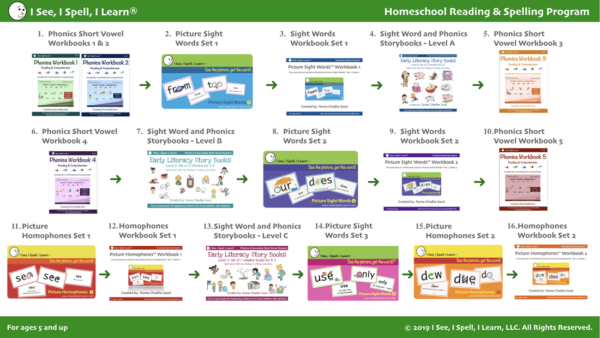 I See, I Spell, I Learn® products support early literacy in children. They have been tried and tested on emerging readers (4-8 years). Research shows that children are more successful using these learning products as they are visually engaging and fun to use. Created by a reading specialist and dyslexia tutor who has worked with homeschooled children, this specific program has been designed to complement any homeschool literacy curriculum.
The Reading and Spelling Program for Homeschoolers includes phonics workbooks, sight word picture cards, sight word storybooks, homophone picture cards, and homophone workbooks. We were able to use the picture card sets along with the storybooks during our review, later adding in the workbooks for additional practice.
Picture Sight Word and Picture Homophone Cards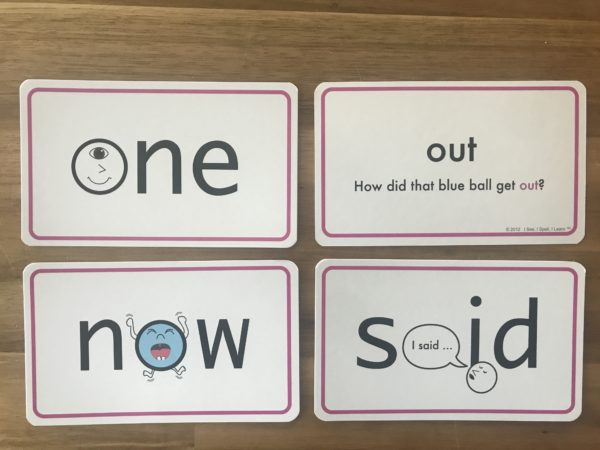 The program is intended to use in a step-by-step process, and for those who have visual learners, the picture word cards are sure to be a huge hit. The words have been taken from Dolch Sight Words lists (Pre-K to 3rd grade). Each of the three sets has 25 words starting at a beginner level in Set 1 to an advanced level in Set 3.
The Picture Sight Word cards can be used in a variety of ways. Each card features the sight word along with a creative rendering of the word (the word "one" shows a one-eyed smiley face, while "now" shows the letter "o" wanting something "NOW". On the back side of each card is a simple text of the word as well as the word used in a sentence, with the focus word highlighted in color. Children work on three cards at a time and their purpose is to help link the shape of the letters to the picture cue or phrase.
"The visual cues used in our Picture Sight Words™ and Picture Homophone™ cards serve a purpose – they help children make neurological connections with the word which help them retain that word which, until now, was impossible to remember!"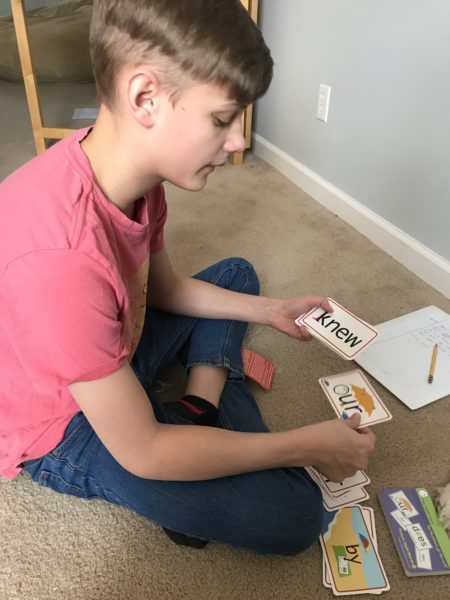 One of our children struggles with spelling many key sight words, so we are implementing the Picture Sight Words and Picture Homophone cards with him for the remainder of our year to help him in his writing.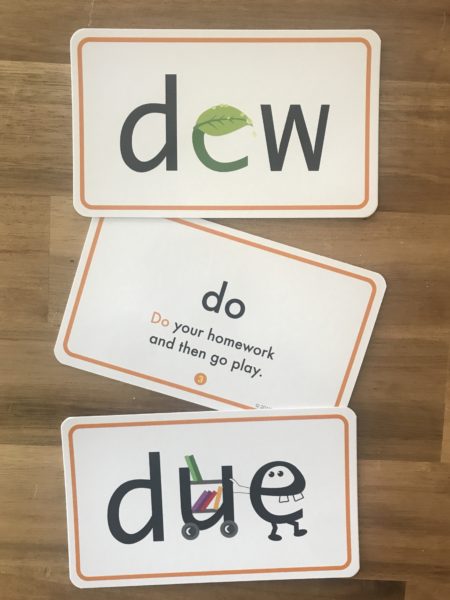 The Picture Homophone™ cards are some of my personal favorites, mainly because I love the word play – but homophones can be so very confusing for kids. There are two homophone sets (see the below list for included words). Similar to the Picture Sight Word cards, the front of the cards offer a picture clue for the word with a go-along sentence on the back side to help with context. Children use the cues to help remember the spelling of the different words, and also understand the meaning of the word. Can you visualize the word "dew" now?
Picture Homophones Set 1 contains 33 cards:
ate, eight, blew, blue, buy, by, bye, for, four, hear, here, hour, our, knew, new, knot, not, know, no, one, won, sea, see, son, sun, than, then, their, there, they're, to, too, two

Picture Homophones Set 2 contains 33 cards:
Cell, sell, cent, scent, sent, dew, do, due, die, dye, flour, flower, hair, hare, hole, whole, mail, male, pail, pale, right, write, sail, sale, sew, so, sow, tail, tale, threw, through, which, witch
Early Literacy Story Books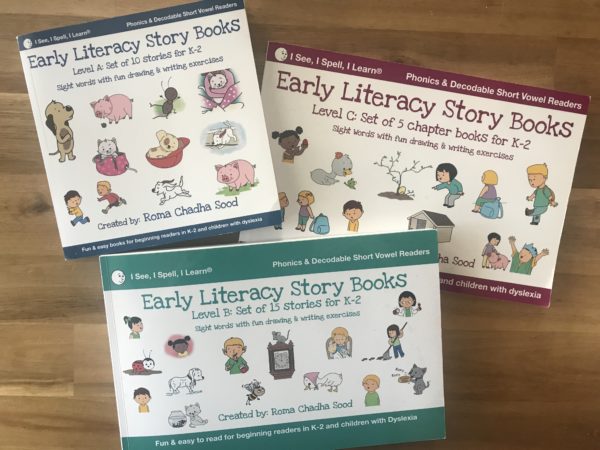 There are three different levels in the Early Literacy Readers from I See, I Spell, I Learn. Each reader follows the same format: sight word introduction, story, and a short activity.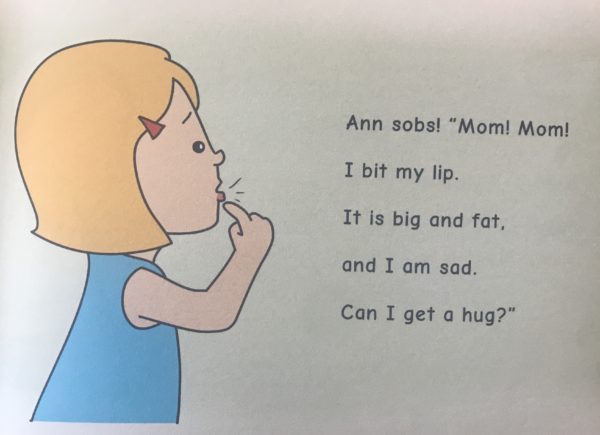 Words used in the stories only contain short vowels and the sight words that have been learned. No sneaky silent "e" or long vowels to throw them off in the stories, so stories can be decoded and read quickly, building confidence.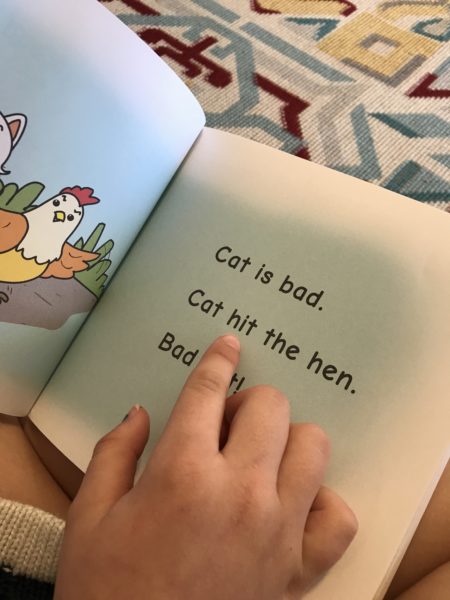 The background of each story has color to help with visual difficulties – no glare for children.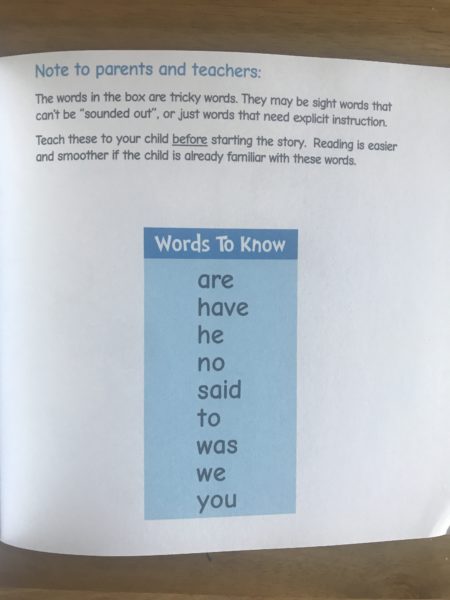 At the start of each story a list of sight words used in the story is provided so children can review the words before beginning.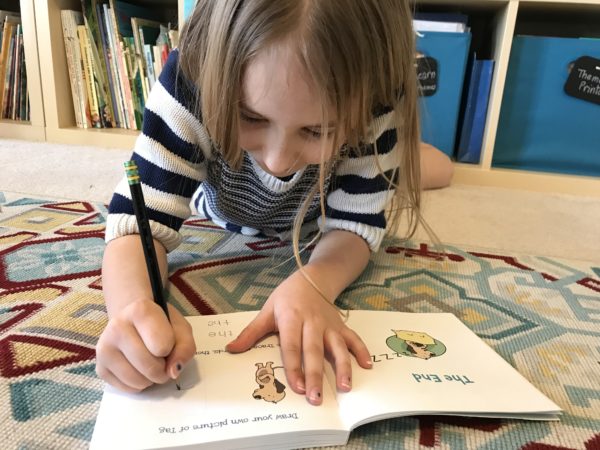 At the end of each story there is a short activity for children to complete – copying a few sight words, drawing a picture, etc…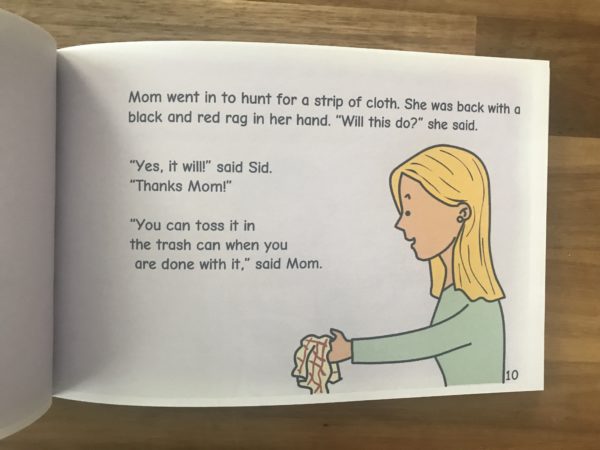 As the levels progress, the font decreases in size and increases in difficulty. Each level can be purchased as a set or as individual ebooks via Kindle. Level A includes ten stories, Level B includes fifteen stories, and Level C includes five chapter stories. Characters are continuous through the stories too, which helps children engage with their stories and progression.
Digital App and Workbooks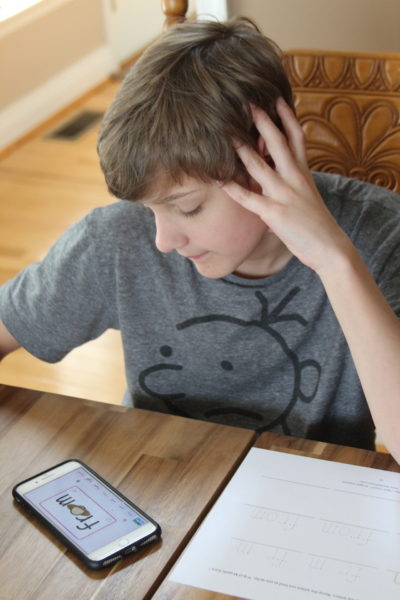 Two additional digital products are also a part of the program: an interactive app and worksheet sets. Our family hasn't been using them to their full extent yet, but we want to make sure you are aware of their various features.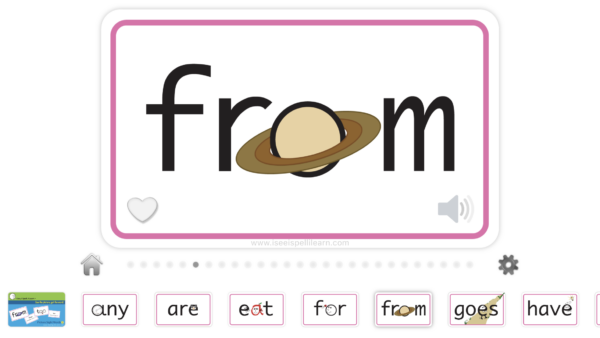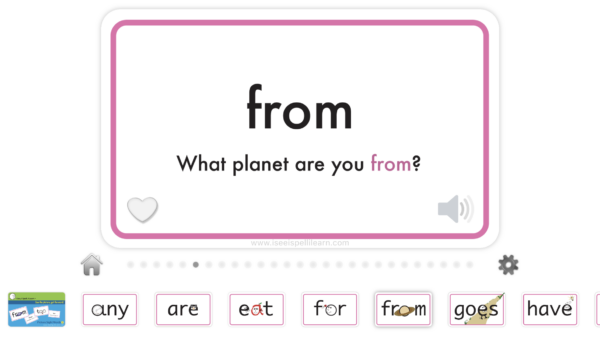 The Picture Sight Word app is available in the app store and features digital sets of the cards. Each set is color coded to match the physical copies, but they have a few additional features: children can hear the word spoken and spelled on the front side and then flip the card by touching the word and hear the go-along sentence read as well. Progress on the words can also be tracked by the parent as the child listens to the words and sentences.
The Picture Sight Word app with the first six cards free, and the remaining cards can be purchased in-app.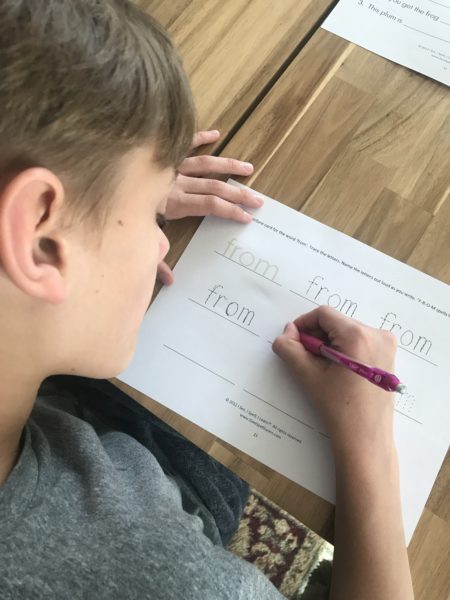 Short vowel workbooks and picture sight word workbooks are also a part of the Reading and Spelling for Homeschool program. As I work with our youngest on various sight words that still trip him up with spelling, he has been completing the two go-along worksheets for each word. On the first page he traces and writes the word several times and on the second sheet he fills the missing letter (the one that is illustrated on the card) and also completes several sentences using the focus sight word.
Note: At the time of this review, workbooks for Picture Sight Word set 3 and Picture Homophones set 2 are still in progress.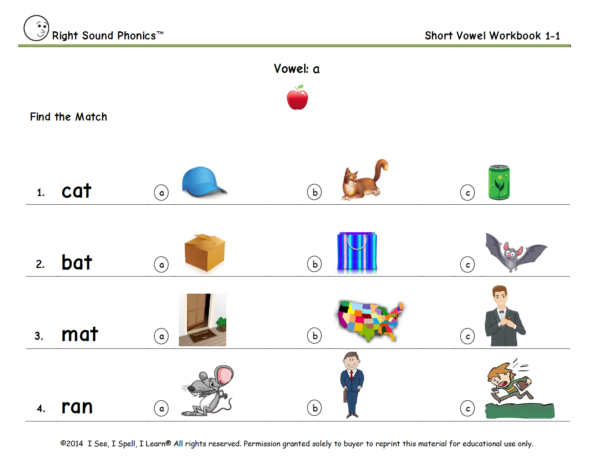 Short Vowel Workbooks are also available and designed with a phonics-based approach where children can work on matching a picture to the simple word they sound out. Each of the words in this five workbook series features only short vowels. The workbooks have 12 worksheets in each and increase in difficulty with each level. Worksheets can be printed off and put into a sheet protector to re-use and continue practicing until mastery and moving on to the next step.
What Moms Need to Know About the Program…
Above you can take a
short video peek
into the story books and also see the cards.
The picture cards are durable – each card has a protective coating and is printed on thick cardstock. They will last being handled by children.
Each set of picture cards is color-coded, helping you figure out which set they belong in. No worries if they get mixed up.
Materials can be used independently or with another program you are currently using. If you feel your child needs a little extra boost, this is a great addition!
Worksheets can be reused if you slide them into a sheet protector (per the company's suggestion!)
The program also has go-along apps. If you have children who love technology, check out their apps – they read the words to you and also track your child's progress.
Personally, I love that we can incorporate components of this program into our current homeschool day and add in extra practice, but in a different form/method, helping reinforce the skills our son has already attained or needs a bit of extra help in mastering. As our son's confidence in his reading and spelling abilities grow, and as his proficiency grows, we've helped create a winning environment for him – and that's something I love to see happening!
Learn more about the full Reading and Spelling Program for Homeschoolers from I See, I Spell, I Learn or the individual components here:
Save 10% on I See, I Spell, I Learn
Until June 30, 2019 you can save an additional 10% at the I See, I Spell, I Learn online store using promo code: HOMESCHOOL2019 (expires 6/30/19).
Connect with I See, I Spell, I Learn
Follow along with program developments for I See, I Spell, I Learn using the links below:
10% coupon code to use on our online store – PROMO CODE: HOMESCHOOL2019 Valid till June 30, 2019