Whew!! We've done it and managed to get back into a groove, survive the first two weeks, and have fun in the process. (Fun is always good!)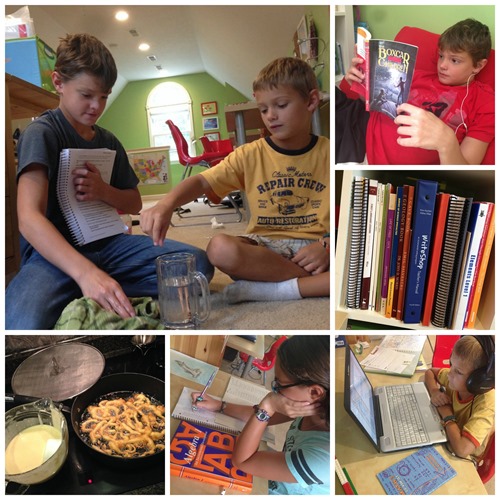 I'm so glad that I've been taking a few pictures here and there, because looking back is reminding me of some things that I don't want to forget!
I've mentioned before that Zachary isn't a big reader. He's not super fond of the process and picking up books to read on his own isn't something he enjoys. He's read some simple chapter books, but nothing of 'substance' as I would call it. Not a REAL book cover-to-cover.
As part of Learning Language Arts through Literature (Orange), he just finished The Boxcar Children. Ironically, we had a copy of the book before (couldn't find it), so I ordered a new copy. He saw the new one with a snazzy cover, picked it up right away, and said he was so glad they had updated the book. I waited until he was done to tell him it was just a new cover.

He has been ALL SMILES because he read it from start to finish, and I am one proud momma.
Kaleb has been SO excited to start working on Teaching Textbooks. He has the computer out before school even starts in the morning and frequently wants to work on more than one lesson. I know it's making him feel like one of the 'big kids', and it's fun to watch.
Our first day of school = funnel cake for breakfast. I know it's not healthy (in my defense I used whole wheat flour), but it is so much fun – and it's TRADITION!!
Laurianna is working like a champ on her high school credits. We've figured out a good routine for her to work on her studies, many of which she is doing independently. We got halfway through the second week when I realized I'm going to really have to start tracking grades for high school credit – ack! Part of me wants to plug my ears and pretend she isn't that old.
And that bigger picture in the collage – just makes me happy. I wasn't feeling well this week (hello, migraine) and laid down on the floor in the school room. Zachary picked up our science manual, pulled out all the stuff we needed to finish the lesson, and HE followed the directions to do the lesson with Kaleb. It was so sweet to watch and he did a great job. The giggles on the buoyancy experiments were hilarious.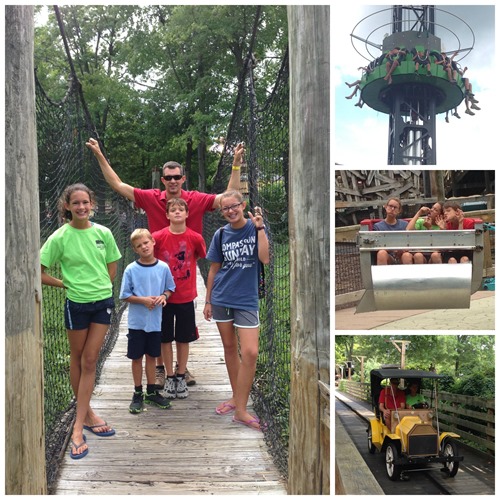 Our first week of school (ok, I'll admit it was officially the first day of school), we took a field trip to Six Flags. The weather was gorgeous, so we jumped on the trip and used our Read to Succeed tickets the kids earned last winter. There were lots of roller coasters and spinning rides that day. And I'm feeling old after all those bumps and turns!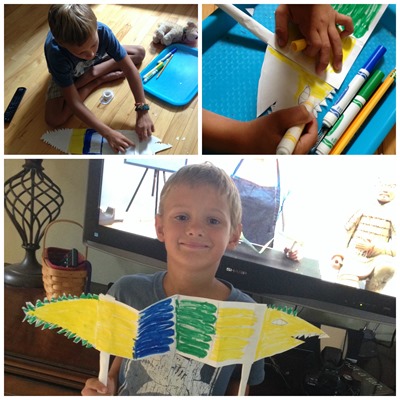 Kaleb's favorite part of school starting again? The art supplies are all out in full force. He's had his eye on our Home Art Studio dvd, so I piled a tray with the supplies, he popped in the DVD and did the lesson all by himself. I love that he can be independent with it and needs very little help from me at all! Art is one of that boy's love languages – and he definitely gets some great art projects in this way!
Another exciting part of this week? A fun interview with the Weather Channel's morning show about my Calendar Notebook Printables. They love that kids are learning how to track weather (and I think it's pretty cool too). You can view the clip with Maria LaRosa here if you can't see the clip above.
That's a quick peek at our first two weeks? How is your homeschool going?
Linking up this week with Collage Friday and Weekly Wrap-up!