Our kids love getting packages and I'm a huge fan of boxes that include everything inside we'll need to work on a project. That means that Kiwi Crate is something we all are loving!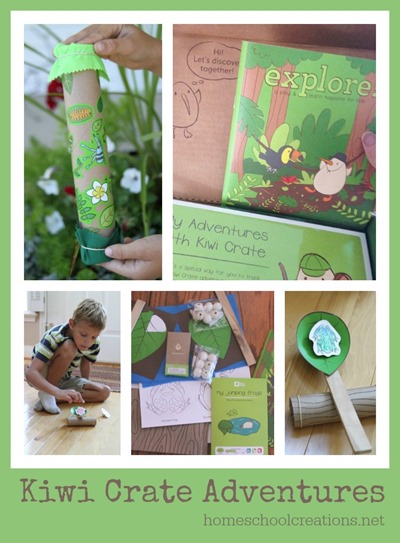 From the moment the Rainforest box showed up on our doorstep, the boys were itching to open it and start working on the two projects – a rainstick and a fun jumping frogs game.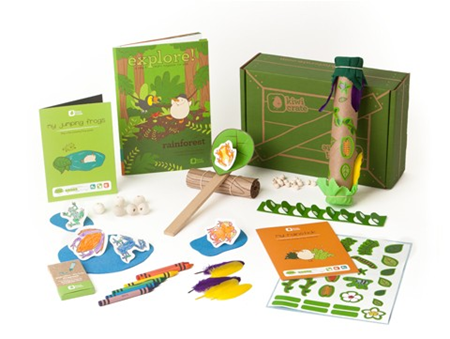 The box arrived with all of the supplies we needed, and since it was our first box, there were even some fabulous scissors for each of the boys (thank goodness, since their scissors somehow already walked off this year!).
Jumping Frogs Game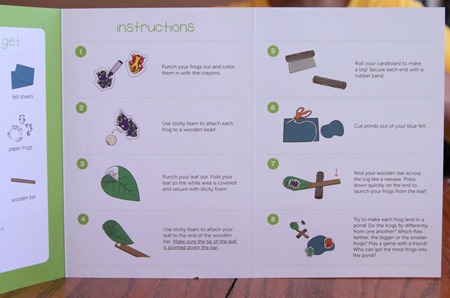 Zachary pulled out the instructions (pictured above), gathered all of the supplies needed for the project, and then helped Kaleb put his Jumping Frogs game together. They colored, cut, punched things out, and after about 20 minutes of working, their jumping frog games were ready to go.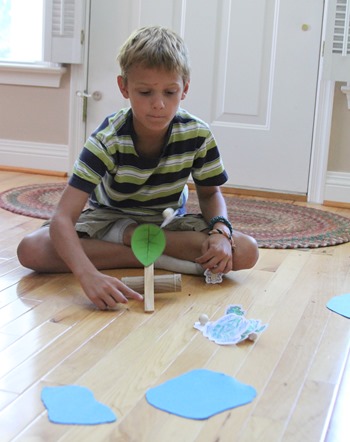 Both boys built log launchers and decorated a set of 'leaping frogs'. The goal of the game is to launch their rainforest frogs into one of the felt ponds. Both of the boys loved making their frogs fly. Overall, my involvement was minimal other than helping remove the double-sided adhesive tape covering for Kaleb.
Rainstick Craft
The other craft in our Kiwi Crate was a rainstick. McKenna wanted to have a part in making one (she says rainsticks are her favorite thing).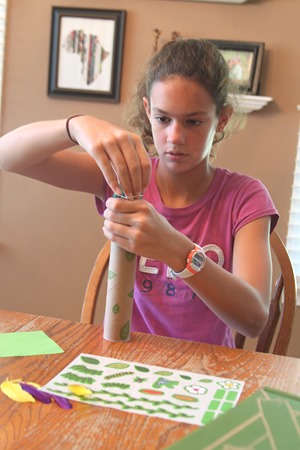 This activity I didn't even have a chance to divvy out and supervise. While Zachary and I were flipping frogs through the air, McKenna and Kaleb were in the other room building their rainsticks.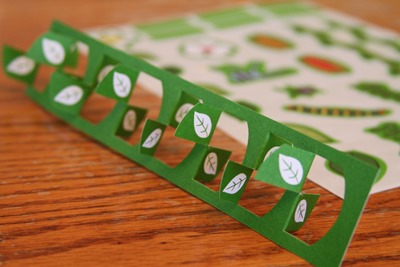 The most difficult part was making sure the leaves were all pointing in the right direction (for Kaleb) and then getting the beans in without them flying all over the table. Otherwise they were quickly decorating and finishing their crafts up.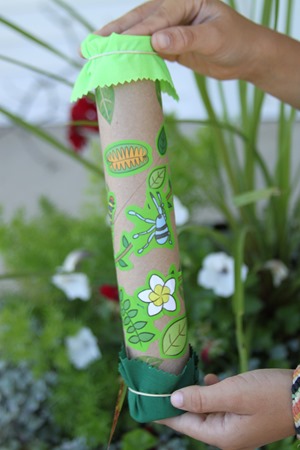 The end result was me sitting on the porch with two kiddos and listening to the soothing sounds of rain around me. (grins)
A Little More About Kiwi Crate (& Thoughts From Me)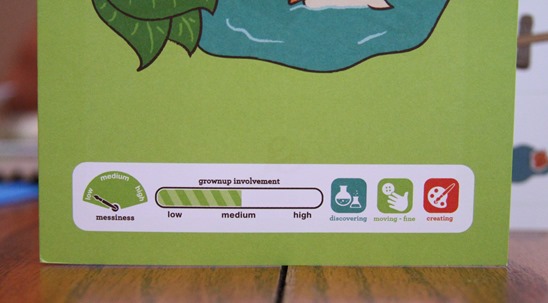 the 'what is required' gauge on each manual
Kiwi Crate offers various subscription packages, as well as bundle packages to provide a savings for families. Each of the crates includes materials for 2 to 3 educational activities (crayons, tape, rubber bands – you name it, it's in the box). The projects have all been reviewed by child development experts and are kid-approved. Crates come with free shipping and subscribers receive additional benefits, including bonus online content to extend the learning.
Learn more about the monthly subscription plan here.
Things to love about Kiwi Crate…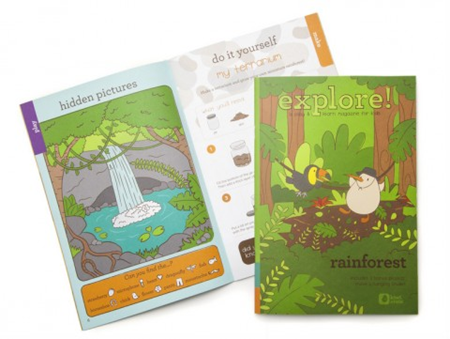 The Explore Magazine. The Explore! magazine is also a part of each crate and goes along with the crate's theme. Our magazine was full of additional activities, games, puzzles, and a bonus snake project to work on later.

Not just for younger kids. Our three youngest (ages 7, 9, and 11) all crowded around the box and wanted to be a part of the craft making goodness. Problem was, we only had 2 sets of crafts, so the negotiations started on who was going to work on what craft (the boys put up a good argument that the boxes are recommended for ages 3 to 8 and they are in the right age range, not the 11 year old). McKenna wanted me to note that "Older kids would like these boxes too!" Duly noted.

Single crate options

. If you aren't sure about a monthly subscription, Kiwi Crate offers many

single crate options

as well. The Rainforest crate that we used is a part of the single crate option. Other single crate themes are: robots, space heroes, mad science, safari, family game night, and more.

Additional sibling packs are available. One thing that I definitely love, is the sibling add-on option. For an additional $9.95 per crate, you can add an additional kit for a brother or sister. Or two. Or three. That, dear moms, is a great option.

A "What will this require?" gauge. The activities all come with a handy booklet that walks you through the creation process step-by-step – with diagrams. The bottom of each booklet has a scale that lets parents know how much clean-up will be required, the educational focus of the project, and also how much parental supervision is required. (I love this feature!)

Special occasion crates

. If you are looking for

party favors

, the company also has several mini crates ($6 – $11) that can be purchased for special day.

Mail is always fun! Our kids love receiving mail and the monthly subscription option offers an educational addition to your homeschool time as well!
Find Out More and Try a FREE Kiwi Crate!
Here's a quick look at the cost breakdown for the monthly subscription plan to Kiwi Crate:
Cost: $19.95/month, $19.95/month (3 month sub.), $18.50/month (6 month sub.), $16.95/month (12 month sub.) – Shipping is free in the U.S. and $6.95 to Canada.
Kiwi Crate is also offering a free mini-crate for a limited time (you pay s/h). Find out more on this special here.
Which Kiwi Crate would your kids choose?
Disclosure: Review samples were provided by the Kiwi Crate. For more information, please see our Disclosure Policy.