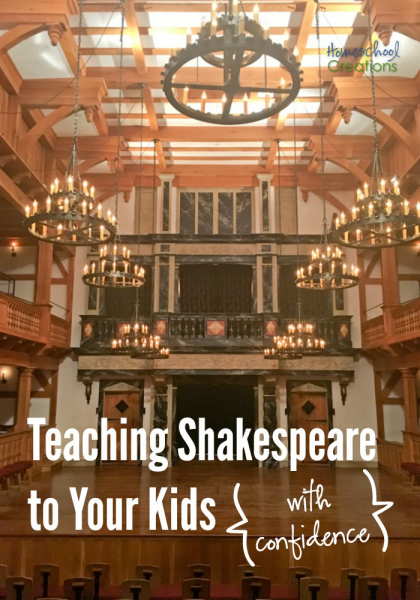 Reading Shakespeare can seem a bit like a foreign language to both children and parents. Despite having studied (and loved) Shakespeare in college, teaching it has been a bit daunting. I don't want our kids to just read it, muddle through, and not really appreciate it and all the subtleties each work contains. Granted that's true of any piece of literature our children read, but works by Shakespeare tend to seem even more overwhelming because of the format and language.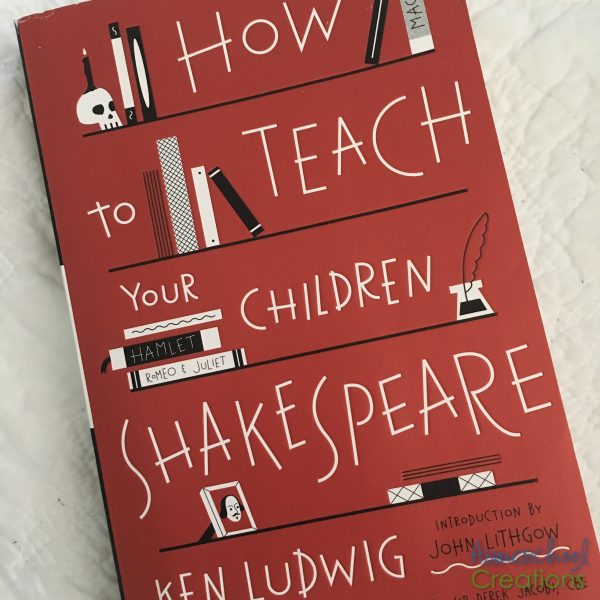 A few weeks ago I picked up a book How to Teach Your Children Shakespeare by Ken Ludwig (aff link), dragged it along with me through multiple airports, and FELL IN LOVE. You all, if you have ever doubted your ability to form a way to work on Shakespeare with your kids, you need to check out this book. Yes, you will have to read the actual book itself, but it has a plethora of information inside (I promise, it's worth it). Technically, there are a few chapters you really want to read first and the remainder you could skim through unless you are studying those plays (definitely read the intro and chapters 1 – 6, 10, 14, 21, 31, and the epilogue), but I would recommend reading the entire book.Personally I would recommend a hard copy of this book (instead of Kindle) because it's a book you will likely do a lot of flipping around back and forth.
Ludwig believes the younger you start kids learning and memorizing the better. While memorizing seems daunting, he breaks down the process, making it manageable and even something young children can work on. In addition to memorization techniques, Ludwig talks about Shakespeare's life and history, components of Shakespeare's plays (imagery, humor, poetry/prose, metaphors), and so much more.
While not an exhaustive look at all of his plays (Shakespeare wrote many!), the insight Ludwig provides into the various works is very helpful and will prompt some great discussion. In addition to delving into the reason for his book, how to use it, and giving a biography of Shakespeare's life and works, a variety of Shakespeare's plays are discussed in detail:
A Midsummer Night's Dream
Twelfth Nigh
Romeo and Juliet
Macbeth
Henry IV, Part 1
As You Like It
Henry V
Hamlet
The Tempest
This year is the third year that I have taught a high school literature course as a part of a small co-op we belong to, and each year we have discussed one of Shakespeare's plays and also attended a nearby Shakespeare production (more on that in a bit). Rarely do the play we are studying and the performance line up to be the same, and this year was no exception. We are studying The Tempest and the one performance we could attend was Romeo and Juliet. While I have quite a few notes and guides for each play, I loved the chapters of help on the both plays that Ludwig provides in How to Teach Your Children Shakespeare. Each chapter offered some different insights and discussion ideas for our class (and a little something "fresh" for me to ponder as well).
Understanding the Language of Shakespeare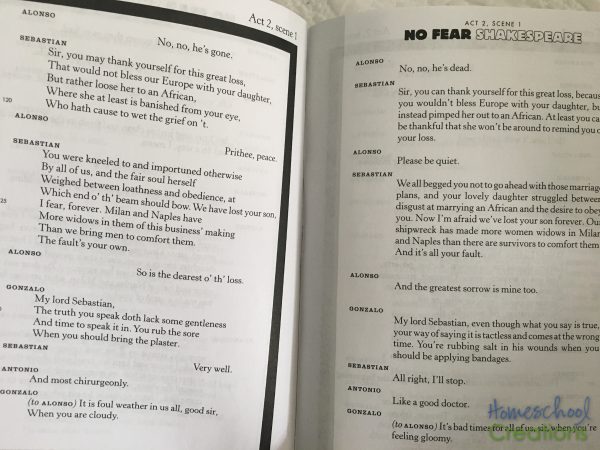 Even if you understand the plot of one of Shakespeare's plays, muddling through the language of the day can be hard for kids. There are key words and phrases that are interpreted differently today or than how we think they were written. A few resources I highly recommend are the No Fear Shakespeare guides or the Shakespeare Made Easy series which both offer the original words of a text on one page and then a modern day translation on the facing page so kids can better understand what is happening. While we go over and review various phrases in class with the kids, these have been extremely helpful for kids when reading through on their own.
Go See a Play (or Watch One) with Your Kids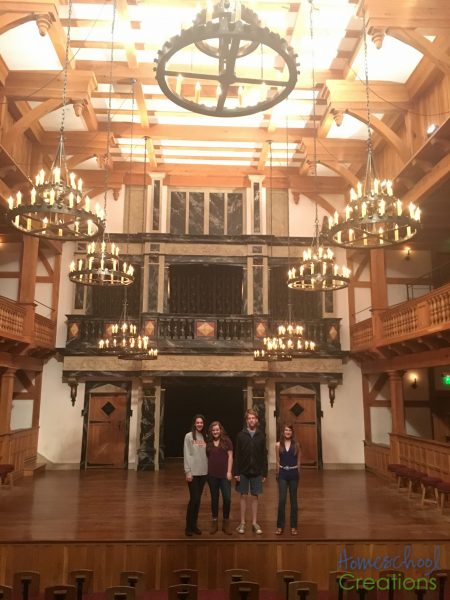 We are also fortunate to have an incredible Shakespeare theatre not too far from us. Each month they offer student matinees and a "talkback time" with the actors after the show is over and we love to take advantage of their acting and knowledge. The theatre we visit is a recreation of Shakespeare's indoor theatre and the actors and actresses are fabulous. It's one thing to read a play, but seeing it come to life in front of you is a completely different thing! The subtle delivery of a line or the mannerisms that go along with a monologue can completely change the meaning and understanding of a scene (body language speaks volumes).
If you have a theatre nearby, I highly recommend taking time out of your day to attend with your kids (granted, remember that Shakespeare has quite a few innuendoes in his plays that may not be suitable for younger kids, but often pass over their heads as well). Our high school group laughed and followed the bulk of the performance we saw, but at times the dialogue moved so quickly some parts were lost on the kids. Still, it brought a deeper level of respect and understanding of Shakespeare to the kids, and they went home not dreading their upcoming reading as much (and that's a win in my book!).
A Few (Fun) Additional Resources
While reading the actual plays are key, above (and below) you'll find a few other fun resources to go along with your Shakespeare studies.