A few months ago I shared a 30 picture books in 30 days challenge that was mainly to get me reading more books with our youngest. Turns out there are quite a few kids in the house that were willing to crowd around when the books were pulled out (you can never be too old for picture books, right?).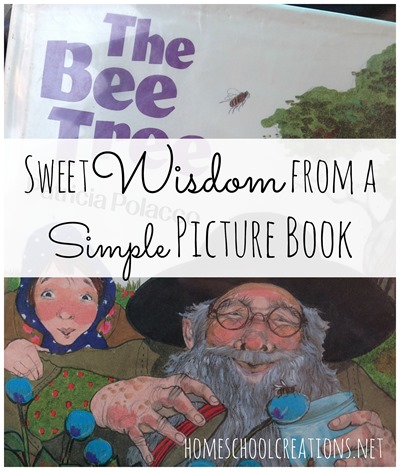 Those books were read over and over again, lots of cuddles were had, and it really was a GREAT challenge for our family – and one that has encouraged even more reading, especially so the youngest doesn't get lost in the shuffle.
When we read The Bee Tree by Patricia Polacco, I have to admit that I almost started crying a little when reading one of the last pages of the book. If you've never read the book before, it is the story of a grandfather and his granddaughter who begin chasing bees to find the bee tree. One by one, people in the town begin looking with them in search of the bee tree. (It's really a sweet book!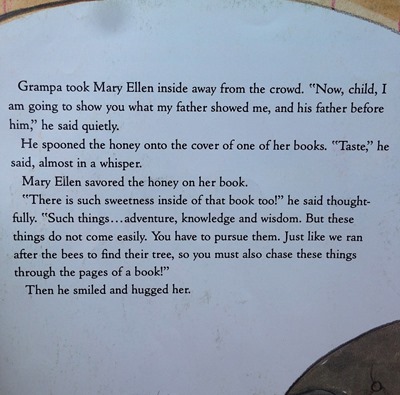 There was one part though that I absolutely loved. Because this quote is SO very true of what I want for our children, but also what books bring to our lives.
Grampa took Mary Ellen inside away from the crowd. "Now, child, I am going to show you what my father showed me, and his father before him," he said quietly.

He spooned the honey onto the cover of one of her books. "Taste," he said, almost in a whisper.

Mary Ellen savored the honey on her book.

"There is such sweetness inside of that book too!" he said thoughtfully. "Such things….adventure, knowledge and wisdom. But these things do not come easily. You have to pursue them. Just like we ran after the bees to find their tree, so you must also chase these things through the pages of a book!"
I still remember the hours and places I spent reading as a child. The corner of our living room curled up in a recliner. Backseats of cars. Under the covers at night when I was supposed to be sleeping (shhh!!!). And that craving hasn't ended as an adult. There are so many books that I read just for pleasure or read to learn more! If you know me well, chances are you've seen me toting around a book – or two!
Teaching our own kids to read has been so amazingly rewarding. Especially knowing that the steps taken early on will be with them for the rest of their lives and play such a big part in their learning! The early stages of reading can be a challenge for some kids (it has for a few of ours), but I have loved watching things 'click' with them one by one and love watching as they begin to love  books and what lies between the pages.
The analogy of chasing things like the Mary Ellen and her Grampa chased the bees gives such a wonderful visual for kids and adults. We have to pursue knowledge and wisdom (even we as adults!). The learning never stops – for that I am thankful. And sometimes those little nuggets of wisdom are resting  within the pages of a simple picture book.
What books have you enjoyed reading lately with your kids? Remember those picture books can be full of wisdom too!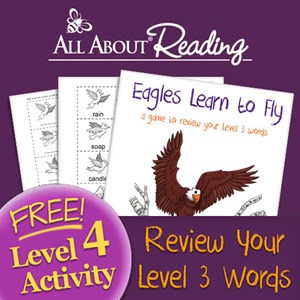 Grab this free reading activity from All About Reading!