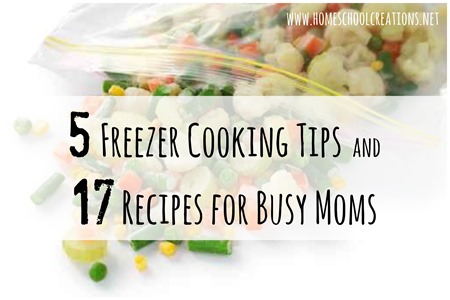 In a huge preventative measure (and mom-sanity saver moment) for the upcoming busyness of fall commitments, a friend and I spent a little over six hours putting together 17 freezer meals each to use in the next few months. That's seventeen meals that just need to be pulled out and either dumped into a crockpot, or thawed the night before and then quickly popped in the oven to finish. With the addition of a few meals that I doubled and froze this past month, we'll have plenty to choose from. (Yay!)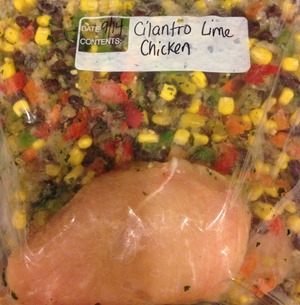 Many of you saw my pictures on Facebook and Instagram and asked if I would share recipes. Ironically, I have very few pictures of our day spent cooking, but I can assure you the kitchen was a mess, we got a LOT accomplished, and our freezers are stocked.
While we were far from being super-efficient in our entire process (there was a nursing infant and kids running in and out and asking me to feed them things like lunch – those hungry kids), we really did get a lot done and the kitchen was clean when we were done.
(happy sigh)
And really – freezer cooking did take a chunk of our time, but it was so easy overall. And fun. But please don't tell my hubby I had fun, ok? Let him think it was grueling labor.
Freezer Cooking Tips
In the meantime, here are a few tips to consider before you begin your freezer cooking venture.
1. Plan Ahead
In the few days leading up to our freezer cooking day, a friend and I went through our recipe books, looked at favorite recipes, and picked recipes that required minimal prep (both in the prep phase and when it came time to cook it) and ones our families would enjoy. I have a kiddo that dislikes rice, so we pulled as many potato or similar recipes that we could find. My friend has a son with Celiac, so we had to make sure recipes could be easily adjusted to fix gluten issues.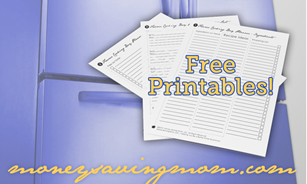 I used a simple notebook to write down recipes, ingredients needed, what we had on hand, and the order we planned to make the meals. Only after did I find these GREAT freezer cooking printables from Money Saving Mom set up almost exactly how I did my notebook planning.
(And psst – don't plan to go grocery shopping the same day you want to do a major freezer cooking day. Cut yourself some slack and shop the day or two before.)
2. Start with a Clean Kitchen
Maybe the thought of cleaning up your kitchen pains you, but trust me. This was just a huge help in the process. All surfaces were cleaned off and ready to go before we started cooking and chopping. There wasn't a need to move things around and figure out where to put things while our hands were covered in something.
3. Set up Stations
To make life easy on ourselves, we put all the ingredients we needed on the dining room table so we could find what we needed quickly. We also had an area where all the spices needed were already on the counter along with measuring spoons. Veggies and such were in a separate area and meat had it's own counter space as well (to avoid any cross contamination). We also had an 'assembly' area where we put it all together.
Overall, that process helped out tremendously and one person could man a station during the put-together process.
4. Work in Phases
While it would have been great to cut, dice, chop and get it all done prior to assembling recipes, we had an infant on hand, kids running in and out, and also wanted to make sure all gluten issues were covered. We did try to group like recipes together (all pork, all beef, all chicken, etc…), did slice up all the peppers ahead of time, and washed potatoes and left them in the sink drainer to pull out as needed. We also browned the ground beef for a recipe before starting.
5. Clean a Little as You Go
Having piles of dirty dishes on the counter or in the sink didn't work for us. We needed the sink to wash hands, and while I have a lot of dishes, there weren't enough to cook on the level we did that morning.
The dishwasher was empty before we started cooking. We filled it as we worked, washed a few mixing bowls as we went along (again the gluten issue and contamination), and that helped out so much at the end when it came time for the final clean up.
Freezer Cooking Recipes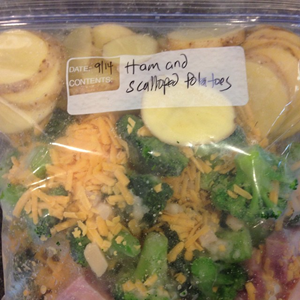 I've put together a Freezer Cooking Pinterest board with all the recipes I could find online to share with you. A few of the recipes we used were ones that I have in my recipe binder or ones that I've pulled together over the years, so I uploaded a pdf file with those for you (see bottom of the list). Here's a peek at what we made (links where available).
Whole Chicken Crockpot (Costco chicken, we froze potatoes, carrots, onions, etc…)

Chili (in pdf)

Mini Meatloaves (in pdf)

Split Pea Soup (in pdf)

Baked Beans (in pdf)

Indonesian Pork (in pdf)

6 cups of cooked rice

6 cups of shredded & cooked chicken
Over the past month I also made Chicken Taquitos, Meatballs (for sweet and sour meatballs), Chicken Tetrazzini, and have a lasagna and ravioli on hand. Our trusty 7 quart crock pot will be helping crank out many of the meals!
Keep Track of it All!
Don't lose some of those meals to the back of your freezer! Be sure to keep a running list and either stick it on the side of your freezer to cross off meals you use, or keep a list handy so you don't forget.
Another huge help for me is using my master meal planner and also my monthly menu planner so that I KNOW what we have on hand. I am a huge fan of getting as much of my shopping done in one evening (with the exception of perishables) and planning meals ahead helps save me time in the long run.
FREE Freezer Cooking Labels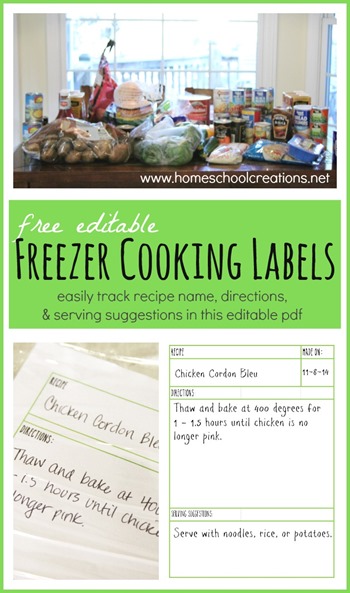 You might be interested in the freezer cooking labels that we used. To make life a little easier for myself, I put together some simple labels to stick on the front of each of our freezer bags and containers, and you can download them for FREE and see our second round of freezer cooking 22 meals!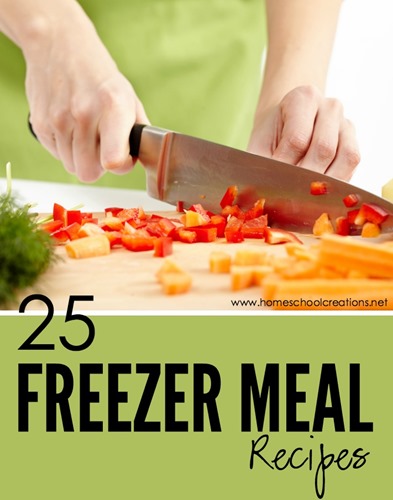 You may also be interested in my 25 Freezer Meal Recipes post where I share many newer recipes and a few more tips on freezer cooking!
What are your favorite meals to freeze ahead? Have a freezer tip to share with readers? We'd love to hear!