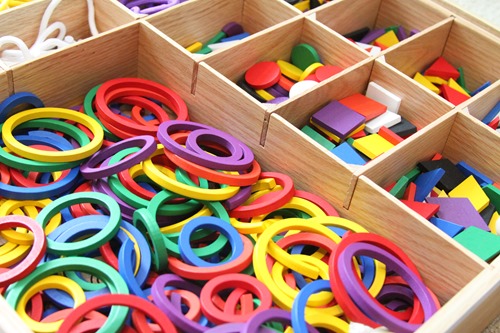 All of the colors make you want to dive right in, don't they?
For months pictures of Spielgaben have been floating around on Instagram and the colors were pulling me in. So many amazing manipulatives and pieces to create with – shapes, beads, rings, wooden blocks, pegs, string, sticks (points), and more – all so very inviting to young and old alike.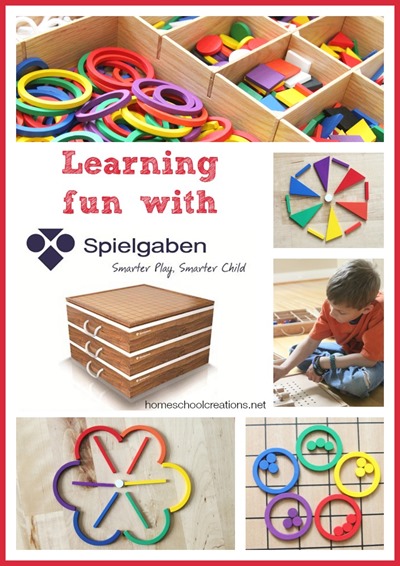 I was (wrongfully) under the assumption that the Speilgaben set was really more for little kids – something that we seem to be running short on in our home with our youngest now being seven. But since its arrival,  Spielgaben has been an enormous hit, and we are using it in a variety of ways with our kids, both in creative free play and educationally!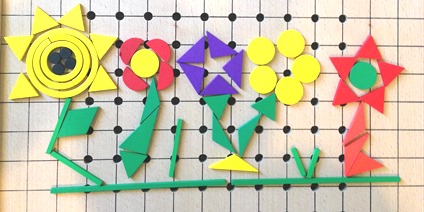 When we first opened up all of the boxes, there was a LOT of free play and creating using all of the pieces: buildings created from blocks, scenes and critters made with shapes, and yarn balls being thrown (ahem).  We are talking HOURS of uninterrupted play – both when it first arrived and now weeks and weeks later.
In the weeks following, the main focus for us has been tying Spielgaben in to what we are already learning about in our various subject like math, science, and language. And the user's guides, inspiration cards, and worksheets that are all a part of the kit – amazing! They provide you with so many learning activities that guide you step-by-step through the activity. From there you can extend the learning or move on to another activity. All of ours are on the iPad, but for specific teaching activities I print them off to have handy. I cannot begin to tell you how wonderful they are, and you can get a peek at some pages here.
What I'd really love to show you though is how we are using Spielgaben in our home! I've been trying to plan 3-4 specific activities each week for both Kaleb (7) and Zachary (9). McKenna (age 11) has been using the Spielgaben to create story scenes.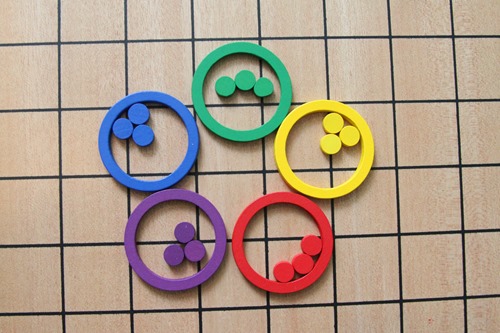 Kaleb has been working on early multiplication. To demonstrate the concept, we grouped items together. Above we were talking about 5 x 3 = 15.

We've also been talking about symmetry, so we taped one of the strings in the kit to the top of the board and made a middle line of symmetry. Then Kaleb and I took turns creating a shape and then the mirror image of it on the other side of the line.  In the last image, Kaleb created three images and then wanted me to do exactly what he had done. (So I did – grins).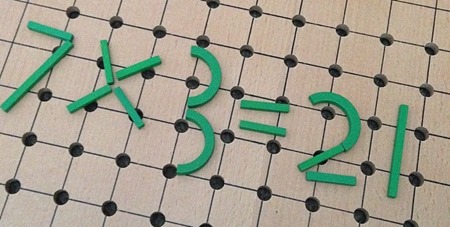 A certain 9 year old needed a little multiplication practice, so for the facts he missed during one math lesson, he created the problems using various Spielgaben pieces.
Zachary has been working on acute, obtuse, and right angles, so we taped several of the rods together to measure the angles on various triangles and determine if they were obtuse, acute, or right angles. It was a great hands-on way to measure all three sides of each triangle as well and see how a few could be acute while another obtuse.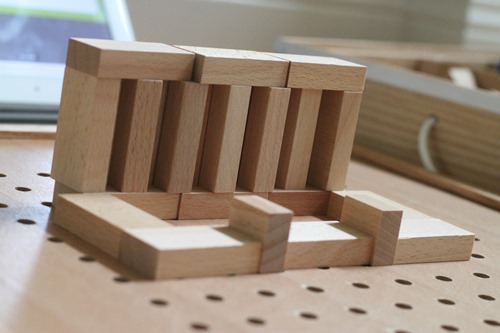 Building structures – this is an example that came from one of the teacher's manuals. Kaleb wanted to make it because he thought it looked like the Lincoln Memorial. (grins)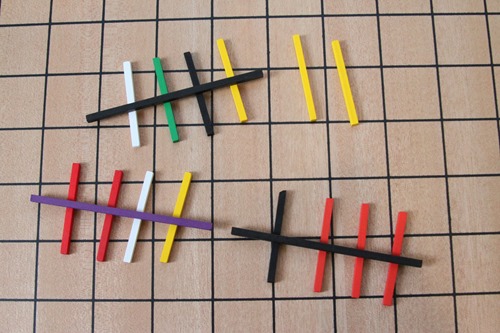 Tally marks – need I say more? We can always use a little more practice here!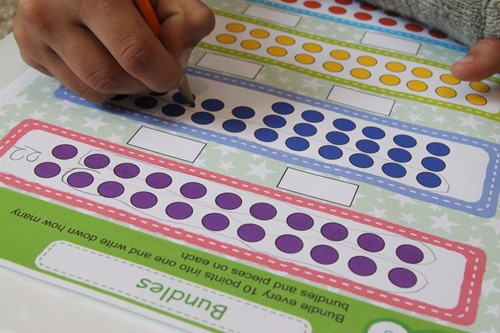 Remember I said there were worksheets? Somehow I had them in the wrong folder on my computer, and this week has been the first time we've used any. Above Kaleb was practicing grouping by tens.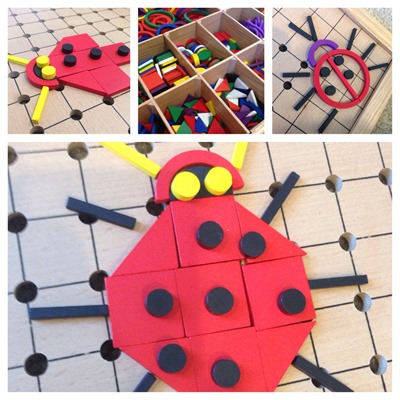 During the last several weeks of our science program with Kaleb, we were talking about insects. It was so much fun to create the different insects we were studying: ladybugs, butterflies, ants, and grasshoppers (our grasshopper may have looked more like a goat…).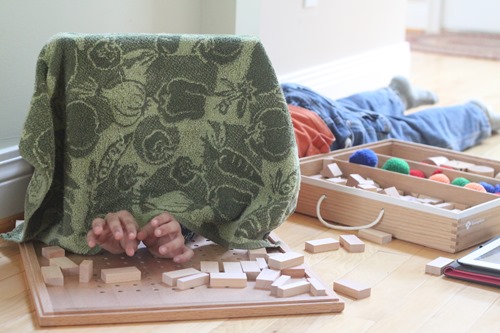 There have also been puppet shows (grins).
To tell you the truth, we have only scratched the surface on how we can use all of the pieces in our Spielgaben set. Somehow I missed an entire manual that comes with it! After going through it, there are ideas spinning in my head on how to incorporate more hands-on learning  fun with the older kids. I'll continue to share pictures and examples of how we're using it via Pinterest, Instagram and Facebook, so don't miss those!
A Few Thoughts From Me…
Spielgaben is targeted for children ages 3-12 (our 13 year old thinks that excludes her, but she has been caught creating on numerous occasions!). One thing that I do want to note is the cost of the set, because for many that is a huge part of the buying process. While the purchase price may be higher, remember the set includes the following:
a 3-tiered wooden organizational system

high-quality wooden pieces that will last for generations (we are keeping ours for YEARS to come – definitely future generations will use it!)

digital teacher helps: inspiration cards, nature guides, worksheets, and multiple curriculum guides for children of all ages

ways to supplement learning through the age 12

can be a complete play-based curriculum for younger children
Ultimately, you know your child(ren) best and how they learn, what they enjoy, and need to consider all of that when you make a purchase (I really understand that!). As I mentioned earlier, I assumed that Spielgaben was intended for only younger children, but can honestly say that it has been a fabulous addition to our homeschool time and is something we will actively be using in the upcoming months and years. There are very few toys and things that I keep around our home once we are done – but this is one we will save.
Want to purchase Spielgaben for your family?

Spielgaben is offering my readers a special price on the complete set,  including shipping until May 20th!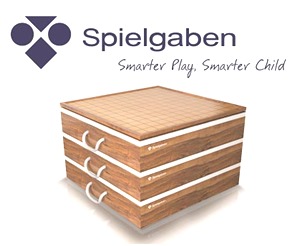 USD $327 | GBP 195 | AUD 360
To take advantage of this special offer, go to the Spielgaben contact form and send Spielgaben an email mentioning Homeschool Creations. They will then contact you with instructions on how to apply the discount coupon code.
Don't forget to "like" Spielgaben on Facebook – they are sharing additional learning ideas there too!
I was sent a set of Spielgaben products to review for this post. All opinions are my own and genuine!