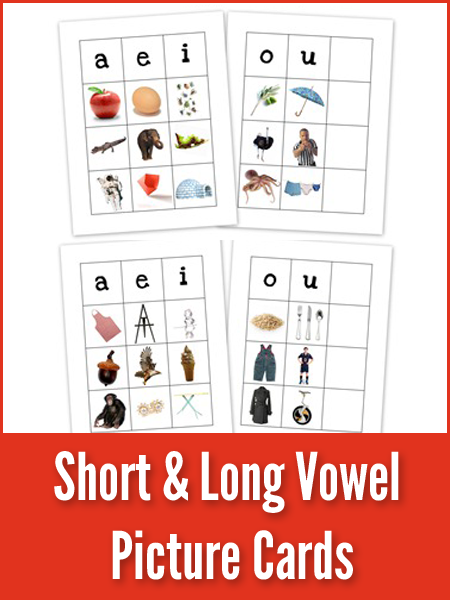 The Short and Long Vowel Picture Cards are designed to help you work with your child to identify the beginning short and long vowel sound in words. Each vowel in the sets includes three picture cards to go along with that beginning vowel sound.
Help your child match the picture cards to their beginning vowel sound. You can also use the picture cards to practice identifying objects with your child. The crisp white backgrounds on the Vowel Picture Cards, allow little ones to focus on the actual object that is being talked about.
The Vowel Picture Cards were designed to go along with the Consonant Picture Cards that I shared some time ago, so be sure to download those as well! Now you'll have a full set of ABC beginning sound cards to use with your kids ~ and they are all free!
Here's a little peek at the cards…
Pictures included with the Short Vowel Picture Cards:
A – apple, alligator, astronaut
E – egg, elephant, envelope
I – inchworm, insect, igloo
O – ostrich, octopus, olives
U – umbrella, umpire, underwear
Pictures included with the Long Vowel Picture Cards:
A – apron, acorn, ape
E – easel, eagle, earrings
I – ice, ice cream, ironing board
O – oatmeal, overalls, overcoat
U – utensils, uniform, unicycle
You can download them and many other preschool alphabet printables on my website!
Have fun learning!