Sometimes the titles of these posts crack me up. Preschool and kindergarten crafts and activities can be all across the board. I love how someone can be learning about Vikings, while another family is studying about fall and a fox! Just goes to show the wonderful flexibility we have with our kids and following fun leads when learning!
Rocket Ship Kid's Craft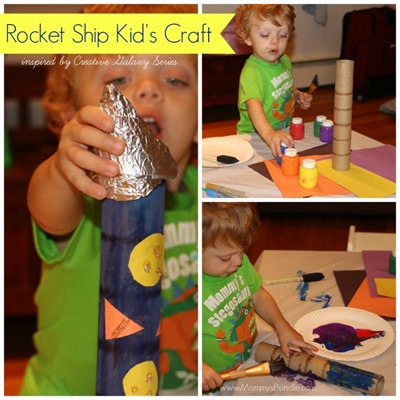 Mommy's Bundle recycled some various materials from home to make this fun rocket ship craft with her boy. The craft was inspired by Creative Galaxy, a new tv show for kids. Love how she extended the learning fun on something her son was enjoying!
Viking Ship Craft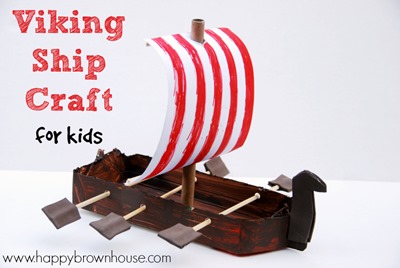 This Viking boat craft from Happy Brown House is all cuteness (but don't tell the boys I said that). You definitely need adult supervision for this one, but the end result is fabulous!
Being a Yes Mom
If there's one thing I understand, it's the dislike that many moms have in the actual process (I'll raise my hand and say I'm one of them). Royal Little Lambs shares their crazy craft day where she said YES to the mess and had a whole heap of fun (and crafts) to show for it.
Fox Puppet Craft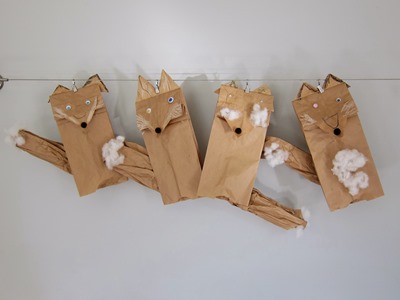 To go along with their fall learning and the book Fletcher and the Falling Leaves, Joyfully Weary made some fun fox puppets to go along with all of their leaf crafts. Super cute!
That's the wrap up from last week – can't wait to see what you all have ready to share this week.
Follow the PreK and Kindergarten Community Pinterest Board
Each week I am  pinning many of your links onto the Preschool and Kindergarten Community Pinterest Board. I'm a visual person, so having pictures to help me remember posts is super helpful. Be sure to jump over and follow the board – and find some fun ideas at the same time!
Were You Featured in the Preschool & Kindergarten Community?
If you were featured in one of the weekly posts, feel free to grab the button coding below and display it on your site!
Link Up with the Preschool and Kindergarten Community!
Share what you are doing with your kids! Please link your exact blog post to the Mr. Linky below and link back here too! Grab a button for your post and be sure to take a minute to visit the person who linked up before you.