With the year wrapping up soon, there are a few books on my 12 Books to Read in 2014 list that I need to finish up. 'Need' may be a strong word – maybe compelled would be better. The books that are on the list, so they have to be completed. (grins)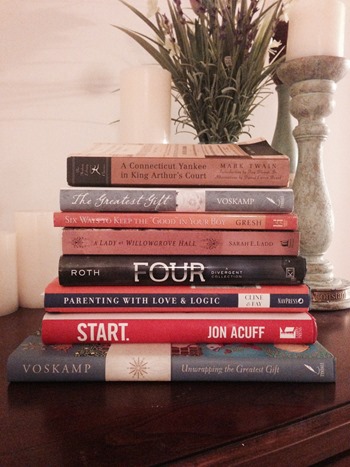 Overall, my non-fiction reading has been so much better than in years past (I'm at least happy with all I've been reading), but I have learned that I need to be a whole lot more flexible with my initial list. There are SO many great books that are released over the year, and often I'm not a patient waiter. I like to read it right NOW, which then results in my getting frustrated because the pile of books grows and grows.
Am I alone in this?
My reading pile for November has a little bit of everything in it – reading for fun, for homeschooling (the lit class I'm teaching), for learning and growing, and to keep ahead of books that our kids may read in the near future and develop a thought process (yay/nay). Inevitably other random books are thrown into the mix because I fall asleep reading every single night, but we'll see how I do this month.
Books I Hope to Finish in November

Connecticut Yankee in King Arthur's Court by Mark Twain – this is for the lit class. I read it years ago and loved it, so reading it again will hopefully be as enjoyable.

Parenting with Love and Logic by Foster/Cline – I'm about 1/3 of the way through this book and while no parenting method is perfect, there are some helpful tips that I am taking from it so far. Looking forward to the rest of the book.

Start: Punch Fear in the Face by Jon Acuff – ironically the book I started months ago, but put down. Loved what I read, just need to finish it up.

Four by Veronica Roth – this is a part of the Divergent series (which Laurianna hasn't read yet – my call is to hold off on it for her at this point). But since I've read the other three books, I *have* to read this one, right?

The Greatest Gift by Ann Voskamp – I've heard some great things about this Advent book based on the Jesse Tree. Although it may be a bit early (and I may carry this over into December), I definitely want to start it soon.

Unwrapping the Greatest Gift by Ann Voskamp – really looking forward to reading through this with the kids this Advent season!

Six Ways to Keep the Good in Your Boy by Dannah Gresh – the other books that I've read by Gresh have been practical and given some great tips (and they are typically quick reads too).

A Lady at Willowgrove Hall by Sarah Ladd – I've loved her other books and definitely can wait to read this one!
Books finished in October
Here's the short list of books that I finished reading this past month.
What books have you read lately and enjoyed? I'd love some suggestions on what you're reading!