Since I'm the type of girl who does well with a list and gets motivated crossing off things that are done, I've been working on my November goals. The last few months I've been dividing my goals into several different areas: personal, parenting/family, marriage, home, and school.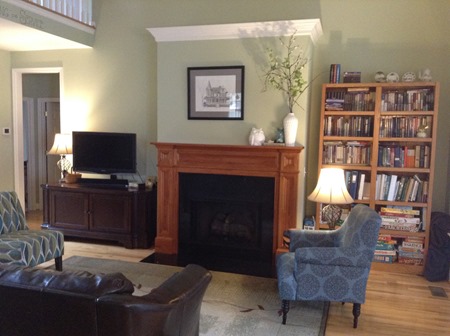 This month we have a home project in the works: bookcases in our living room, which translates into some rearranging all over the house (translated a big, fat mess and lots to do before hand). I'll have to show you the after pictures later this month, but here's a before of the area we're re-doing.
There's a lot to do in several rooms as we move things around, but I'm thankful for it because it ultimately means de-cluttering, reorganizing, and making sure the stuff we have is actually stuff we NEED. The process can be a pain, but the end result will give us a central place for the kids to work on the computer and so much more book storage (yay!).
Anyway, here are my goals for the month of November (and if you'd like a cute printable to plan away on, check out this one from Money Saving Mom):
Personal Goals
Finish morning routine (devos, shower, etc…) by 7am (a.k.a. out of bed and ready)

Treadmill total of 1 hour/week

Do better with what I'm eating and drink more water (this has slipped lately)

Read 30 minutes/day (non-fiction) and finish 1-2 books on list a week. See my November list here.
Parenting/Family Goals
New game of month and play games together 2x/week

Read aloud w/kids and audio books (finish 2 books)

Follow through with chores – be consistent

Keep our daily 'quiet time' with the kids going and consistent
Marriage Goals
Send sweet (and fun) notes/texts to my hubby

Date night with Rick – 2x/month (home or out)

Movie night at home – 2x/month

Work on budget together and be accountable in finances
Home Goals
Paint fireplace

Keep counters clean each night

De-clutter and sell stuff on Craigslist (my pile is growing)
Homeschooling Goals
Group science experiments with the kids

Start online Spanish with the boys

One fun activity for Kaleb and Zachary each week

Finish reorganizing the schoolroom (touch up paint and banister)
What goals do you have for yourself and your family this month?
Sponsor Thanks for November
We really appreciate the following companies. Many of these have been long time sponsors of Homeschool Creations and we are SO thankful for them – be sure to stop by their sites and check them out!
Teach Them Diligently Conventions are now open for registration! Speakers for 2015 include James Dobson, Barbara Rainey, and many others. Locations include Nashville, TN; Atlanta, GA; Sandusky, OH; and Dallas, TX. Hope to see you at one of them!
Celebrate Advent this year reading the newest book from Anne Voskamp, Unwrapping the Greatest Gift. The book includes daily devotions for children of all ages and is beautifully illustrated!
 Does your child have a need to fidget or chew?  Chewigem has the discreet, FUNky solution to soothe these needs.
Apologia offers a Christian worldview curriculum that kids will love. Featuring engaging stories, creative notebooking, and fun activities, this four-part series is presented in a conversational style that makes the study of God's Word exciting and memorable.
Educents is a curated deal website that discounts homeschooling curriculum and educational products up to 90% off! Save an additional 10% with code HSCreations10.
Speekee is the most comprehensive online Spanish program for children ever created. Children learn best when they are having fun, and that's what Speekee is all about!
The Hands-On Bible  uses experience-based learning to communicate God's Word in an active, understandable way for kids. This Christmas, don't just commit to reading God's Word as a family; give the Hands-On Bible to your kids, and commit to doing God's Word together.
Reader's Favorite Posts from October 2014
Curious to see what others have been reading this past month? Below is a list of the ten most visited posts for the month of October 2014.