The last few weeks have been packed full with school, swim practice, a birthday, and traveling for a meet. Busy is good, right? Here's a little peek into what we've been working on during our school time. Obviously it isn't the full course of the last two weeks, especially since I cannot find the iPod that has all of the additional pictures taken the last bit (ahem).
2nd Grade Homeschool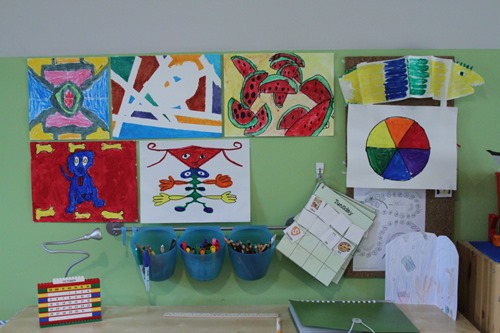 Art – Creating is definitely one of Kaleb's favorite parts of the day. He has been obviously quite busy this year with the 2nd Grade Home Art Studio dvd (and I've had to sneak some of the art off the wall above his desk!). His name in cursive was his favorite piece lately – especially because it looks like an alien. Can you see his name?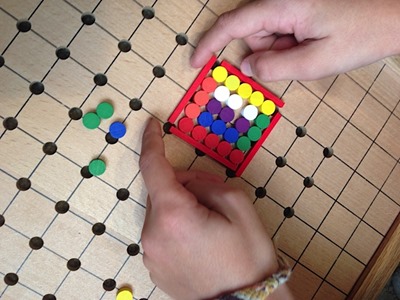 Math – While Kaleb is working on Teaching Textbooks 3, we're using our Spielgaben set to work on measuring the area of figures. This was a great tool for working on multiplication and showing how we can multiply 5×5 to get the 25 points inside our square.
4th Grade Learning
Science – In addition to learning about force and friction during our science time, Zachary has been having a lot of fun with Snap Circuits. We're a little behind on three projects a week, but it won't be hard to catch up (especially because he loves trying to bypass the plans and create his own project).
Reading – Zachary has been flying through the lessons of All About Reading 4 and is very motivated in his reading – woot! He is also making progress on his 4th Grade Reading List and even picked out a book to read on his own this week (not on the list – double woot!).
6th Grade Homeschool Time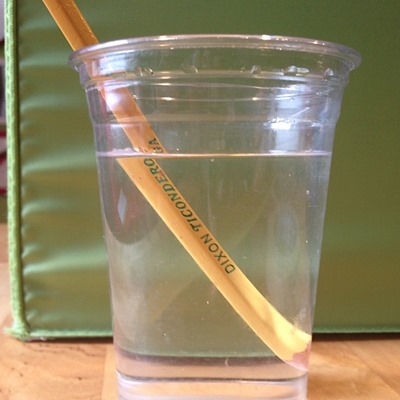 Science – McKenna is finally getting into the swing of things with her science experiments – and enjoying them (grins). Her pencil experiment to show how light bends made her very happy.
Writing – McKenna's writing has grown in leaps in bounds the last several weeks. She was a little worried at first that she wouldn't be able to handle our writing program, but I LOVE, love, love seeing her creativity expand and her confidence increase in this area. Although she is just working on short, informal papers at this point,
Vocabulary – We're using the online WordBuild program from Dynamic Literacy and McKenna is getting into a groove with the it. She still tries to sneak answers from me every now and then, but the online version has really helped her out. Each lesson is a maximum of fifteen minutes, so she is thrilled when she finishes them quickly and gets them all right! (It's the little things, right?)
8th Grade and Independent Learning
One of the sad things for me (but it's a good thing too), is how much independent studying and learning Laurianna is doing this year. She loves spending time in her room so she can concentrate on her work. It's sad to me, because it's another step in the whole independence area. (SIGH). We are still working together on a few subjects, but she is loving the courses that she can work on solo. North Star Geography is still her favorite this year out of all of her subjects.
Literature – This has been such a tough, but fun subject for me this year. Teaching a small group of kids has been fun, although difficult when you are grading other kids and not just your own. The writing style has stretched Laurianna this year and the reading list has been a little more intense (she just finished A Connecticut Yankee in King Arthur's Court and is moving on to Jane Eyre). They are a different style than she typically enjoys, which can make writing the analysis papers a bit more challenging. (grins)
Spanish – Laurianna has become a little sidetracked on Spanish (my fault). When our laptop crashed a bit ago, we were able to transfer all of her program to the new laptop without losing her info, but our new laptop only has one plug in – and she can't plug in both headphones and a mic. So now we're trying to figure out how to handle that….
When Dad Doesn't Like to Play Games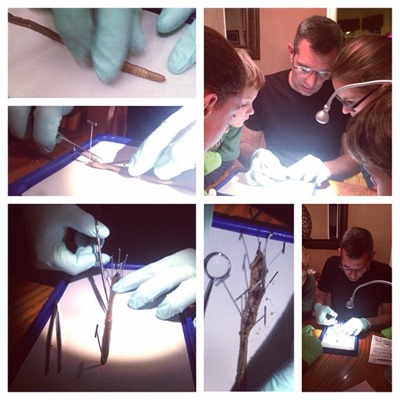 Do you remember me mentioning that a certain man in our home doesn't like to play board, card, or any type of games? Monday nights are one night that we are all home and had a planned game night. Until Zachary walked downstairs with our dissection kit (that may have been sitting on the shelf in the school room for quite some time) and asked if we could dissect a worm. It's pretty obvious what won out – isn't it?
The kids had a blast helping dissect and identify the parts of the worm – and I may be glad that someone else (other than me) was willing to help out with the project. I may be willing to forgive the fact that my hubby didn't want to play a game that night. Maybe. Especially when the kids pull out the frog in the next few weeks.
What have you been doing in your homeschool time?
Linking up this week with Collage Friday and Weekly Wrap-up!