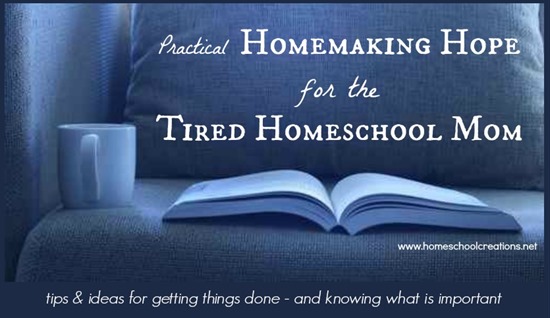 How do you do it all? Isn't that a question that we all ask – either about other moms when we see how beautiful or immaculate their house/kids/etc…appear via Pinterest and Facebook and begin comparing the piles of laundry and leftover dishes piled in our sink with crusted-on food. It can be downright discouraging.
Let's face it – it is SO easy to get overwhelmed and feel like life is out of balance. Quickly! Many of us are just tired homeschool moms – looking for a glimmer of hope as we dig out from under the huge pile of laundry that threatens to swallow us whole.
That nagging 'how am I supposed to do it all' can really throw us for a loop, but first I need to put out a few disclosure: I desperately believe that we need to redefine 'all' to match what is reality – not expectation.
Maybe you are looking for a few tips on tightening things up around the house. Maybe life feels completely out of whack. Here are a few tips and resources that have been so helpful to me over the years – and ones that I need to remind myself of as well!
Know That You Can't Do It All
No matter what you think, there is no mom that is doing it all. Everyone has different priorities and things that make their families unique. There are days in our home when we are lucky to finish the basics of school and have 3 meals. Housework may be pushed to the side for a day or two.
There definitely is something to be said for having an organization plan in place (routine or schedule), but remember – life happens. You need to know what your top priorities are and what is most important to you.
Pay Attention to How You Are Spending Your Time
While it seems intimidating, planning your day is something that can be done. Having a schedule or routine in place can help bring organization to your homeschool day and ensures that you are getting enough educational time each day as well. In the past I've shared our weekly routine and how I learned the importance of budgeting our time wisely.
Use Small Segments of Time to Your Advantage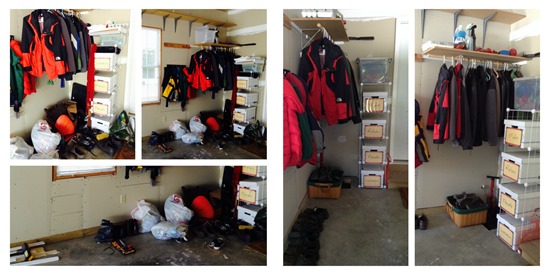 A 20 minute time block is one of my favorite ways to get things accomplished. And truly, you all – 20 minutes can put a HUGE dent in a task that needs to be finished or started. It seems like a small amount of time, but it can break up something huge and make it more manageable. Maybe it's tackling a larger project 20 minutes at a time. Or maybe that 20 minutes will be all it takes to get it DONE and off your list (and mind). The short time frame is also a great way  to stay focused, and then you can switch to a different task when that time is up.
Find an Organizational Tool You Love – and USE it!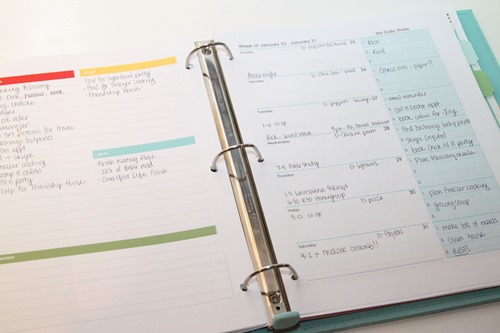 I'm a paper and pen kind of girl, although my Google calendar has a part of my life too!  There are two things in my life that help keep me organized and give me an overall view of our year/month and then a look at the day-to-day of life: my Yearly Personal Planner and my Daily To-Do List.
These documents are a paper version of my brain and keep me focused on what needs to be done. I can prioritize a list and get working on it. I will admit that I have been known to add things to my list that I've already done, just so I can check it off (don't judge – there is something wonderful in seeing what you have accomplished!).
Define 'Clean Enough'
Our house isn't white-glove ready (please don't bring any with you). You'll find spiderwebs, dust, fingerprints and more. I have in mind what is the bare minimum needed for rooms in our house. In our home we focus on the main living area (our busiest area and where we spend a lot of our time) and try to keep that picked up, while I let the kids have a little leeway (ok a LOT) in their rooms. My trigger areas are also kept up until deeper cleaning can be done. We tidy up those areas each night so we are ready to go the next morning. Kids rooms are supposed to be picked up some, but I've let go of perfection and they do a more full clean on weekends.
Delegate Work and Have the Kids Help
One thing that has definitely helped in house management is letting the kids be involved in tasks around the house. From the time they were young, we've included our kids in the cleanup process and given them responsibilities from wiping down tables and matching socks to washing/folding laundry and cleaning out the chicken coop.
There are some things they do just because they live in our house and are a part of a community – we all pitch in and help because we are a family. We make our beds, pick up after ourselves, put our dishes away, etc… You can get a closer look at our chore system here.
Plan Your Meals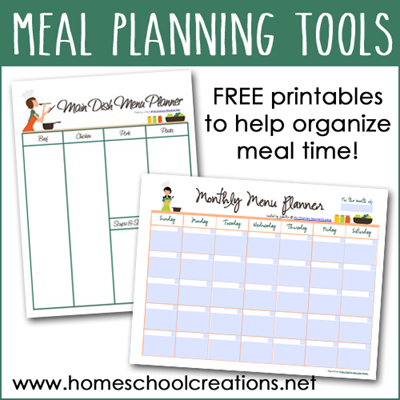 Taking the time to work on meal planning, even a week or two at a time, can be a huge time saver. There isn't any rush at 5pm wondering what you can thaw in time for dinner, and that alone is worth it!
Freezer cooking has also been a huge help to our family in the busy seasons. It does take planning, but having meals ready to use is wonderful.
Pulling Your Homeschool Time Together
As homeschool moms, keeping everything in order with the house can be hard because we are teaching in the same space we live. Here are a few additional tips for keep
Do school when it works for you – there is nothing that says you have to start school at 8:30 am. If your family sleeps in each morning (I may be jealous!!), work on school in the afternoon. Or Saturdays.

Teaching Kids Together – We have several subjects that we work together on to help save time and my sanity – history, science (for two), Bible, and art for a few. While the kids are all learning things on different levels, it has been a great time for us to work together.

Help kids become independent learners – As our kids get older, the goal has been for them to do subjects more independently. In the younger years subjects are more 1:1, but each year they can add a little more to do on their own. With our oldest two (grades 6 and 8), the bulk of their subjects are independent during the week. At the beginning of the week we go over what they need to cover that week and work on and later in the week we sit down together to review.
The Homeschool Basics series has many posts covering helpful topics from choosing homeschool curriculum, planning your homeschool day, to homeschooling multiple ages.
Mornings Can Be ROUGH!
If there is one thing that I've learned over the years, it's that my morning routine makes a HUGE difference in the overall mood and productivity of my day. It doesn't mean it's impossible to recover, but if a few tweaks and changes can make the day run much more smoothly – than I'm ready to try them and run with it!
My friend Crystal Paine of MoneySavingMom.com (and author of Say Goodbye to Survival Mode)  has created a 14-day course called Make Over Your Mornings – just for you!  It is designed to help you rebuild the very foundation of your day, and help ignite a new sense of passion and purpose in your lives – all in only 15 minutes a day!
Take Time to Rest!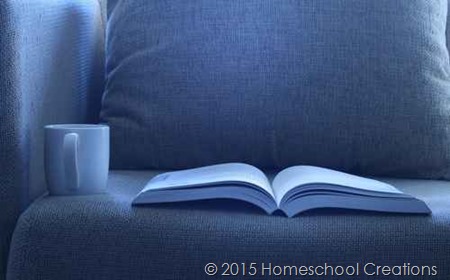 One of the best additions to our daily routine in the last two years has been REST TIME. Yes, our oldest is 13, but really truthfully, this (almost) daily time has added more margin in our lives and brought peace to our day. During this time the kids (for the most part) have to stay on their beds, can sleep, play with Legos, read, listen to audiobooks, etc. This just helps bring a time of calm to the day – and a break in any fighting (grins).
For me – this is NOT a time to work. It's literally a time for me to make myself a cup of tea, sit down and read my Bible, do devotions if they haven't been done, read a book for growth or fun – but just to relax and not be 'doing' something. So – for ½ an hour to an hour we try to unplug and just BE.
Those are just a few tips in helping keep things sane around the house. Again – remember moms (and dads) – there is no home that has everything remarkably together. We all have different priorities, involvements, and family lives. I'd encourage you not to compare what is happening in your home to another's home. It's always great to learn new tips and implement things that may help our process run more smoothly – but don't beat yourself up, especially if you are in a season of life that requires more of you as a momma (hello, newborns!) or there are situations out of your control.
Hang in there! You CAN do this homeschooling thing and get things done! Know what is most important to you and your family and focus on that above all!