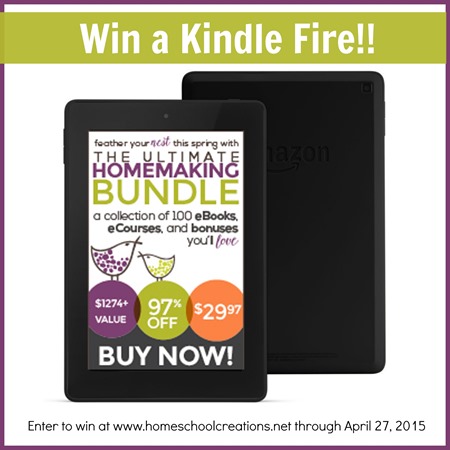 Ebooks are a weakness of mine and my Kindle is loaded with them.  There's a catch though – I don't like to spend a lot of money on eBooks, but give me a good discount and I'm all in!
Now I haven't read every single book that I've purchased (yet), but there are many stored on my computer for future reference and reading. When I'm in need of something to read, I love that I can flip through my ebooks until I find something that catches my eye and just start! There have been so many authors and subjects that I might not have given a second glance, but quickly became new favorites because I picked them up at a discount.
The 2015 Ultimate Homemaking Bundle is full of books like that – but even better! In addition to 76 ebooks, it includes ecourses, pdf downloads, online conferences, and gifts valued at $1,290. In case you were wondering, That breaks down to 30 cents per book… a huge discount! (And yes, everything is backed by a 100% Satisfaction Guarantee.)
AND – because I believe so much in what the Ultimate Homemaking Bundle as to offer, I want to bless one of YOU with your own Kindle Fire to store all of the goodies that come in the bundle. Or you can use it for homeschooling. Whatever the final use – it is yours to enjoy!
A Peek at What's Inside the Homemaking Bundle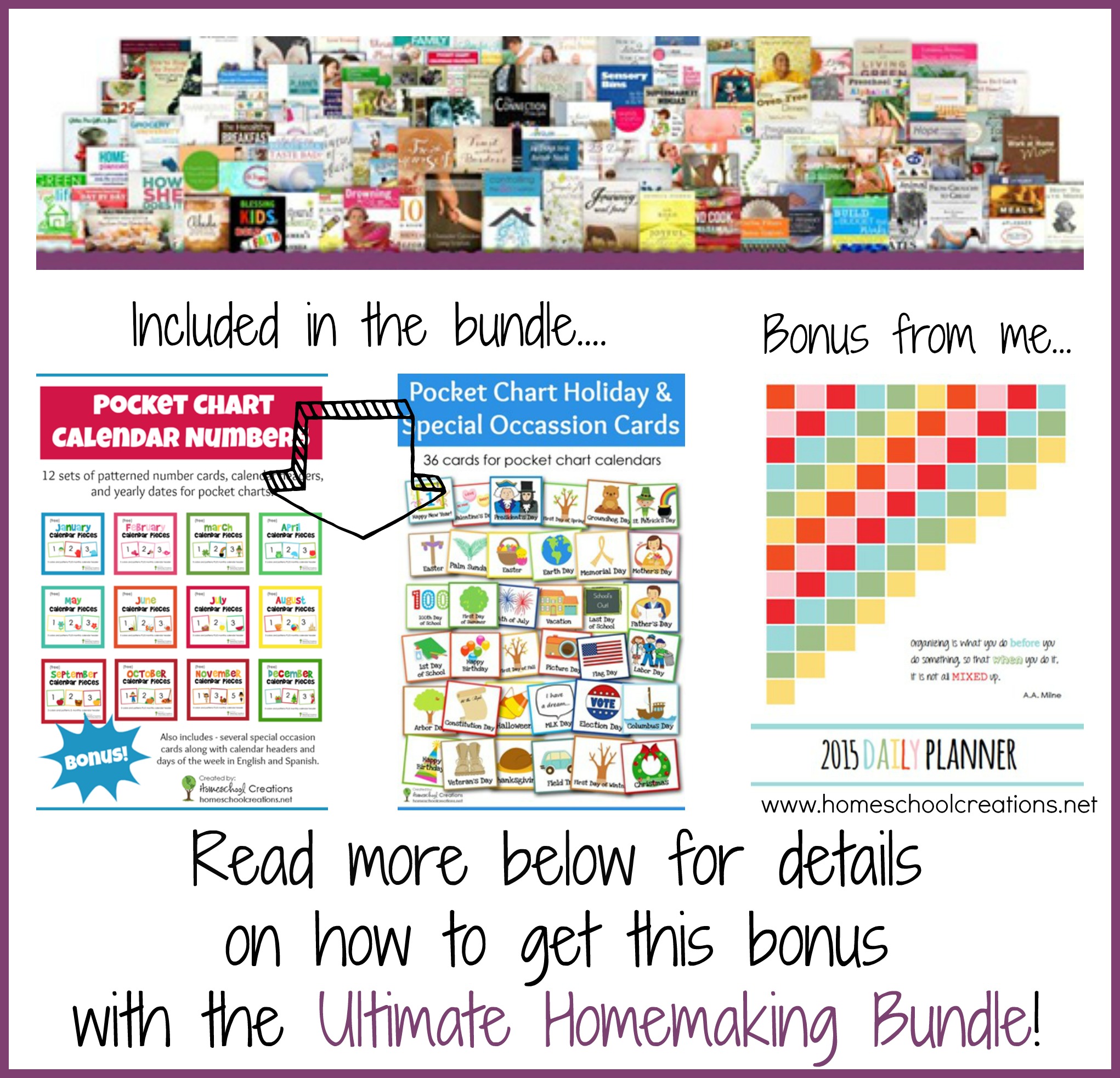 This is my second year as a contributing author to the bundle. I am thrilled that one of my printable packs, the Pocket Chart Bundle, is included as a part of this special sale. In additional to several homeschool resources, here are the topics you'll see inside:
• Cleaning… create a healthy, toxin-free home
• DIY/Homemade… fun and frugal ways to express your personal style
• Devotionals and Faith… take a break from the daily grind to renew yourself
• Finances… build a budget that works
• Cooking & Meal Planning… serve easier, tastier meals in less time
• Holidays & Special Events… brighten up old family traditions and create new ones
• Homeschooling… homeschool with grace and ease
• Marriage… heat up your marriage
• Motherhood… find peace, balance & joy in mothering
• Organizing… conquer the clutter and simplify your life
• Pregnancy & Babies… enjoy a healthy pregnancy and prepare to nurture your baby
• Health & Wellness… soothe aches & pains with natural remedies, and
• Working from Home… hone your talents, live your passions and earn money to help your family
Take a look through the categories, as well as the full list of eBooks and eCourses. There are some fabulous resources from bloggers like 1+1+1=1, Money Saving Mom, Keeper of the Home, Homeschool Creations, $5 Dinners, The Better Mom, We Are That Family, and more! From housekeeping, mothering, cooking, to homeschooling – there is a little something in each category that will help you out!
I am in love! It has so much stuff that I didn't know where to start. I started at the top of the list and plan on working my way through each eBook! I immediately enrolled in my eCourses while it was fresh on my mind. I am so excited!                                                    

                                                                                                 ~ ALICIA W.
There is a catch though – the Ultimate Homemaking Bundle will only be available from 8:00 a.m. EST on Monday, April 20 until 11:59 p.m. EST on Monday, April 27, 2015.
The sale is now over – if you'd like to be alerted to future sales, enter your email below!
Free Yearly Planner and $15 Coupon for the Weekly Homeschool Planner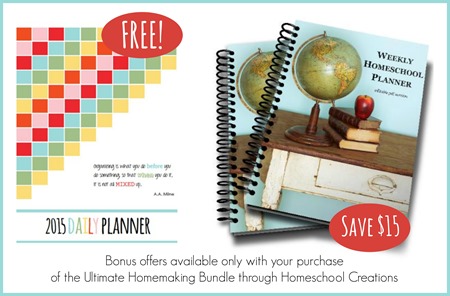 As an added bonus, if you purchase your bundle through Homeschool Creations, you'll get a FREE copy of my Yearly Personal Planner as well as a discount code for $15 off the Weekly Homeschool Planner (a 75% savings!).  Purchase through THIS LINK and then email me a copy of your receipt  – and I will send you your freebie and coupon code!
Win a Kindle Fire!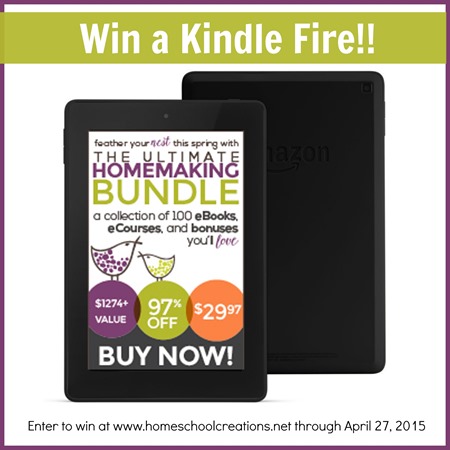 One of the best purchases we made for our homeschool was a Kindle Fire. In addition to being stocked with great ebooks, we also have several of the kids textbooks loaded, freeing up the laptop for other projects. Because we love it so much, I want to bless one of YOU with a brand new Kindle Fire HD 7!
Want to win? All you have to do is follow the instructions in the widget below. There are multiple ways to enter, but you can earn 5 entries if you purchase the Ultimate Homemaking Bundle through my affiliate link, so even if you already bought it – enter! :)
p.s. Feel free to share this giveaway and post with your friends too!
Your Purchase is 100% Guaranteed
You can buy the Ultimate Homemaking Bundle with confidence because your purchase is covered by the Ultimate Bundles one-year guarantee: you have a full year to enjoy all the books and courses in the bundle, and if you don't feel like it's made a huge difference to your family, you'll get your money back in full!

Read the fine print about this bundle and read the answers to frequently asked questions about the bundle. Don't forget – this bundle is only available until 11:59 p.m. EST on Monday, April 27, 2015.
Disclosure: As a contributing author (since my printables Pocket Chart Calendar Bundle is included in the bundle), our family benefits from each purchase that goes through Homeschool Creations. We value your support – thank you! We pray this bundle and bonuses are a blessing to your family as they are to ours!