The girls will be working through First Language Lessons Level 3 this year, so I'm trying to get ahead of myself and have things ready before we start our school year. There are several poems that they will work on memorizing during the year and it helps us out to have an 8 1/2 x 11 print-out of the poem hanging on our wall while we are learning it.
After we've memorized a poem, each girl stores a printable in their poem folder for review later in the year.
The poems included in First Language Lessons Level 3 are:
~ "The Land of Nod" by Robert Louis Stevenson
~ "A Tragic Story" by William Makepeace Thackery
~ "I Wandered Lonely as a Cloud" by William Wordsworth
~ "A Time to Talk" by Robert Frost
~ "The Bells" by Edgar Allen Poe
~ "A Slash of Blue" by Emily Dickinson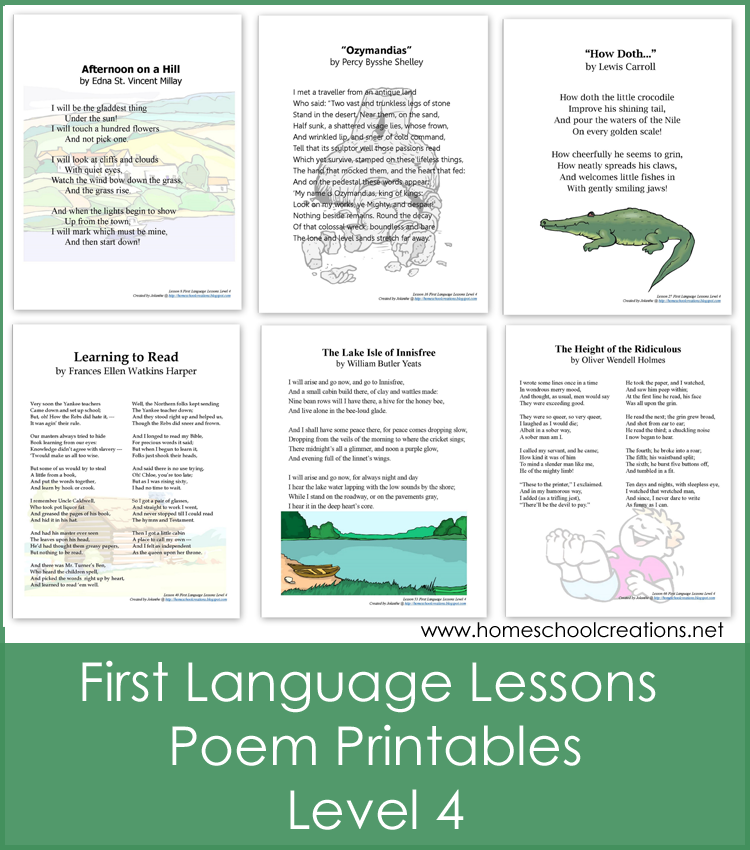 If you'd like to download your own copies of the poems to use, just click on the thumbnail image above and you'll be redirected to the Language Resources page on my website where you can download both the poem printables for Level 3 and also the printables for the First Language Lessons Level 1 and 2 books.