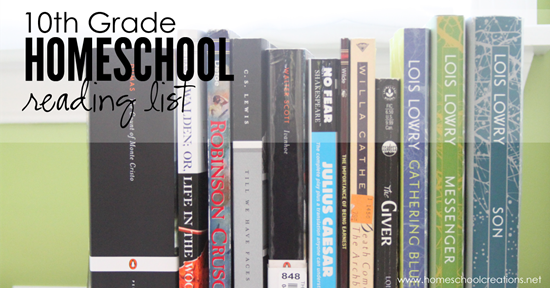 Our 10th grade homeschool reading list is largely based on the required reading for Literature and Composition by Janice Campbell. We added in four books to read together just because they were several we both wanted to read, and I wanted to have a grasp on what she was actually reading. You may remember that Laurianna is technically only in the 9th grade, but I suppose we could count this as one of the beautiful things about homeschooling! We can adjust our grade level and/or class load as it fits. Last year she completed the first literature class in the series we are working through from Janice Campell and earned a high school credit. This year's Literature and Composition class will also earn her 1 high school credit.
The typical pace is for reading (to stay on top of things) is one book per month, but I have a feeling one of the books on her list may cause a little bit of angst (it's causing me angst because I'm the teacher of the co-op class and I'm trying to figure out how to wiggle my way out of reading it again – I'm not afraid to admit that!).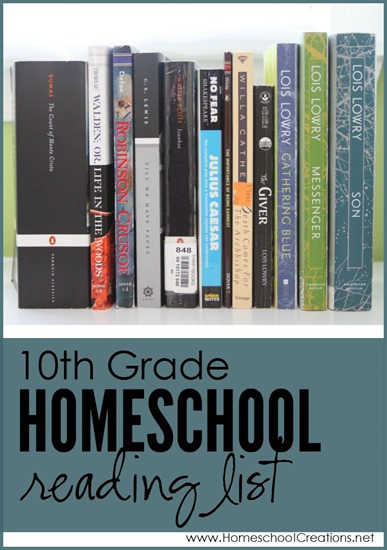 Our 10th Grade Homeschool Reading List
For each of the above books, Laurianna will have a variety of papers to write (at least three per book). Papers and essays vary from author profiles (learning about the life of the author), approach papers (quick summary, discussion questions, and character profiles), and some lovely essays based on questions presented in the Literature and Composition text.
A few of these do have a video version, so we'll be having fun comparing the text to the movie version. We also have plans to attend a local Shakespeare center and see Julius Caesar or The Importance of Being Earnest (leaning toward the latter).
The "Just for Fun" Additions
Sadly, much of Laurianna's spare time will be taken up with her school reading and other fun hobbies, but we did want to add in a few books to read together – which we've already finished and loved! She does love to read though, so hopefully we'll add a few more fun books in as the catch her attention.
This list also doesn't include any of the family read-alouds that we will be working on together. Overall not a huge list for the year, but several of the books are fairly hefty and will involve a lot of essay writing and discussion, so definitely enough to keep her busy for the year!
Homeschool Reading Lists for our Other Children
Interested in seeing reading lists for our other kids as well? Check out our reading choices for this and past years by clicking on the links below. Stay tuned for our 3rd, 5th, and 7th grade reading choices!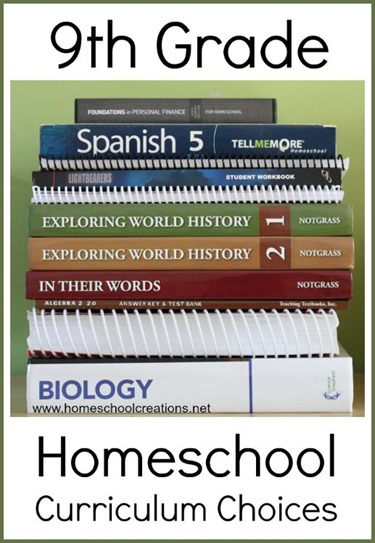 See all of our curriculum choices for this school year in our 9th Grade Homeschool Curriculum Choices post. It includes our lit program and several other wonderful programs we are loving!
What books are in your kid's reading stack for this year?