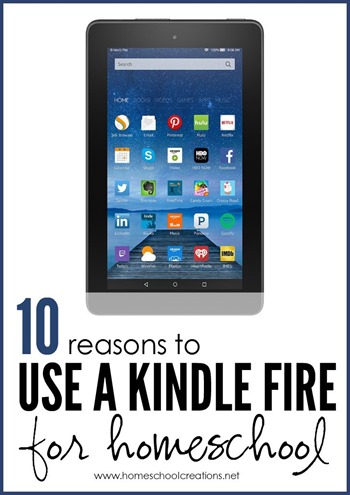 The Kindle Fire has become one of our go-to resources during our homeschool time and is one of our favorite homeschool supplies. Aside from the lovely price point (psst – don't miss the deal below!), there are many reason to LOVE the convenience of the Kindle Fire.
Currently the Kindle Fire 8GB 7"  has a GREAT pre-order price – $49.99! Click here to find out more!
Reasons to Use a Kindle Fire for Homeschool
Classic eBooks are often free (or greatly discounted) – as a go along for our high school literature class, this has been a fabulous resource! We can bookmark places in the ebooks, highlight portions to remember (without messing up a paper book), notes can be typed along.
Curriculum eBooks can be easily loaded onto the Kindle and save shelf space. Several of the programs that we use offer an ebook version (both our Literature and Geography classes did last year). We loaded the eBook version onto the Kindle for our daughter to use, and the physical copy went on the shelf for me to reference. 
Clickable links are easy to navigate when you are already using a device. This may seem obvious, but there are books that offer links in them and while a physical copy means I need to type out the URL, we can just click through and see the link.
Schoolwork while traveling is much easier (and lighter). The Kindle takes up much less room and allows for more freedom when we are on the road.
Kindle ebooks are often cheaper than paperback versions – and readily accessible. While we take advantage of our library all the time, sometimes we need a book a little more quickly and can find it very cheap (especially the classics!). They are all books we can keep and save for the future too! Our library is over 1/2 hour away, so the time and gas we save purchasing an eBook sometimes outweighs the free library borrowing. Don't forget too that your library may offer eBooks to borrow!
Finding sheet music and tuning the guitar is simple for music. Our oldest is working on guitar lessons, and her Kindle has become invaluable to her as she practices. She can tune her guitar using an app and quickly find needed sheet music as well.
Listening to music while working is helpful. Sometimes the schoolroom can get a little crazy, so our oldest pops in  headphones and listens to her favorite music to keep surrounding distractions to a minimum.
A thesaurus and dictionary are always at hand! Much to my children's chagrin, they really have no excuse for using weak words in their papers (grins). I'm a stickler for having them expand their vocabulary, so those are two tools that are frequently used as apps.
Parental controls are available to set, including times for the device to 'shut off' – not that we ever have to worry about that (wink).
Video clips or online tutorials can be found when needed. There are times when I am working with one of our other children and our oldest needs a little math help. She often will hop on YouTube quickly to find a tutorial for the problem. We also use it to look up video clips that fit in with our history studies. Our boys may be rather happy to look up LEGO building ideas (grins).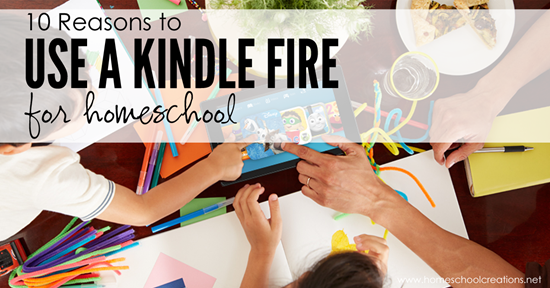 We aren't big on apps overall (call me a mean mom) and have kept our Kindle Fires primarily for schoolwork, although Pinterest browsing and email time are also allowed via the Kindle. While our kids don't have their own Kindles (they are shared devices), it has allowed for a little more freedom and independence for our older children – and a better understanding of how easy it is to get sucked into various devices…watching the time disappear.
What ways has a Kindle helped your homeschool time? 
* Kindle Fire images courtesy of Amazon