Sharing the ideas that you all are doing with your children – well, it's just fun!  I am so glad that you are stopping by today and can't wait to see what you all have to share this week. Be sure to stop by our PreK & K Pinterest board to see a collection of the different posts we are pinning – including yours!
Don't forget to link up a post or two of yours and share what you've been working on with your kids! Here are a few fun ideas from recent linkups.
Teaching Phone Numbers & Addresses
Reciting (repeatedly) phone numbers can be boring, so why not make it fun and creative to really help kids remember? Lasting Thumbprints shares eight ways to teach children their phone number and address (without worksheets).
Learning Activity Jar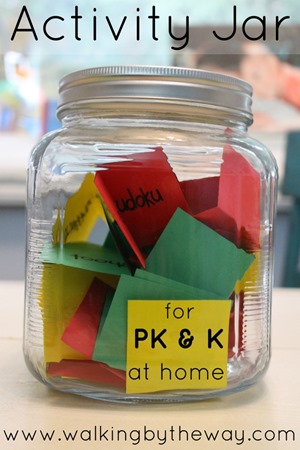 Years ago I saw this Learning Activity Jar from Walking by the Way and immediately went out and purchased a jar and all the needed supplies. Seriously one of the best things I ever did and our kids LOVE it!
Apple Journal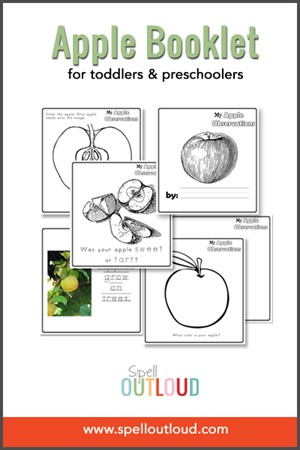 Before you head out apple picking, be sure to print of the Apple Journal from Spell Outloud. I love how she made hers using paper lunch bags – so cute!
The Busy Little Squirrel
If you want to have a FUN unit on squirrels, visit Delightful Learning and see what they did for The Busy Little Squirrel. Michelle's ideas and photos will inspire you – she always has the most amazing ideas!
Alphabet Coloring Pages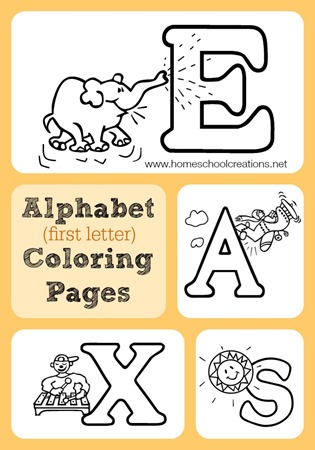 Working on letters and the alphabet with your kids or class? If you'd like some fun coloring pages to review beginning letter sounds and words that begin with each letter of the alphabet, grab a copy of the Alphabet Coloring Pages (they're free!).
Follow the PreK and Kindergarten Community Pinterest Board
Each week I am  pinning many of your links onto the Preschool and Kindergarten Community Pinterest Board. I'm a visual person, so having pictures to help me remember posts is super helpful. Be sure to jump over and follow the board – and find some fun ideas at the same time!
Were You Featured in the Preschool & Kindergarten Community?
If you were featured in one of the weekly posts, feel free to grab the button coding below and display it on your site!
Link Up with the Preschool and Kindergarten Community!

Share what you are doing with your kids! Please link your exact blog post to the Mr. Linky below and link back here too! Grab a button for your post and be sure to take a minute to visit the person who linked up before you.