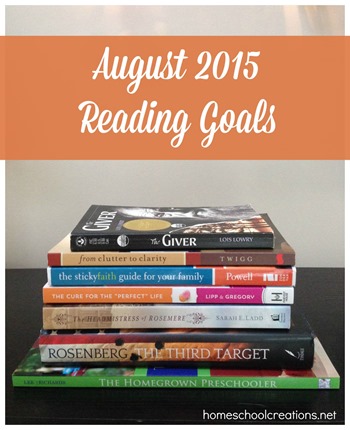 My reading pile for July was conquered. There's something rather enjoyable about that, especially since I knocked three books off my non-fiction list. The biggest help for me has been reading them to actually read, underlining what resonates with me, and not pausing to contemplate or feel that I need to fully grasp every morsel of goodness in the book.
While we did have some vacation/travel time, I honestly didn't get to read more than a few paragraphs while we were gone since we were surrounded by good friends, lots of cornhole playing, and just enjoying the time we had together with them. Reading can wait in that case!
My Reading Goals for August
One of these books I started before, but am determined to finish it this time around. Here's a peek at my stash for the upcoming month – a few from my post 20 Books to Read in 2015, some fiction fun, and a new non-fiction educational-based book too.
What I Read (and Finished) in July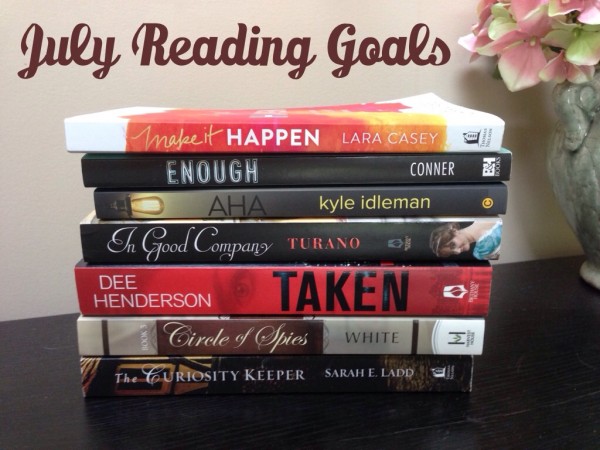 Make it Happen

by Lara Casey – really loved this book and the practical tips it offers on getting things done. There are a few sections that I've dog-eared to refer back to.

Aha: The God Moment That Changes Everything 

by Kyle Idleman – based on the story of the prodigal son, this talks about the AHA moments that we have in life that redirect our focus back to God. I've always enjoyed Idleman's books.

Taken

by Dee Henderson – Henderson is a 'meatier' writer when it comes to fiction and her more recent books have been even more so. A great read, but not if you are looking for a light read.

Circle of Spies

by Roseanna White – loved this conclusion to a family spy ring that takes place over several centuries.

In Good Company

by Jen Turano – these books always make me laugh out loud every single time. Love her books and they have a spot on my shelf for years to come.

Lizzy and Jane

by Katherine Reay – after seeing this one at Costco, I downloaded the Kindle version (using all those extra

digital credits I've been earning

!). LOVED it although the topic of breast cancer hit super close to heart. I'm glad I didn't read this a few months ago, because I'm not sure I could have handled it then! Reay also wrote another book,

Dear Mr. Knightley

, that is a good read as well.

Silent in the Grave

by Deanna Raybourn – I picked this up at the library because it was similar to another series by Tasha Alexander that I enjoyed. This one has a bit more content than the other series (not graphic, but not sure how to describe it). The second book is in my pile for August.

up to 80% of the Bible completed now – almost there!
SO – what are YOU reading for you this month? And what books do you have to recommend and totally distract me from my pile?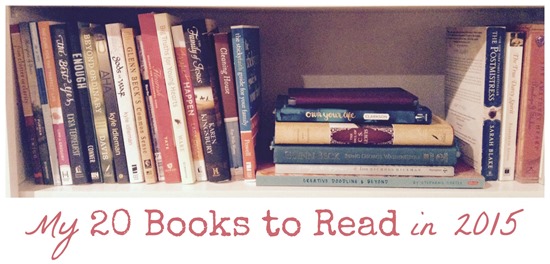 See my list of 20 Books to Read in 2015 in this post. I am making progress on these non-fiction books, but the fiction is so much fun too! You can see all the books that I've read so far this year via my 2015 Reading Pinterest board.