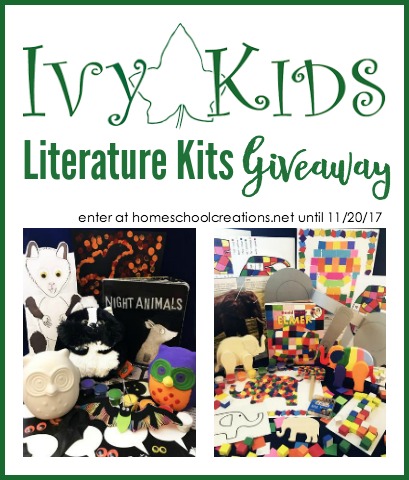 One of our long-time sponsors, Ivy Kids, is dedicated to making children's books come alive for families. Their focus is meaningful play based around a specific book to help children learn basic academic skills, engage in critical thinking, and build overall comprehension while reading together. Each month they create a new "kit" based on a children's book that includes games, activities, learning guides and questions, crafts, and more for children ages 3-8. We have used several of their kits and absolutely loved the time we spent with them. Literature-based learning was the core of our early years with our kids and holds such wonderful memories.
Ivy Kids is offering a wonderful giveaway to my readers this week – TWO Ivy Kids Kits: Night Animals and Elmer!! Both are described a bit below, but I'd encourage you to visit The Ivy Kids store and see all of the kits they have available, as well as their monthly subscription plan, where a new kit is shipped to you each month!
Save 20% on Ivy Kids Kits!
If you'd like to try Ivy Kids Kits with your children, be sure to use the coupon code below!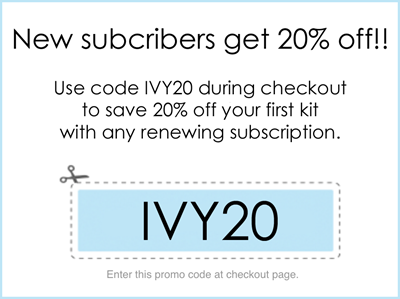 Subscriptions to Ivy Kids are available for one, three, or six months and add-on sibling kits are available for an additional $5. Try out any one of their past kits, but remember supplies are limited. Subscriptions are the best way to get the newest literature kit! Use the code IVY20 to save 20% off your first kit with any renewing subscription.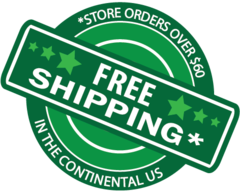 Also, all store orders over $60 receive free shipping in the continental US! Yay!
Recommended for grades preK – 3. Parent supervision is needed, but no prep-time is required. We wholeheartedly recommend Ivy Kids to other families.
Night Animals Kit
Learn more about this kit here.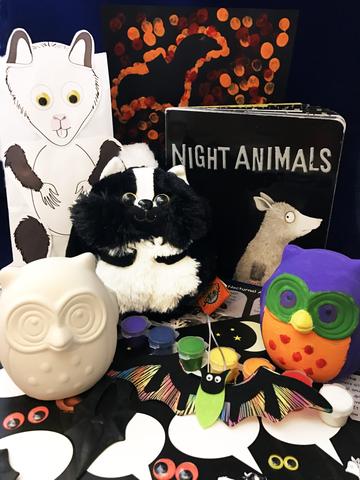 In this Ivy Kids kit featuring the humorous book Night Animals by Gianna Marino, you will find:
The book Night Animals by Gianna Marino, will introduce children to nocturnal animals through lovable characters and a humorous story.
Read along Bookmark: Use to assist with reading comprehension.
Plush Skunk: Children will love to cuddle and play with this soft and adorable skunk while reading this month's book, Night Animals.
Ceramic Owl: Use paints to decorate a large ceramic owl. The owl will make a beautiful addition to a child's room!
What Are the Night Animals Saying?: In the story, the author uses speech bubbles to tell the story. Now it is your turn to tell a story with the night animals and write what each animal is saying.
Paper Bag Possum: Create the fearful possum from the story by cutting and pasting the possum body parts onto the bag.
Paint a Picture of a Skunk: Paint a realistic skunk by using the adorable plush skunk and skunks photos as a reference.
Nocturnal Animals: Learn fun and interesting facts about nocturnal animals.
Nocturnal vs Diurnal: One player will have the Nocturnal board and the other player will have the Diurnal board. The first player to cover all the spaces on his or her board wins the game.
Sorting Eyes: Sort the night animal eyes by size and/or color.
Animal Eyes in the Dark: How many night animals are in forest? Use the colored wiggly eyes and the dark forest board to help you solve multiplication and division problems.
Bat Craft: Use scratch art and stickers to create a colorful bat to hang in your home.
Bats in the Night: Use finger painting and cut out bat shapes to create a night sky filled with bat silhouettes.
Flying Bats: Players take turns flinging the bats at the creature cards. If the bat lands on a nocturnal animal, the player collects the card. How many nocturnal animals can you catch?
One Night in the Deep Dark Woods…Use your imagination to tell a fictional story about a night in the woods.
Elmer Kit
Learn more about this kit here.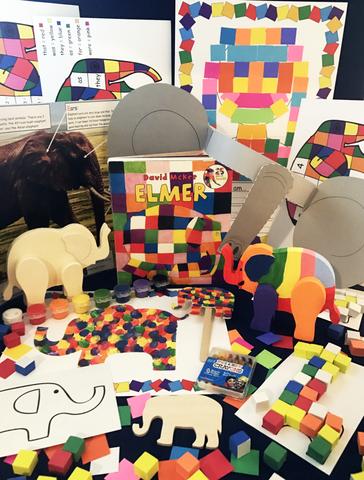 In November's Ivy Kids kit featuring the heartwarming book Elmer by David McKee, you will find:
The book Elmer by David McKee, a story about a colorful and humorous elephant that teaches readers to be themselves and celebrates the power of laughter.
Read along Bookmark: Use to assist with reading comprehension.
Wooden Elephant: Use paints to decorate a large wooden elephant. The colorful elephant will make a beautiful addition to a child's room!
Fingerprint Elephant: Create Elmer the elephant by stamping the entire paper elephant with different colored fingerprints. The fingerprint elephant will be a beautiful decoration for your home as well as a lovely keepsake of your child's fingerprints.
I Like That I Am…:At the of the story, Elmer learns that it is okay to be different and he likes that he is funny and makes the other elephants in the herd laugh. Now record what you like about yourself on the board provided and create a collage of your face.
Elmer the Elephant Puppet: Decorate the small wooden elephant with paint and create a puppet to use as a fun prop while reading the story.
Elmer's Letters: Player(s) select a picture card, identify the beginning letter sound, and cover the corresponding letter on the Elmer board. The game is over when all the letters on Elmer have been covered by the colored squares.
Elmer's Words: Find each sight word on Elmer and cover it with the matching colored paper square. After playing the game, reread the story and see how many times you can find the sight words.
Elmer's Day: At the end of the book Elmer, all the elephants in the herd decide to celebrate Elmer once a year by painting themselves different colors. Pretend it is Elmer's Day and use the crayons to color your face with designs, patterns, or squares.
3-Dimensional Mosaic: Place the colored cubes on the animal shapes to create colorful mosaics.
Elephant Body Parts: Learn fun and interesting facts about an elephant's body, like why they have such large ears and long trunks.
Elephant Body Part Labeling: Label the different parts of an elephant's body.
Elephant Headband: Pretend to be an elephant by creating a headband with elephant ears and a trunk
Roll-a-Square: Roll the die and cover the matching number on your Elmer board with a colored square. Be the first player to cover all the spots on your board to win the game.
Elmer Race! Roll the dice and place a colored square in the column displaying the number rolled. Continue rolling until the colored squares reach the top of at least one Elmer column. Which Elmer column will win the race?
Enter the Giveaway
Ready to enter? All you need to do is follow the directions in the Rafflecopter widget below. Giveaway is open to those with a US mailing address only. Giveaway ends on Monday, November 20, 2017 at 11:59pm.