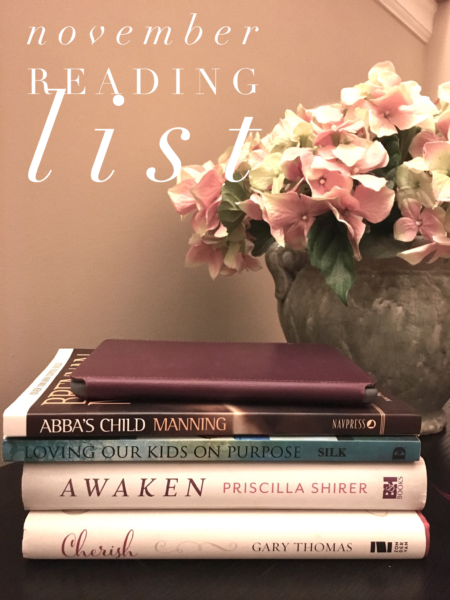 November is here and along with it comes some busy night and company. On the other hand, the weather has also cooled down considerably, making Sunday afternoons a wonderful time to snuggle under a blanket and get lost in a book!
My GoodReads app has been very handy in helping me track the books that I'm reading. Although I didn't get much of one of the remaining books on my original reading list for 2017 read, I did finish one in my "extras" pile and a total of eight books overall. These last two months are dedicated to finishing the final two books in my "must read" list.
Most afternoons I have a chance to sit down for about 15 minutes, but honestly I've been not focusing as much on reading as just relaxing and resting (I'm not going to get upset over that). Here are the books I'd like to focus on in November (and inevitably there will be books that manage to sneak their way onto my pile!):


Abba's Child by Brendan Manning
When God Seems Far Away by Joy Jacobs
Loving Our Kids on Purpose (re-reading this one)
Awaken (devotional) by Priscilla Shirer
Cherish by Gary Thomas (still working through this)
random Kindle books (bedtime reading)
The Kids are Reading…
Laurianna – lots of assigned reading for her college classes
McKenna – finishing Count of Monte Cristo and starting Heart of Darkness
Zachary – finishing Treasure Island and starting Carry On, Mr. Bowditch
Kaleb – Boxcar Children book
Family read-aloud – Gregor the Overlander series
What I Finished in October
Here's a peek at what I finished in the month of October.


Moral Revolution by Kris & Jason Vallotton (our youth group is working through the video series based on this book)
Siblings without Rivalry by Adele Faber
An Inconvenient Beauty by Kristi Ann Hunter
random Kindle books (bedtime reading), including Marrying Miss Marshal, To Win Her Favor, A Dangerous Engagement, A New Day Rising, and An Untamed Heart
That's it for this month – what is on YOUR reading list??