For the last week or so you've likely been hearing (and seeing) a lot about the graphics, giveaways, and heard the Build Your Bundle sale. I'll be honest and tell you – the first year it was held I was so very, very confused. There was a lot to wrap my brain around and by the time May rolls around, my head is full of testing and just wanting to be d.o.n.e. with all things school related.
BUT saving money on homeschool curriculum is always enjoyable, so I kept digging, trying to fully understand, and realized how much the could really benefit our family!
In case you are in the same boat I was and haven't quite figured out the ins and outs of the sale, here is a QUICK look at the different options and explanations. Definitely take a peek before May 30th though – because the sale ends at midnight and then you can't take advantage of the deals you find now! (Scroll down to see what we will be purchasing).
Yesterday I did a little explaining on the various bundle options: pre-assembled and build your own option. You can read more about that HERE.
The Bundles That Made My Basket
Curious to see what I'm purchased this year? Here are the main things I'm focusing on. While I LOVE the pre-assembled bundles, this year I decided to go the route of building my own bundles.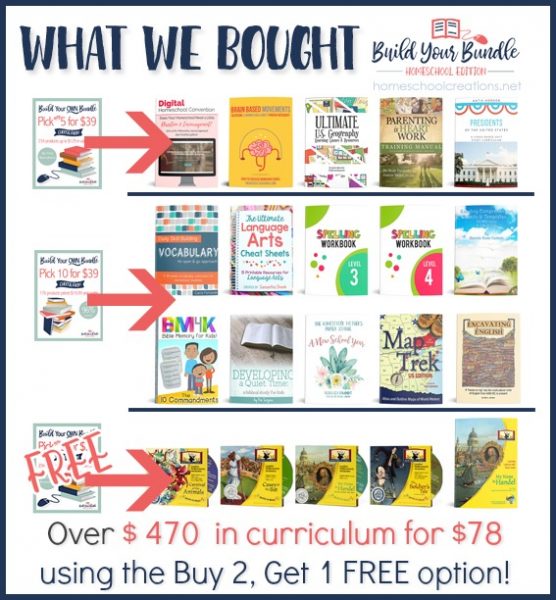 I chose 3 bundles and used the "Buy 2, Get 1 Free" option to stack up the savings.
Buy 5 for $39 (with no price limit) – I added the digital homeschool convention, Brain Based Movements workshop, Parenting is Heart Work manual, U.S. Geography Games & Resources, and the Presidents online course.
Buy 10 for $39 ($19.99 and under) – Daily Skill Building: Vocabulary, Spelling Workbook 3, Spelling Workbook 4, Bible Memory 4 Kids, Developing a Quiet Time, Map Trek, Excavating English, The Homeschool Mother's Prayer Journal, and The Ultimate Language Arts Cheat Sheets
Buy 5 for $25 ($19.99 and under) – this was my free bundle (yay!), ALL the Maestro Classics mp3s and unit study.
There are several things that I am excited about (Brain Based Movements and the US Geography Games), so the no price cap bundle was definitely the one I wanted to get the most out of my money! In the end that bundle was valued at $324 – and I paid $39!
Overall though, I'm thrilled because the bulk of the products I'll be using next year with our younger two, and I'm thinking through some co-op ideas – just mulling over things in general. The Buy 1, Get 1 Free option is honestly a GREAT deal, especially if you end up buying more – the offer extends to Buy 4, Get 2 Free…etc. There's no cap (well, unless you buy every single bundle! :)
Themed Bundles
There are 20 themed bundles to choose from, ranging in price from $10 to $50 and the above graphic shows what is included in
the Early Learning Bundle
(our ABC Mazes are included!). Save up to 94% on the pre-assembled bundles that range in topic from Early Learning through High School. There are also additional themes such as Charlotte Mason, fine arts, and more. Here's a look at the top five selling bundles so far:
A Handy Shopping Tool
This handy shopping tool will become your BFF. Trust me! Print it off and start writing down things so you can make the BEST choices for you and your family.
Really – there is a LOT, and it is easy to get overwhelmed because of the bundle varieties. It took me quite some time to finally decide which bundles to choose. Be sure to create and account and start browsing soon though in case you need time to think! Once you create an account, it will save your cart (don't make the same mistake I did last year and forget to log in!).
If you have any questions about the bundles or the sale, feel free to email and ask too!
This post may contain affiliate or advertiser links. Read my full disclosure policy here.