One of the items in our homeschool room that gets a lot of use is our dry erase board. From our spelling lessons to language and reading – or really anything we need it for, the markers ultimately leave a yucky stain that I try to get off. I scrub and scrub, but it just isn't enough to completely clean it. Very frustrating…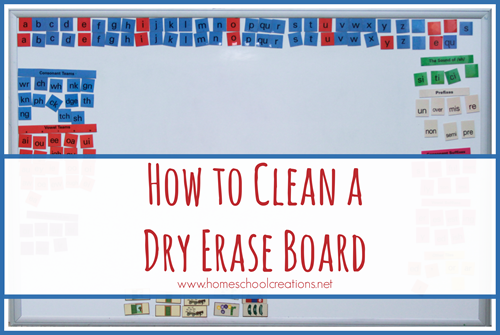 This week, for one of my 20 minute projects, I decided to tackle and clean the dry erase board to make it look as good as new before the school year started. On a whim I grabbed one of my favorite essential oils and decided to see if it would work better than my typical Expo dry erase board cleaner.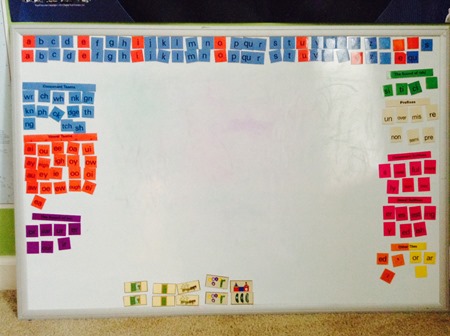 Here is the before picture – not really loving that dull purple-ish stain at all. Perhaps you can relate?
And here are my experiment results. To be fair, I decided that I should try two different methods and see which would work better.
I pulled out two different cleaners and some paper towels – my Expo dry erase board cleaner and my Young Living Lemon Essential Oil. The board was divided in half to give both cleaners a fair shot (and my kids accuse me of being unfair!).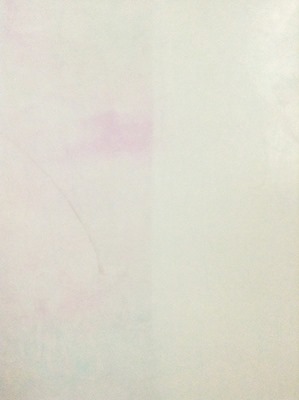 The pictures are dark (I'm sorry!!), but I used the lemon essential oil first on the right side of the board.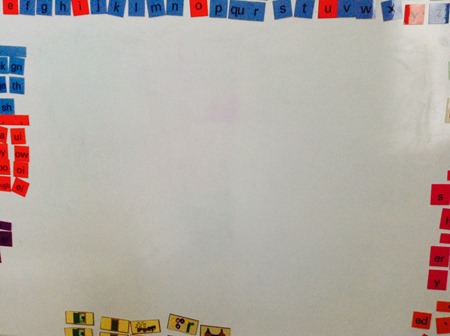 Then I used the Expo Dry Erase Board cleaner on the left hand side. The left side is better, and the above picture is after having cleaned with it. It quite obviously didn't do the job all the way. The dull purple stain is still there and you can see the dividing line!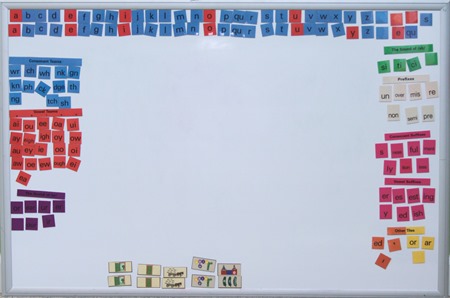 Finally clean – after I got my camera working.
So…I pulled the lemon essential oil back out, put a few more drops at a time onto my paper towel and rubbed the rest of the board clean. I can't even begin to tell you how GREAT it looks (almost like new – even though the picture doesn't show it well) and now our homeschool room smells so wonderful and fresh too!
Just a quick tip that I wanted to share with you all, especially since it worked for us!

p.s. This post is linking up with the Back to School with Young Living Essential Oils. Lemon oil is also great for getting off sticky residue (like duct tape leftover) and it has been a huge help for me and warding off heartburn.
Our family has been using Young Living essential oils for over a year now and they are something that we 100% love and use on a daily basis. If you have any questions about essential oils, I'd love to talk more with you. Feel free to email me and ask!