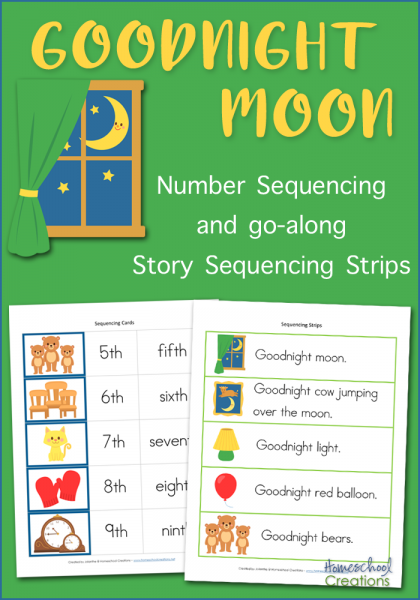 Goodnight Moon by Margaret Wise Brown was one of our favorite books when the kids were little. I do believe I can still quote the entire book by heart, I know it that well.
We used the book as a part of our Before Five in a Row studies and years ago I created some go-along printables for the story. Recently though I found some new clip art that was just begging to be put into something *new*. Since we have nieces and nephews, there is always an excuse to create with them! I am going to update the other printables soon, but today I wanted to share a little something new to go along with the book: the Goodnight Moon sequencing cards.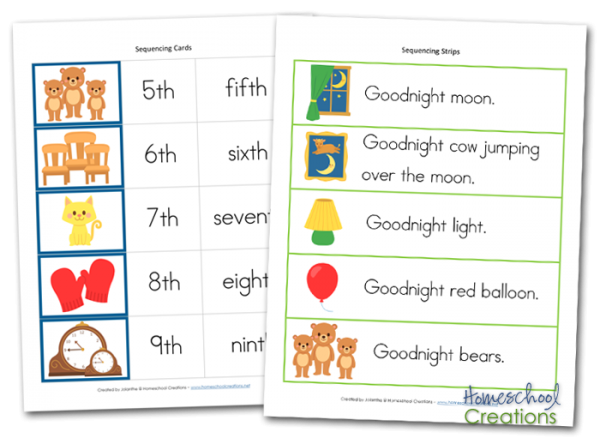 In the set, you'll find both number sequencing and sentence strip sequencing. Your children can either work on number placement (up to 14) and number word identification or reading short sentence strips.
The number cards can be separated into three pieces: picture card, number, and number word. A set of vocabulary cards is also included in the set if you would prefer to match pictures to word cards.
Don't forget to check out the fun activities we worked on in our Goodnight Moon unit (Kaleb looks so little in the pictures!!).
If you're ready to work on sequencing with your kids, feel free to download by clicking the green button below.