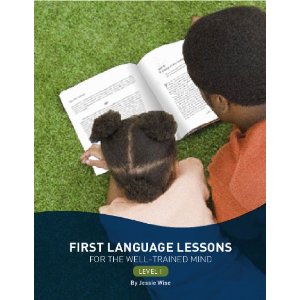 Going into last year homeschool convention I had no intention of changing my language curriculum that I was using with the girls.
None.
After wandering the vendor halls for hours, sitting in on a session by Jessie Wise, and then thumbing through the book repeatedly I took the plunge and bought First Language Lessons Level 1 and First Language Lessons Level 2 to use during the upcoming school year with our girls.
The verdict after over half of the school year? We are loving it! These books  have found a permanent spot on our shelves and will definitely be used with our boys in the years to come.
First Language Lessons Level 1 and First Language Lessons Level 2 each have 100 lessons per year that are simple and completed orally with your child. Each lesson takes between 5 to 15 minutes, so there were days when we completed more than one lesson.
First Language Lesson Poem Printables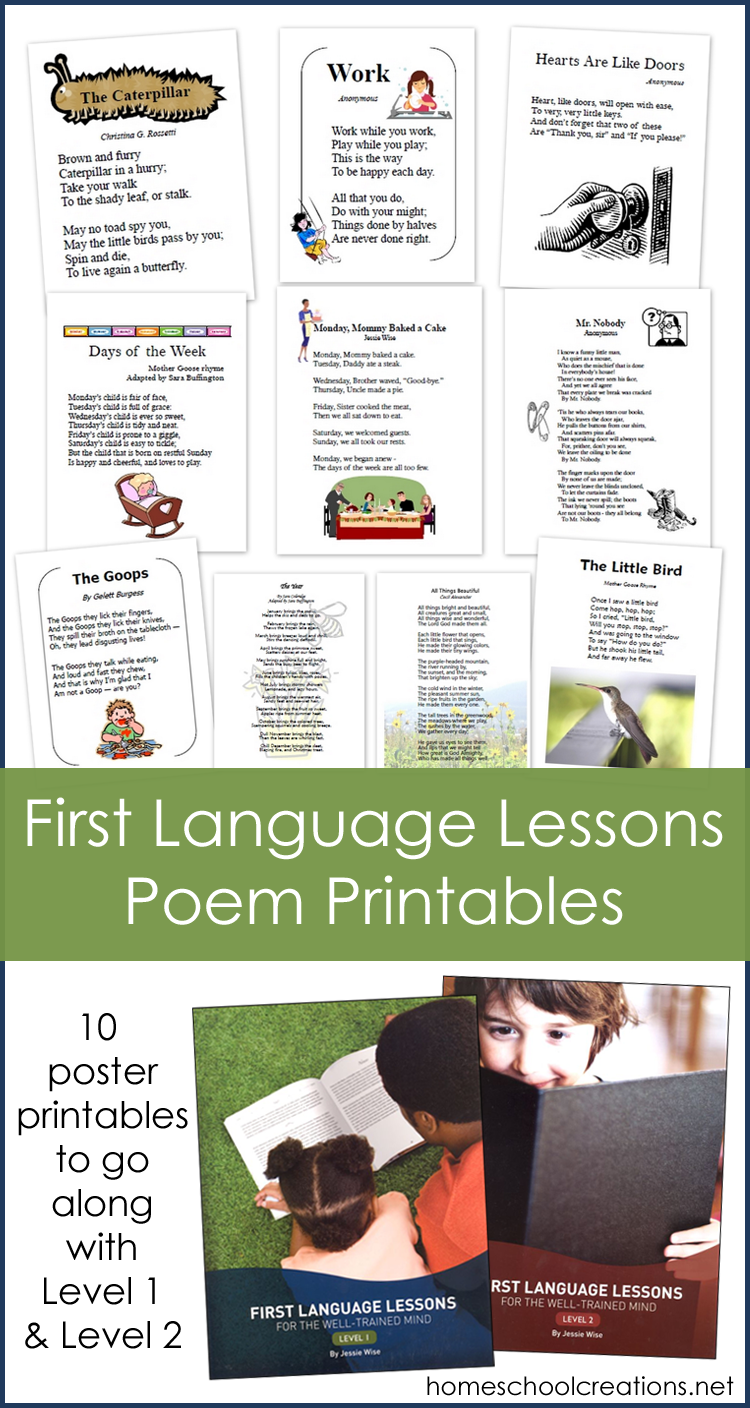 Click on the graphic to go to the download page
Throughout both of the first two levels there are poems for children to memorize. To make it a little more fun, I made some poem printables to go along with our lessons.
When we're finished learning a poem, the girls put a copy of them into a folder to refer back to later. They have also been helpful to use for copywork exercises. Each one is 8 1/2" x 11". Here's a list of the poems included in the printables:
"The Caterpillar"  by Christina G. Rossetti
"Work" by Anonymous
"Hearts Are Like Doors" by Anonymous
"Days of the Week"  ~ Mother Goose rhyme
adapted by
Sara Buffington
"The Months" a Mother Goose rhyme
"Mr. Nobody" by Anonymous
"The Goops" by Gelett Burgess
"The Year" by Sara Coleridge, adapted by
Sara Buffington
"The Little Bird" a Mother Goose rhyme
"All Things Beautiful" by Cecil Alexander
Hope these help you out with your language studies!
In case you are working on First Language Lessons 3 or First Language Lessons 4, you can also find poem printables for both of those levels as well!