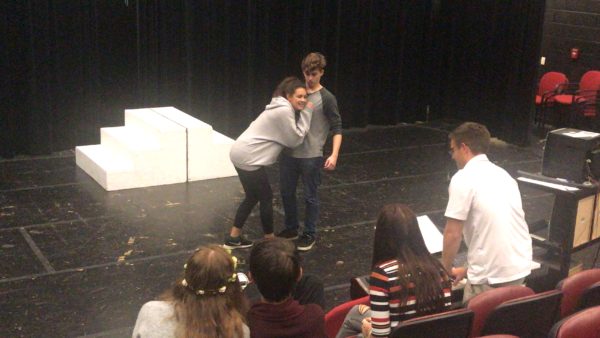 Our weeks are starting to fill up. This week McKenna began practice on Friday nights in addition to Saturday morning. Combined she is at the theatre about seven hours each week until the performance in November. Between that and the time she is pouring into line memorization and vocal practice each day, she is definitely earning her 1/2 credit.
Since the theatre is about 30 minutes from our home, it means I have a chance to find a cozy spot nearby and hopefully get some work done over the next bit (assuming I choose to use my time wisely!). So far I've been choosing well. A cup of coffee, a pack of colored pens, and a planner were my company last week and I'm already making my pile for this week.
Our mornings are still easing in as I'm waiting on the boy's Bible study to arrive (I had a few things printed online since I had a credit somewhere and wasn't in a rush) as well as their writing program. This week we added in math, science, and handwriting (Kaleb).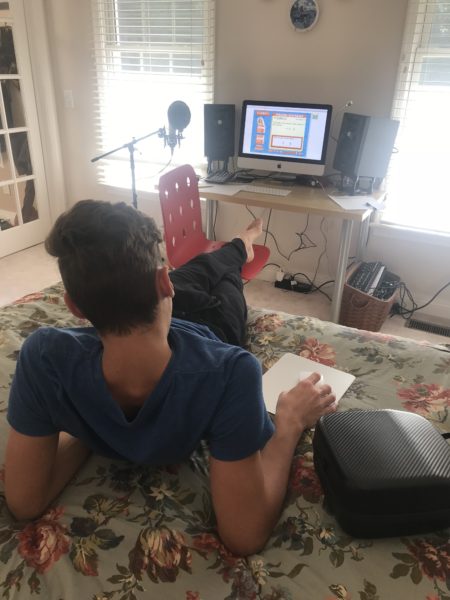 Each morning the boys are coming downstairs between by 7:30, grabbing breakfast, and then getting started on a few things they can do independently.
First up is CNN 10 and then the boys rotate between independent reading and their Teaching Textbooks 3.0 math. Zachary started Algebra 1 this week and took the laid back approach with things the first two days (that is until someone reminded him that only so much could be done in his head and he won't receive the benefit of the doubt if I cannot see his work on paper).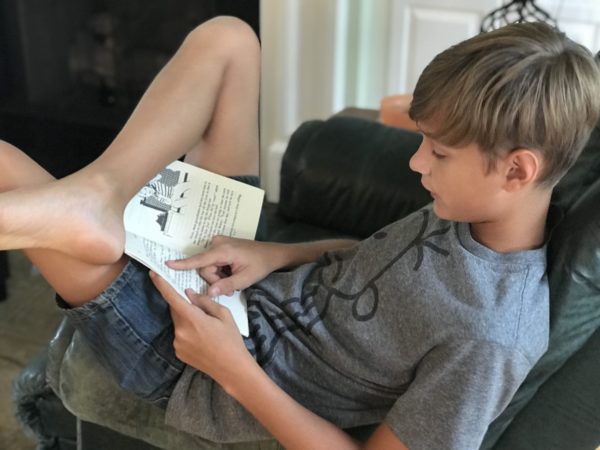 Probably one of the most exciting things (for me) this week was having Kaleb work on his reading alone. The first day he read the chapter out loud to me and Zachary (which ended up being hilarious since he kept pronouncing words completely wrong on purpose and trying not to laugh).
The other days he grabbed his book early in the day and sat down to read a chapter on his own. Once finished, I would ask him for a summary and then some specific comprehension questions to make sure he was getting it all.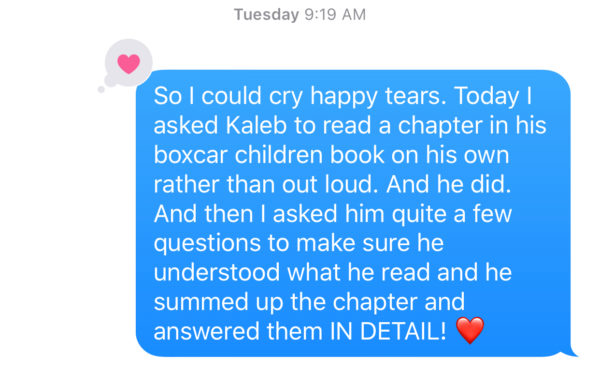 And one thing that is such a plus – having friends you can text and then immediately respond to share your joy with you. That's something to love. ❤️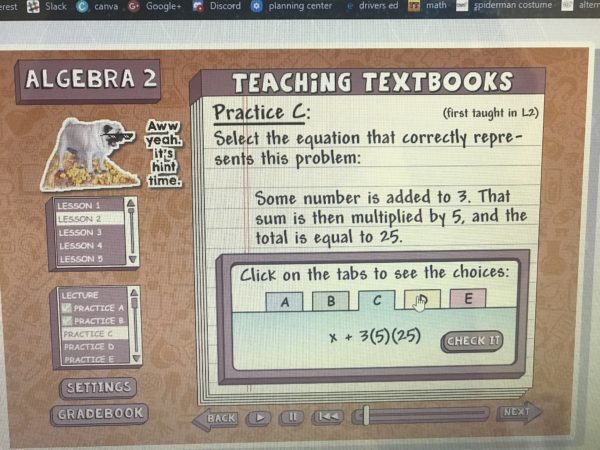 One of the things that is cracking the kids up this week – the hint helpers in Algebra 2, Teaching Textbooks 3.0 . McKenna picked a dog floating on a piece of pizza and thinks it's hilarious (and if it makes math more fun – BONUS!). :)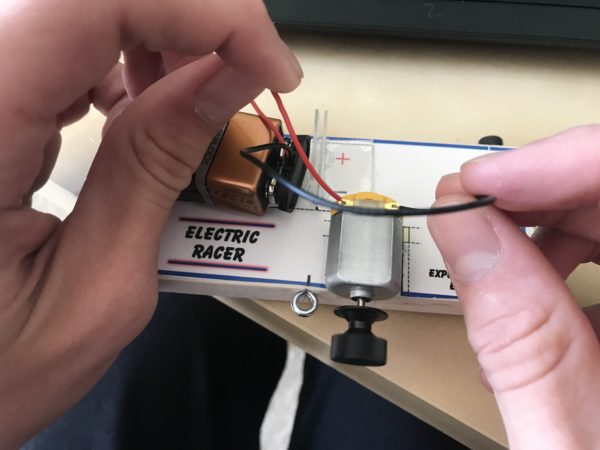 Zachary worked through one chapter of his Physical Science from Exploration Education as well and built a racer and glider so far. He has a lab to go through with me still to complete the chapter, but is figuring out how to pace himself over the course of the week.
We've been working on a little something for him that will remind him of WHAT he needs to accomplish each week and how often he needs to be working on each subject to give him a visual reminder (and so I'm not nagging him all the time).
What is encouraging is watching him buckle down and apply himself. I realize we are only two weeks in and his load will get heavier in the upcoming two weeks, but he is already well ahead of where he was in this area last year!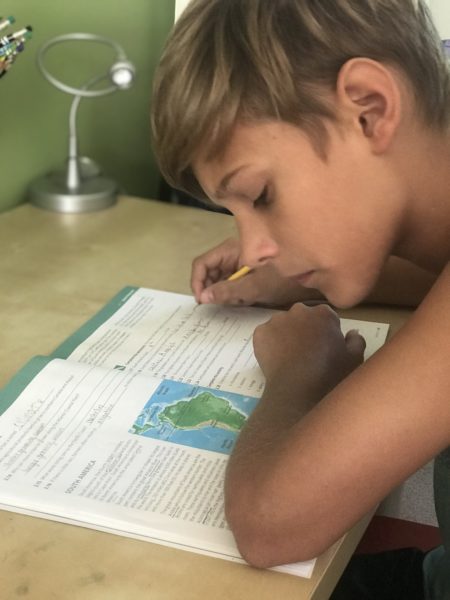 Kaleb and I have been working each day through his Lifepac History and Geography set. We are *almost* done with the first booklet. It's a new to us program, so we're still figuring it all out, but so far we are both loving it. Because of his reading struggles, we are doing paired reading (he reads a paragraph and I read a paragraph). It takes us a little longer, but he is also writing his own answers (handwriting is a struggle too).
Best part though = no complaining. 👍🏻👍🏻 Kaleb is really loving it and it fits it perfectly with they way he enjoys working and learning.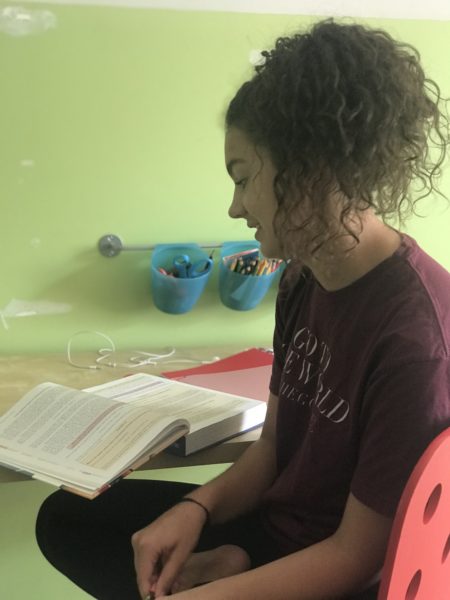 The walls in the classroom are finally getting a much needed coat of spackling as we prep for repainting (maybe this weekend??).
McKenna also started Discovering Design with Chemistry this week (another new-to-us program) and we were able to sit down with the other family we will be working on labs with and come up with a bi-weekly schedule to get together. One more thing marked off the list!
Each chapter will take us two weeks to go through, so plenty of time to read and get it all done before we meet and take the chapter tests.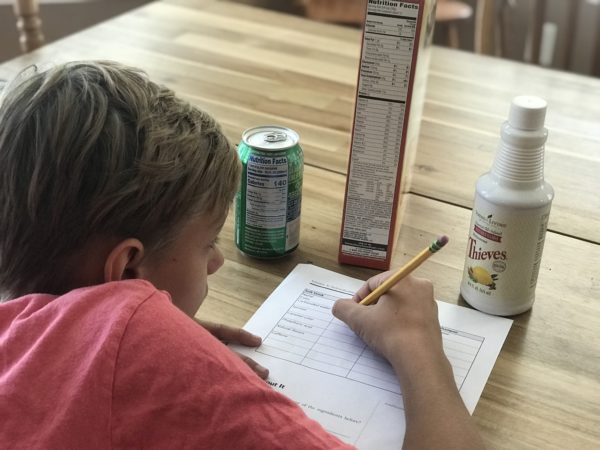 Kaleb and I also started Christian Kids Explore Chemistry. After our lesson our "hands-on" lab was finding a few items around the house and recording the ingredients listed and seeing which ones we knew (and didn't).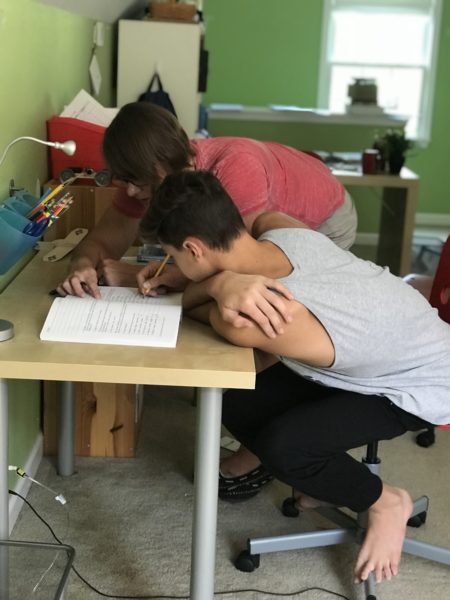 Apparently Kaleb grabbed my camera at some point when I was working with Zachary and snapped a picture (for which I am thankful – especially since it wasn't posed).
My time most of the week has been spent in my chair, right between Zachary's desk and Kaleb's desk, so I can bounce back and forth between the two of them and help them when needed. It's been a little crazy at times, but I'm sure as the year progresses and each boy gains confidence in their abilities and subjects it will allow me to step back a little.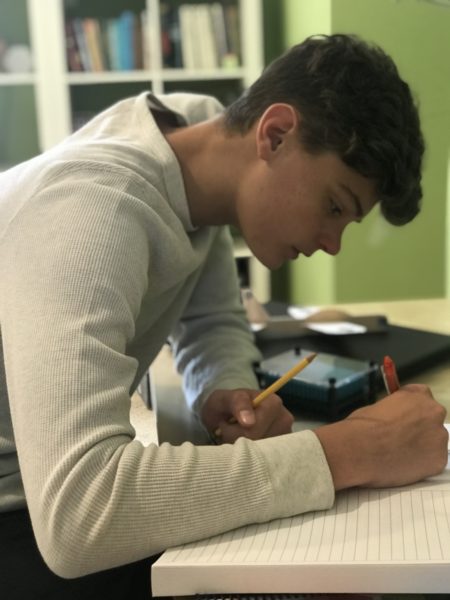 And this boy – seeing his 6'1″ frame is something that still amazes me every day. I don't quite know when he managed to grow up and tower over me, but it really makes me incredibly thankful that I get to spend each day with him. :)
Mom Stuff
While the kids have their stuff, my main focus has been making sure we are getting things done (and not wandering off) this early in the game. Basically making a GREAT start to the school year.
There's still so much I feel "behind" in. My desk hasn't been cleared off and organized – I still have to get things sorted from the end of last year. The school room needs to be repainted.
Meanwhile though, I've been finishing my 2019-2020 planner, getting back into a meal planning cycle, trying to plan ahead as best as I can, and essentially catch my breath.
And that's a good and important thing too. Remembering to rest each day a bit in the afternoon. Bake again (I've really missed that!). Have a cup of coffee and savor it.
It's the little things – and I'm really trying to enjoy them!
Hope you all are having an amazing week – talk to you soon!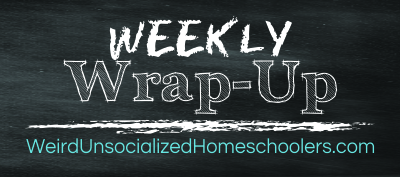 Be sure to stop by WeirdUnsocializedHomeschoolers.com and hang out with some other moms who are sharing their day-to-day happenings.