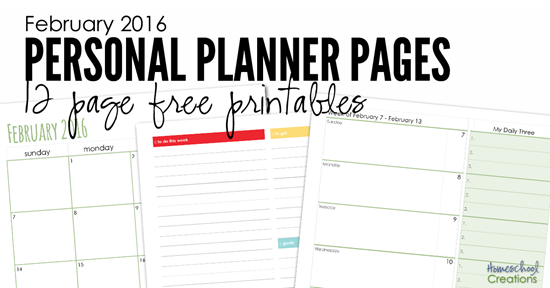 We are on our way into 2016! I hope your month has been going well and you have been able to focus in on the things needing your attention.
To help you get your days and weeks a little more organized, I have some February Personal Planner Pages for you all to use. I hope these are a help to you in the upcoming days.
My February Goals
This year I set manageable goals for myself in a few different areas, including personal, fitness, family, and marriage. Here's a peek at my goals for the upcoming month:
exercise 4-5 times each week

drink 100 oz. water daily

read 1-2 non-fiction books

go on 2 dates with my hubby (1 out, 1 at home)

dates with each of the kids (rotate with my hubby)

read parenting book with hubby (2-3 chapters)

dive into Bible journaling (be brave and DO IT!)

actually print off pictures and scrapbook/layout one event
While I realize some of them may seem silly, sitting down at the end of last year I realized that we NEVER print off pictures, and our kids love looking at them and remembering what we have done together. Scrapbooking has been pushed aside, so I found this system (simple but it will do the job).
There are many things that I WANT to do, in theory, but don't get around to. Last year saw me taking steps in several areas, including fitness/health, to lose 35 pounds. Something little, but really huge for me (because sometimes it's hard to focus on taking care of myself when there are five other someones in the house!).
All that to encourage you to take little steps toward your goals amidst the day-to-day of life. You can do it!
A Peek Inside My Planner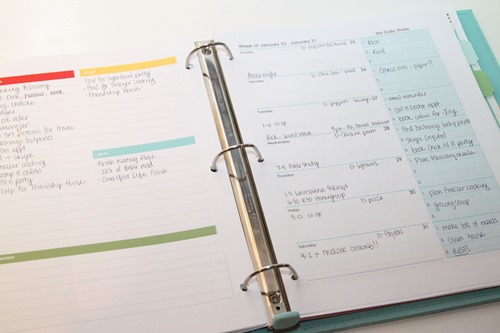 If you'd like to take a look at how I've set up my yearly planner, I've explained it more in this post here, as well as given links to my favorite binder and colorful tabs (because pretty makes life fun too, right?).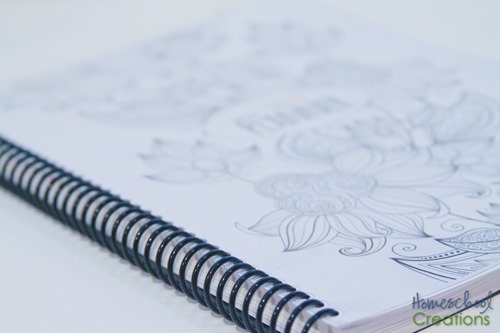 This year I've done a little something different and pulled my planner out of the binder and had it spiral bound at Staples. Loving it so far!!
February 2016 Personal Planner Pages
You can download the February 2016 Personal Planner Pages HERE. There are 12 pages included as a part of the download: the month at a glance and then weekly planning pages as well, with a page that goes a bit into February as well. Each month I'll be offering a free download for that month's planning pages, so you can check back and download them as they become available.
Purchase the Yearly Planner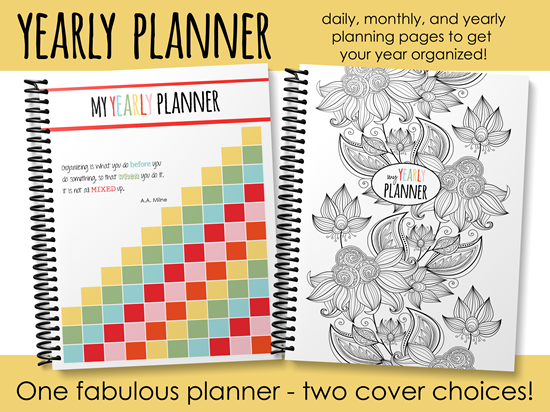 If you like the layout and want to start planning out the rest of your year now (and next year too), purchase the full Yearly Planner for $4.99. The calendar  includes month-at-a-glance pages and dated weekly pages through June 2017.
Don't miss my student planner and weekly homeschool planner – available as well!
Don't Miss The Daily To-Do List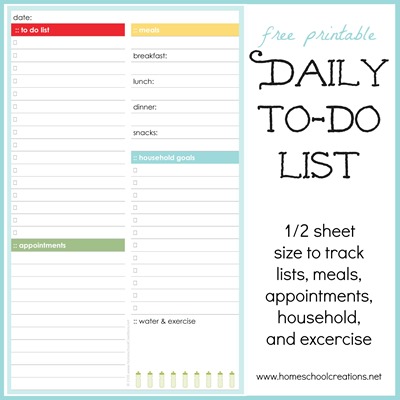 My Daily To-Do List is pretty basic, but hopefully it will work for you too. There is an area to make a list of things to accomplish, household goals, appointment, meals for the day, and even a space to record exercise and water intake. Each page in the document is identical so you can print them off, cut the page in half, and have two lists. If you print them front to back, you'll have four to-do lists and save a little paper. Hope you all have a wonderful new year!! I'd love to hear your plans!