Before the day gets too crazy and gets away from you, don't forget that today is the LAST DAY to get the 2018 Ultimate Homemaking Bundle. These top-quality resources cover everything you need to make homemaking and mothering feel less stressful… quick & healthy recipes, homemaking printables, cleaning tips, date night ideas, parenting helps, and so much more.
I know have talked a lot about this bundle over the last few days, but it is because it is one that I personally purchase and highly recommend because it has so many amazing resources!
For less than the cost of a meal out (and you won't need to be rescued by drive-thru after this!), you'll get a complete library to help you:
Cook up wholesome recipes for your family
Menu plan like a pro
Discover speedy cleaning routines for the toughest messes
Plan some fun date nights with your spouse
Put self-care back into your life
and finally enjoy homemaking
Becoming efficient as a homemaker is one thing. Fully embracing all the messy moments and hard times and loving it (most days) is another. But it's not out of reach.
If you don't have time to find a bunch of online resources or a lot of extra money to spend, you'll appreciate how the Ultimate Homemaking Bundle will make your homemaking less stressful.
BONUS OFFER!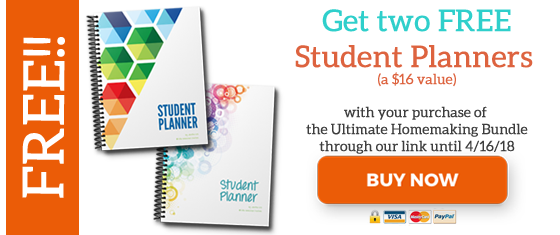 BOTH of my Weekly Student Planners for FREE to those who purchase the Ultimate Homemaking Bundle using our referral link:
https://us154.isrefer.com/go/UhomB2018order/a258/lastdaybonus
You can learn more about our Weekly Student Planners HERE, but they are full of pages that will help your kiddos track their daily learning and so much more – and together they are a $16 value!
If you would like to take advantage of this offer (if you've already purchased the bundle, you can have a copy as well!), email me your receipt, and I will send you the pdf copy! Just mention this deal and let me know.
Simply copy this and paste it into your email (I'm all about making it easy for you);
I purchased the Ultimate Homemaking Bundle through your link, my receipt/invoice # is below. Please send me the Student Planner Bundle you mentioned on your site.
I can't wait to share these planners with you – and I know too that you will love the Ultimate Homemaking Bundle. There are so many resources to love and use in the months and years to come.
Ready to buy? Remember, the bundle is on sale ONLY until Monday, April 16th at midnight, and this offer expires along with it, so act quickly!
Follow this link to learn more or click the "buy now" button below to purchase:
https://us154.isrefer.com/go/UhomB2018/a258/lastdaybonus