One of my favorite writers, speakers, and just an overall amazing woman – Sally Clarkson, is teamed up with Sarah Mae to teach a four-part Discipleship and Discipline course. Both of these women are wonderful speakers and have such a heart for moms and families!
Their course was live-recorded, so if you missed their initial webinar, you can still take part in this fabulous class. You can re-watch segments of the program at any time!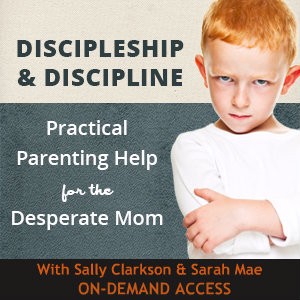 Overview
Day One: Laying a Foundation of Love – Sally Clarkson

Observing God as a parent gives us a pattern to follow as we seek the best for our own children. God extends His love, training, and instruction throughout the Bible for the benefit of His children that He loves. In this session we will cover Biblical principles and practical ideas of how to build a winning relationship with your own children so that their heart will be turned towards you as a parent. Understanding Jesus' motivation with his own disciples lays a foundation for reaching our own children's hearts.

Day Two: Loving the Wild One – Sarah Mae

If there is one thing that I get the most emails and comments on it is my precious Caroline, the former "wild one". I say former because over the last year she has matured into the most delightful little girl. But it took work and time and intention, and in this webinar I will share with you the journey, the ups and downs, and what things have made the biggest impact on my Caroline becoming a genuine delight.

If you have a wild one, I'll show you how to hang in there with grace, nurture change, and genuinely enjoy your child.

Day Three: Heartfelt Discipline + Your Parenting Questions Answered – Sally Clarkson

Viewing your child from a Biblical perspective will determine how you view the role of discipline in your children's lives. In this talk, the goals of discipline will be laid out, and practical advice will be given for the different stages of a child's life. Learning to see each child for the unique design God gave them will free you, as a parent to understand how to reach their heart and motivate them to learn to listen to your instruction and to obey your training.

The second half of this Webinar will be dedicated to answering your parenting questions.

Day Four: Dealing with Our Junk So We Can Parent with Clarity -Sarah Mae

I believe that respecting our children, relating with them, being honest, and treating them as we would like to be treated is foundational for building loving and trusting relationships. However, in order to be able to parent this way, we first need to deal with our junk.

I will talk about what hinders our ability to parent in freedom and what steps we can take to become true and whole so we can parent with clarity.
Topics Covered in the Course
How to Raise a "Wild One"
How to Instill Excellence in Your Child
How to Have a Quiet Time When There's No Quiet
How to Deal with Over-Emotional Children
How to Find a Mentor
How to Build a Winning Relationship With Your Child
How to Motivate Your Children to Listen to Your Instruction and Obey Your Training
How to Deal With Your Lies So You Can Parent in Freedom Instead of Fear
How to Get Through the Desperate Days
How to Find and Nurture Friendships with Other Moms
The entire e-course is $17.99, and includes anytime access!

 I've purchased my spot and I'm excited to tune in!

What session do YOU most need to hear right now?