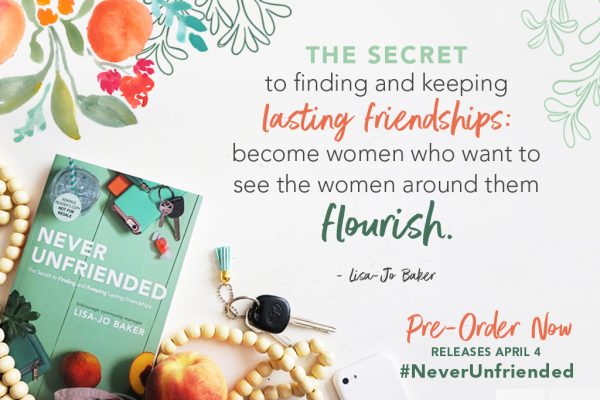 This last week I've been reading through Never Unfriended by Lisa Jo Baker and am truly in love with it. It's one that has been traveling around the house and errands with me so I can grab and read during spare moments.
Friendship can be a huge risk – putting yourself out there, being honest and raw at times, and truthfully, it can also be one area that causes pain (trust me, I know). But friendships can also be a source of huge encouragement, joy, and laughter. Those moments are ones we cherish and cling to during tough times and those friends are with us in our toughest times.
Beyond face-to-face friendships, it's easy for things to feel (or appear) out of whack with the many different venues of social media at our fingertips. We feel slighted when someone doesn't respond quickly or 'like' something. Feelings get hurt. Friendships become fragile.
As a mom who stays home and is surrounded by kids all day, there are times when I know I do not do enough to grow my friendships, but I also sabotage relationships as well by all the second-guessing, comparison, and plain old craziness.
I (heart) this quote from the book because it truly sums up my feelings:
I want to be the kind of woman who makes other women feel welcome. Where they feel seen, valued, and safe. That means that whether or not we have close friends is entirely in our own hands. We simply have to be willing to start. – p. 84, Never Unfriended
My heart here is to encourage you all not only in your homeschool walk, but also as you live life everyday. Having the support and care of close friends is so important – and I truly feel this book is one of those "keep on your shelf" for a long time to come.
Special Pre-Order Offers!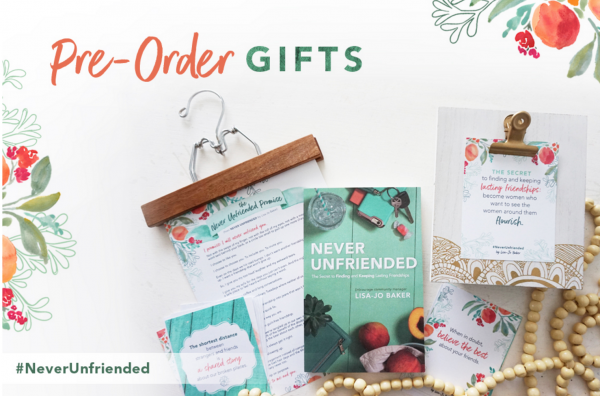 Lisa Jo is offering some beautiful pre-order gifts to anyone who orders the book, either through her website or through Amazon and would like to start reading now. Here's a little peek at what is in the gift box:
A beautiful, distressed clipboard with 37 art prints PLUS 12 exclusive Never Unfriended quotes from the book (ships to US addresses only)
Digital printable of the 12 exclusive Never Unfriended quote cards
The Never Unfriended Promise – Digital Download
First half of the book (digital download)
Don't wait for release date. Start reading right now!
If you've already pre-ordered (WOOT!!!), you can claim your freebies HERE. Just scroll down and click on the "Redeem Pre-order" form to claim them and you can enter in your information!
Note: I was sent an advanced copy of this book to read, but have already purchased a copy for a friend. Because I absolutely love it. And I may have wanted the freebies as well. :)