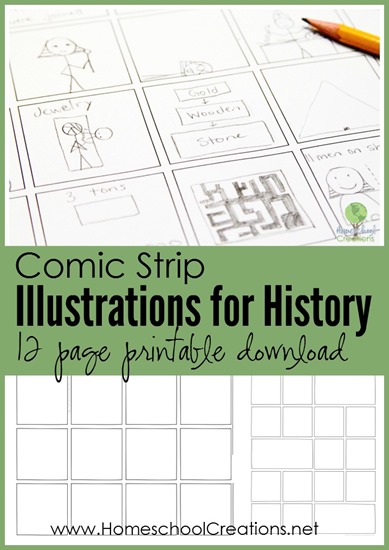 One of the BEST things that we've ever done for our history time has been letting the kids illustrate their history lessons. While taking notes works well for the older ones at times, more often than not, they really enjoy sketching out what they are learning.
Here's the thing – they are recalling SO much more! At the end of our lessons, they are cracking up and retelling me more information from the heart of our lessons, and their recall is stretching far beyond what it has in the past. All thanks to a simple comic strip style piece of paper.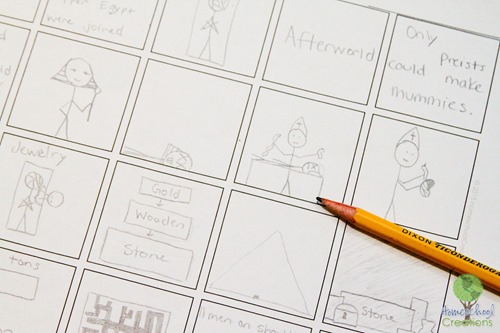 We've used coloring pages in the past to go along with our history studies as well as letting the kids build with Legos, but these pages for illustrating what they 'hear' from our reading have been a wonderful compromise because they appeal to the kids' artistic side (and it is so much more quiet compared to the stirring of Legos!).
Coloring pages, Legos, and other ideas all  have their time and place during our lesson time, don't get me wrong! We haven't thrown out every other method, but while the kids are enjoying this way to learn and recall history, we are going to run with it!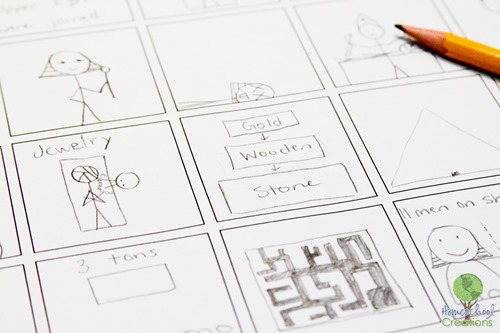 The kids are all using stick figures and just a plain ol' No. 2 pencil for their sketching (we can thank Grapevine for the stick figure love). Above you can see McKenna's work when we were talking about the ancient Egyptians and the process of mummification. (I may have cracked up when I saw the picture of Pharaoh in a not-so-living state.)
Because I was getting tired of sketching out grid after grid on blank paper for them (mainly Kaleb) every single day, I put together a collection of comic strip style templates for them to use when illustrating their lessons.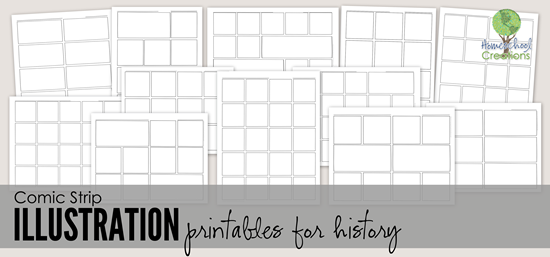 There are 12 different layouts in the pdf file (linked below). Some of the pages are in landscape format (our favorite) and several in portrait (the file will appear all landscape, so just pay attention to the placement of the lines where kids can write the lesson topic and the date or their name). Since Kaleb doesn't draw quite as many pictures, there are some with only 12 squares, several with rectangles for larger scenes, and a few with up to 20 squares for illustrating.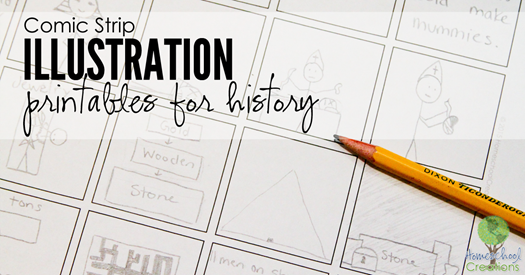 Download the Comic Strip Templates HERE.
Hope these are a help to you all as well!