So many great ideas linked up last week with the Preschool and Kindergarten Community Weekly Link-up. I so appreciate you all stopping by and sharing what you have been up to!
Be sure to stop by our PreK & K Pinterest board to see a collection of the different posts we are pinning – including yours! Don't forget to link up a post or two of yours and share what you've been working on with your kids! Here are a few fun ideas from last week's linkup.
Monster Faces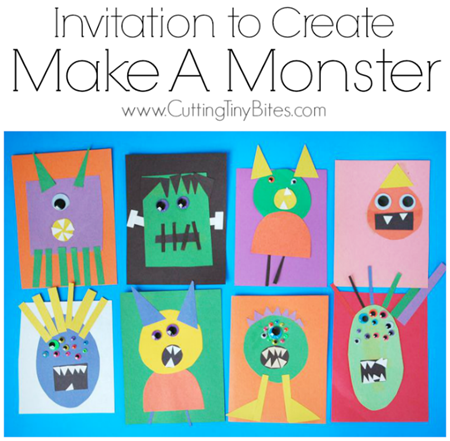 So many shapes, colors, and more to talk about while you create faces with this FUN idea from Cutting Tiny Bites. Googly eyes just make everything fun, and there are a plethora of ideas that you do with this activity including patterning – and well, so much more!
Fall Counting Cards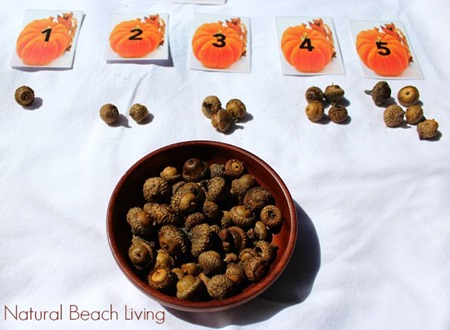 This counting activity from Natural Beach Living is so simple and practical, but kids will absolutely love it! Take a fun nature walk before hand and gather some acorns (or something else fun from the woods) and practice 1:1 counting together!
4 Seasons Tree Craft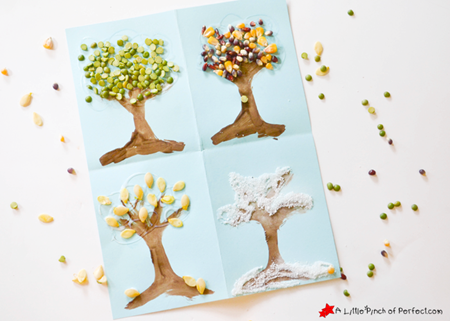 With leaves changing colors and falling, now is the perfect time to talk about the different seasons with children (or for those of you Down Under – SPRING!!). This seasonal tree craft from A Little Pinch of Perfect offers some great hands-on creativity to remember the changes that happen.
Mason Jar Luminaries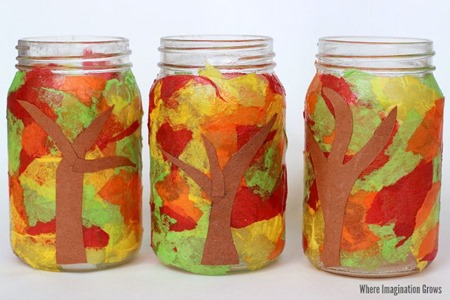 The tissue paper we just bought may be sidetracked making these beautiful fall mason jar luminaries from Where Imagination Grows. You don't even need to put candles in them to have them look stunning!
Releasing the Ladybugs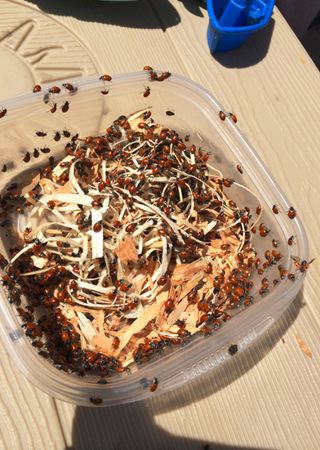 HUGE hats off to You Are the Roots for this splendid showing of ladybugs they released. I well remember the year we raised ladybugs (over four years ago) and I discovered that our ladybug habitat had a small cap that one of the boys (who shall remain nameless) had released our ladybugs into OUR habitat. They still abide with us to this day. So KUDOS!!! That is a whole lot of ladybugs – and I'm guessing a very fun bug week for your kiddos!!
Follow the PreK and Kindergarten Community Pinterest Board
Each week I am  pinning many of your links onto the Preschool and Kindergarten Community Pinterest Board. I'm a visual person, so having pictures to help me remember posts is super helpful. Be sure to jump over and follow the board – and find some fun ideas at the same time!
Were You Featured in the Preschool & Kindergarten Community?
If you were featured in one of the weekly posts, feel free to grab the button coding below and display it on your site!
Link Up with the Preschool and Kindergarten Community!

Share what you are doing with your kids! Please link your exact blog post to the Mr. Linky below and link back here too! Grab a button for your post and be sure to take a minute to visit the person who linked up before you.