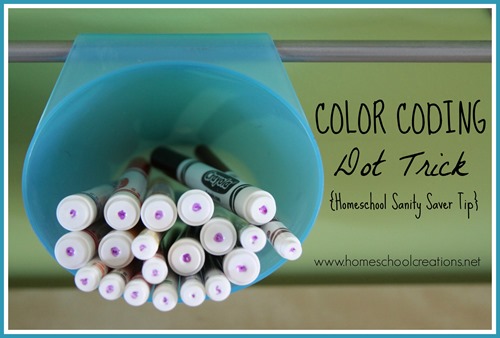 Call me crazy, but each of our kids are color coded. It's something we started way back when the kids were younger and sippy cups were running rampant through the house. Back then it was a sanity saver for me to know which cup belonged to which kiddo. Or be able to spot which milk cup was missing from the line up before I found a sour surprise weeks later.
(Sad, but true.)
The color coding has since carried over into many areas of our lives including school supplies and there's now a little something we've done every year for at least the past five years – the dot trick.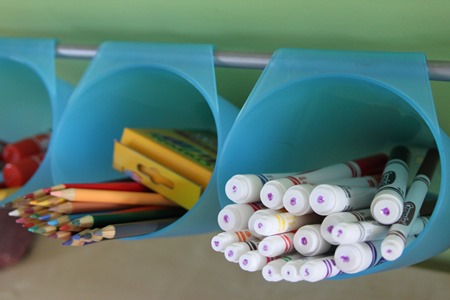 Each of our kids has their own set of markers, colored pencils, and crayons. Usually the crayons stay in the boxes in a small bin above their desks, but those markers tend to jump out of the bins all by themselves and mysteriously roll onto the floor. And then they don't belong to anybody. (Does 'Anybody' or 'Not Me' live at your house too??).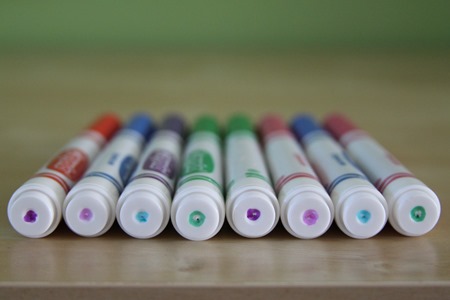 Before the school year starts, I use a sharpie to color code the bottom of our markers, scissors, pencils (pink, purple, blue, and green are our coding colors) – basically anything that might be tempted to up and walk off. That way, when the items are left out and nobody is willing to claim them, it is SIMPLE to figure out who it belongs to – and quickly. No more searching to see what color is missing from what bin. Sorting markers is easy. All we have to do is look at the bottom of the marker and voila! Problem solved. (This has also been a great trick for labeling co-op supplies too.)
And that, dear friends, is another way my sanity stays intact. Mildly OCD'ish, yes, but sanity is important to this mom and every little bit helps!
What sanity saver do you recommend?