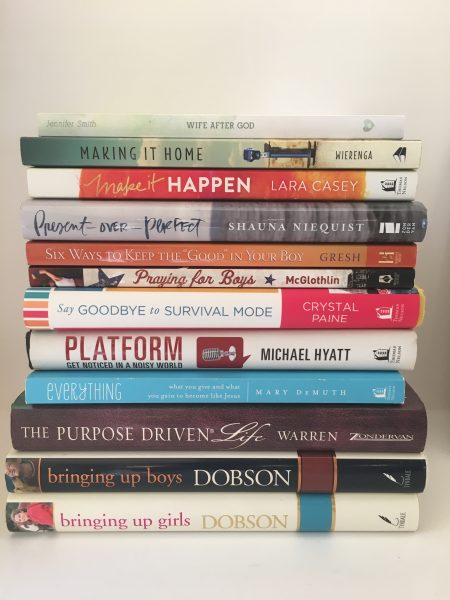 It's time for another box of books giveaway! I've been cleaning off my shelves and would love to share some of the books with you all.
Do you love free books?
Many of the books are in brand new condition, but a few others may have some underlining or an earmarked corner or two. A chunk of them are from my past reading lists, but others are ones that have been pulled off the shelf to make room for another book or two currently on my list.
Here's a list of what's in the box – 12 books total. Hopefully one or more of these are on your list and you'd love to have them in your home – or to share with friends.
Wife After God – Jennifer Smith
Making it Home – Emily Wierenga
Make it Happen – Lara Casey
Present Over Perfect – Shauna Niequist
Six Ways to Keep the "Good" in Your Boy – Gresh
Praying for Boys – Brooke McGlothlin
Say Goodbye to Survival Mode – Crystal Paine
Platform – Michael Hyatt
Everything – Mary Demuth
The Purpose Driven Life – Rick Warren
Bringing Up Boy – James Dobson
Bringing Up Girls – James Dobson
To enter the giveaway, use the widget below to enter. Giveaway ends Tuesday, June 6th at 11:59pm and is open to those with a US mailing address only.