One of the best things about homeschooling is our ability to be FLEXIBLE. Usually that word isn't super prominent in my vocabulary, especially when our school plans have already been put into place. (Call that stubborn). Our usual school schedule is six weeks of school and one week off, which means we weren't supposed to have a break for a little bit longer.
Last Monday though, we were looking at a week full of appointments and company, so before we were supposed to start school, we took a vote, decided to nix the week, relax together, and lengthen our next school stretch. (Oh yes, the kids were ALL about doing nothing and relaxing!)
BUT, prior to that, we did get another week of learning (and fooling around) in. If you doubt the fooling around bit, just keep reading.
Mad Libs for Language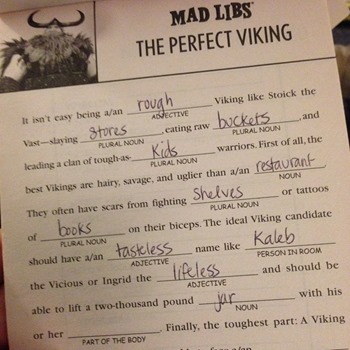 It's not ALL that we're doing for language, but Mad Libs definitely make language time fun for the boys (and the girls enjoy listening to the stories when they are done). We pulled out a few of our How to Train Your Dragon Mad Libs and practiced parts of speech. Best part is listening to the boys continue to work on them together and giggle away.
Memorizing Poetry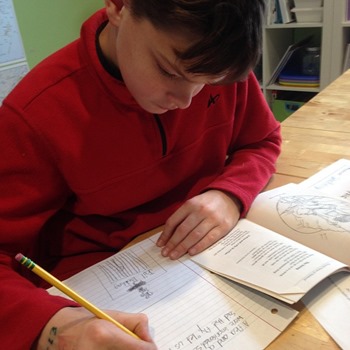 Part of our Learning Language Arts Through Literature year with Zachary involves a poetry unit. It's not especially his favorite one we've gone through, but he did like working on limericks together and coming up with his own. He is not otherwise a fan of memorizing poems and reciting them (even through I think it's a good thing for him to do).
Roy G Biv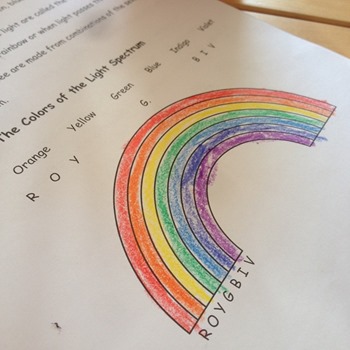 Some of you may see the ROY G BIV order and something in you just smiles. We have one boy that puts everything in that order. And I do mean everything. This may have been his favorite science lesson so far, just because it spoke his love language of order.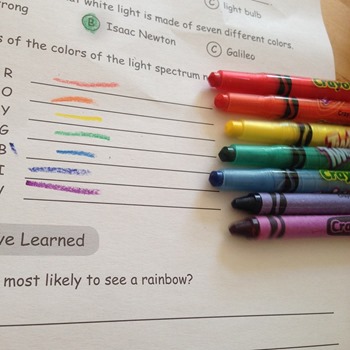 Because I am a nice mom, I even let him 'cheat' a little bit and not write out the color names. Instead he used crayon colors in the blanks. Let me tell you, years ago there was a part of me that would NEVER have let this slide.
Game Time!
Our afternoons are spent reading together, listening to audiobooks, and playing games (or resting) when we are done with school.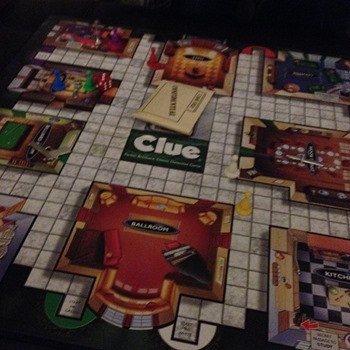 Games are one of my favorite past times. My hubby isn't a huge fan, so I do my best to suck my kids into the fun. During a co-op time, McKenna learned how to play Clue – and now we are all having fun with it. Years ago I loved this game, so it is so much fun to play it with the kids.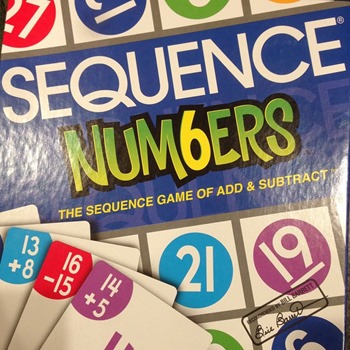 A new-to-us game is Sequence Numbers – with the sneaky plan of working on math facts together. We love a few of our other Sequence game versions, and this one is right up there with those!
Please Tell Me You Did This Growing Up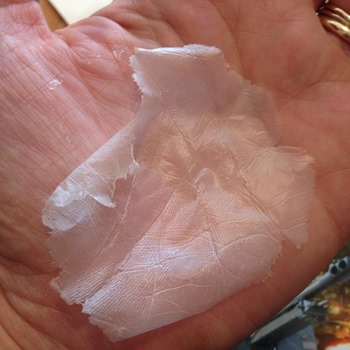 One morning, before we started our history lesson, I grabbed a bottle of glue from the table and spread a thin coat of it on my hand. The kids weren't sure what to think and one of them may have been a wee bit horrified. Somehow, despite our many years of homeschooling and glue being right in the middle of the table, I had never shown them something I did rather often during my grade school years.
Peel glue off my palm in a complete piece.
The kids thought this was most wonderful and have been going through glue like crazy. (grins) It's the little things in life, right? Now I have to try it again and see if I can still do my entire palm and peel it off in a single piece.
Our Week Off…
As for our week off, we still kept busy! There were a few doctor's appointments, a much-needed trip to the library to stock up on books and audiobooks, lots of time building with Legos and reading together, game playing, had a VERY belated birthday party for three of our kids, took a trip to an indoor waterpark, and had a visit from family to wrap up the week.
While our family was here for the weekend, we celebrated a cousin's birthday with a trip to an indoor trampoline park – and even the adults were having a lot of fun. (Note to moms: if you have birthed multiple children, you may want to consider that trampoline jumping – even on an empty bladder – might not be in your best interest unless your bring backup. I'm just keeping it real.)
My Goals for The Next Two Weeks of Homeschool
Pull out the art supplies!! Kaleb is itching to work on some more art projects, so we'll be using our DVDs from

Home Art Studio

and having some fun.

Finish up

All About Reading 4

with Zachary. He has loved the lessons and is flying through them this year.

Take more pictures of McKenna!! Somehow that girl manages to slip out of many of our pictures.
That's it for the last two weeks – how has your homeschool time been going? Be sure to share either in the comments or link up with one of the ladies below!
Linking up this week with Collage Friday and Weekly Wrap-up!