Sometimes it's hard to find the time to sit down and read together as a family. Other times I'm so tired after a long day that the kids find me nodding off during our reading time (I know I'm not the only one!). There have been a few books and audio books keeping us busy though the last month and I'd love to share our current read alouds.
The Mostly True Adventures of Homer P. Figg
This book has been in our pile for a bit and we are almost done with it! The Mostly True Adventures of Homer P. Figg takes place during the Civil War (and I think it's hilarious). While it's below the reading level of the older two, it still has been fun to listen to together. Homer's grammar is a bit off, but that makes it all the funnier, especially since he is a boy who tends to tell very tall tales.
Sky Jumpers: Forbidden Flats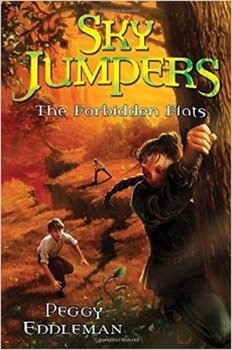 All of us really enjoyed Sky Jumpers by Peggy Eddleman, so we were VERY excited when Sky Jumpers: Forbidden Flats released! McKenna was the first to grab it and run off with it, but now the rest of of are having fun with it. This book continues the adventures of 12-year-old Hope as she and members of her small town journey to the Rocky Mountains in search of minerals that will save their town from the dangerous "bomb's breath," a deadly gas that sits in the air after World War 3.
We're about two-thirds of the way through this one and can't wait to find out what happens. It has brought up some interesting conversations with the kids too as it takes place after current technology and machinery is all non-existent. Things like telephones and vehicles no longer exists – so some food for thought on how you would accomplish things in those circumstances.
In Freedom's Cause audiobook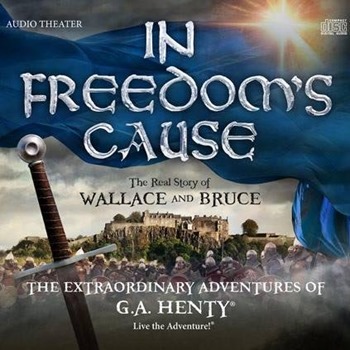 Another audiobook we've enjoyed, from the creators of Under Drake's Flag, is In Freedom's Cause by G.H. Henty (there are homeschool lesson plans on their site to go along with the audiobook). This audio drama follows the story of William Wallace and how he played a crucial role in the freedom of Scotland. It also covers Robert the Bruce, the king that eventually gain Scotland's freedom.
I may also love that one of the characters in the story is played by an actress from Downton Abbey and another the actor who plays Edmund in the Narnia movies. We have absolutely loved the audio theatre from Heirloom Audio Productions and cannot wait for their upcoming With Lee in Virginia release – all about Robert E. Lee!
In Our 'To Read' Pile
There are a few books sitting on the bookcase and an audiobook ready for the van. Our library has started their winter reading program, so the kids are sitting down together to read books and enjoying the extra reading time:
What are YOU reading or listening together right now?
Books We've Previously Read Together
Here are a few other books that we've read together and blogged about. Click over to see our thoughts on them!