Ready for some more learning ideas? Last week there were some great ideas linked up to the Preschool and Kindergarten Community linkup, and here are a few of them. While being inspired is important for teaching, encouragement is needed so very much for each of us. Be sure to look through the links today too – stop by, read a few links, and encourage each other with comments
Learning with Counting Bears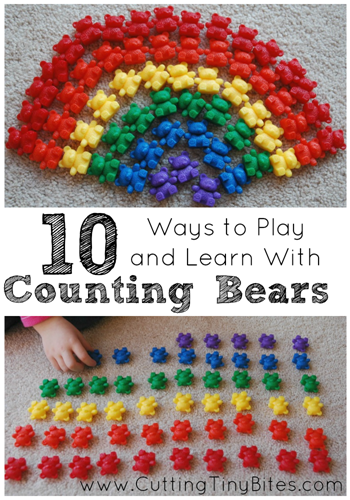 Do you have a bag of counting bears that you would like to put into use more often? Cutting Tiny Bites share ten ways you can play and learn with counting bears – they really are versatile and can be used for more than counting!
Borax Crystal Snowman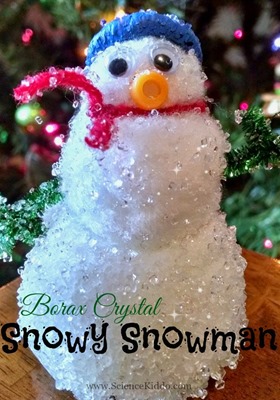 Crystal from The Science Kiddo shows how to make a crystal snowman using Borax. He would make such a cute winter decoration.
Alphabet Slime Recipe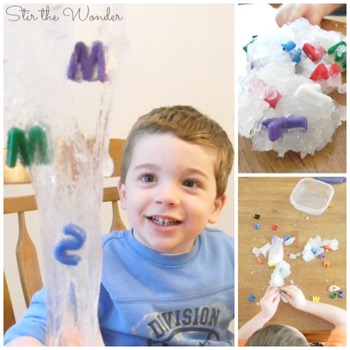 This alphabet slime looks like SO much fun – and the face above = priceless! There are only three ingredients in this simple recipe and likely ones you already have on hand. Visit Stir the Wonder to see the slime in action.
Polar Bear Craft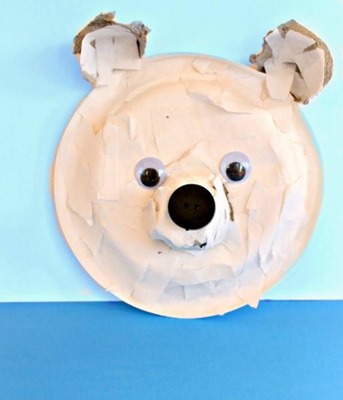 If you are learning about winter habitats or just winter in general, this polar bear craft from Hands On As We Grow would be so much fun to make! This makes me want to pull out my Polar Bear, Polar Bear book and make one myself.
Free Parenting Webinar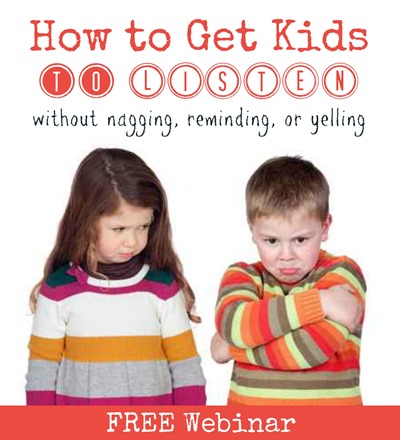 From toddler temper-tantrums and getting kids to cooperate can be both frustrating and exhausting. What is the key to cooperation? If you're tired of nagging, reminding and yelling to get kids to listen – you won't want to miss this parenting session where you will learn proven tools for discipline dilemmas. Tune in  Tuesday, January 27th at 9pm EST – registration is FREE!
Follow the PreK and Kindergarten Community Pinterest Board
Each week I am  pinning many of your links onto the Preschool and Kindergarten Community Pinterest Board. I'm a visual person, so having pictures to help me remember posts is super helpful. Be sure to jump over and follow the board – and find some fun ideas at the same time!
Were You Featured in the Preschool & Kindergarten Community?
If you were featured in one of the weekly posts, feel free to grab the button coding below and display it on your site!
Link Up with the Preschool and Kindergarten Community!
Share what you are doing with your kids! Please link your exact blog post to the Mr. Linky below and link back here too! Grab a button for your post and be sure to take a minute to visit the person who linked up before you.