Get Kids to Listen Without Nagging, Reminding or Yelling – Free, Live Webinar!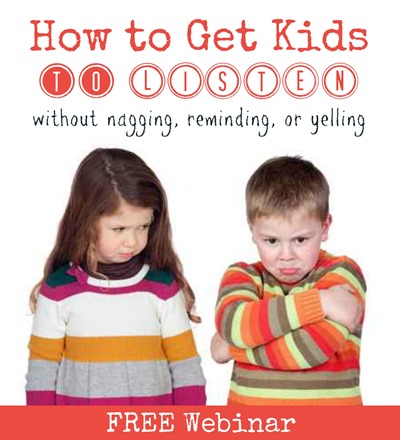 Tired of the yelling?  Tired of the whining?  Tired of being tired? You're not alone. 
From toddler temper-tantrums to teenage talking back, getting kids to cooperate can be both frustrating and exhausting. What is the key to cooperation? If you're tired of nagging, reminding and yelling to get kids to listen – you won't want to miss this parenting session!
Homeschool Creations is excited to partner with Amy McCready, founder of Positive Parenting Solutions & TODAY Show contributor to offer a FREE LIVE training webinar on Tuesday, January 27th at 9pm EST.   Discover proven tools for your most frustrating discipline dilemmas including the 5 R's of Fair & Effective Consequences. This hour-long investment will lead to a lifetime of peace in your home!
Registration is Easy – and Limited!
All you need is your computer – no webcam required. You'll see and hear Amy on your screen, and you can even ask questions via a chat and she'll make them part of the presentation. RSVP today and then learn from the comfort of your home.
Space in the parenting webinar is limited, so register soon!
ABOUT AMY McCREADY

Parenting expert and "recovering yeller" Amy McCready is the Founder of Positive Parenting Solutions and the author of If I Have to Tell You One More Time…The Revolutionary Program That Gets Your Kids to Listen Without Nagging, Reminding or Yelling. Amy is a regular parenting contributor on The TODAY Show and has also appeared on Rachael Ray, CBS This Morning, CNN, Fox & Friends, MSNBC, Steve Harvey and elsewhere. In her most important role, she plays mom to two teenage boys.