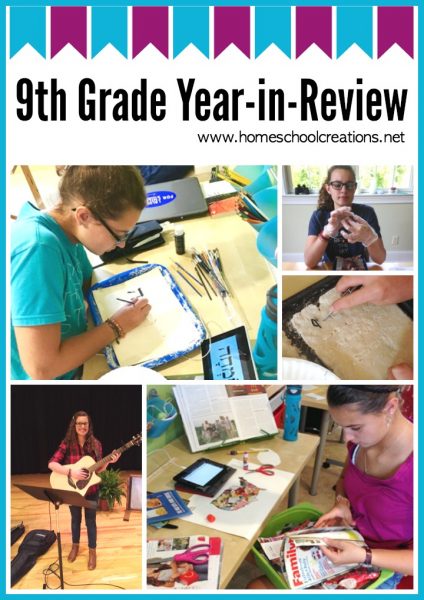 As the end of this year finished up, it brought with it a lot of OH MY WORD – THIS GIRL IS NOT GOING TO BE IN SCHOOL MUCH LONGER angst. While I realize the end goal is to graduate our children and have them move on in life, the entire process is becoming more and more bittersweet.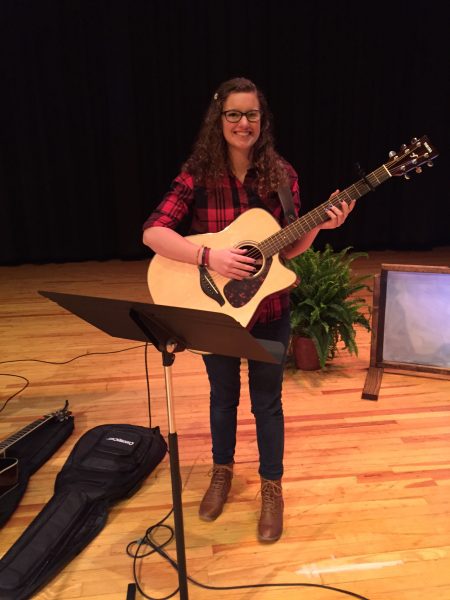 This year, Laurianna matured so much. She has always been a 'solid' and mature girl, seeming much older and wiser than her 15 years, but she's deepened even more this year. In addition to getting her first real job (and saving money for a car, but we won't talk about that now, ok?), she began leading worship for our church youth group. Over the last two years, she has virtually taught herself how to play guitar and singing is her passion. It has been absolutely incredible to see her grow and develop in this way because she has such a heart for worship.
Add into that, her sheer determination work on projects and goals with a purpose – and she has all the makings of an amazing young lady. Of course, I may be entirely biased. (grins)
Here's a quick look at what Laurianna worked on for her 9th grade year. Overall, she earned a total of 7.5 credits.
Several of the above classes were done in a group setting this year (a small co-op of 6 high school kids) and one class she and a friend worked on independently during the week and then together once a week.
History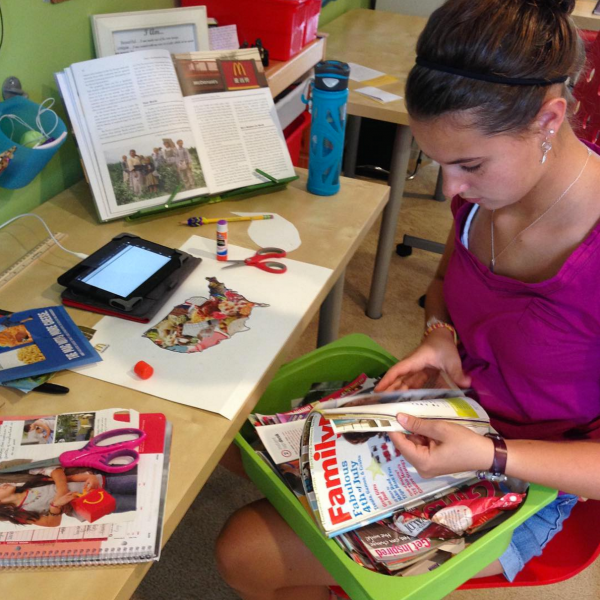 Notgrass was a new program for our family this year, but we absolutely loved the layout and projects in Exploring World History. Although the program offers two additional credits that can be earned through the year (literature and Bible), we decided not to do those. Personally I didn't feel the literature component was as strong and detailed as the program we have used in the past (and used this year) – there were not solid literature prompts or enough direction for learning about the author, period, and components of literature (my personal opinion – so please don't send me hate mail). As for the Bible credit, well, she does her own Bible study and we didn't feel the need to earn an additional credit (again, personal choice).
Some projects were more involved than others and took a bit longer than a week, so we moved around projects as needed. Otherwise, Laurianna loved the creative outlets to tie in with her history lessons (illustrating a children's book was one of her favorites). We loved it enough that we have made plans to use their American History in our upcoming year.
Math
Well, I suppose Algebra 2 can be exciting for some, but there really isn't much to say other than SHE SURVIVED ALGEBRA! Much happiness on that front and we are ready to move on to the next level of math. Praise Jesus. :)
Literature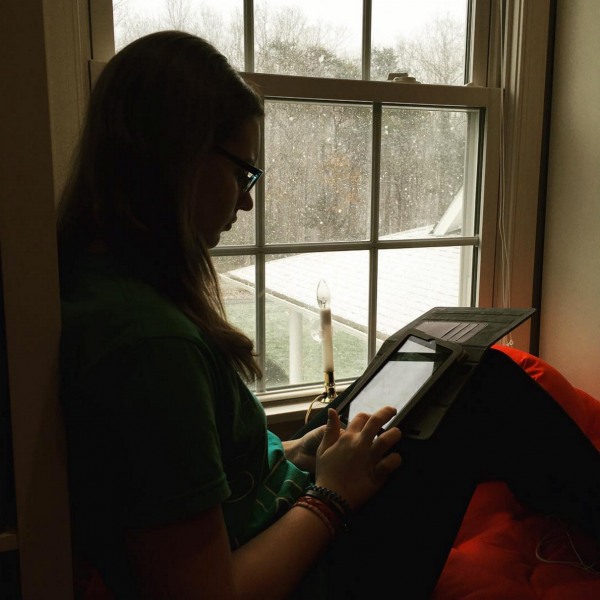 Our Literature and Composition class was so much fun this year since we added two additional kids to our small co-op (for a total of 6). Each of the kids has such a distinct writing style and personality, and it was so much fun to see them all grow throughout the year.
One of the best parts of the class is the peer review time. Each book unit we worked on included writing three papers during the month – a profile of the author, a look at the historical period of the book, and then an essay topic based on one of the major ideas of the book (typically a 300-600 word essay). A week before the essay is due, the kids trade papers and take turn reading everyone else's paper and making editing suggestions. While sometimes they get a little goofy, that time has been wonderful for them to gain five additional perspectives on their thought process and take additional criticisms.
Not all the books were well-loved (there may have been much mocking about bean picking from the book Walden), but we did also have a chance to enjoy a live production of The Importance of Being Earnest at the end of the year (SO MUCH FUN). Grading papers for the mom isn't near as enjoyable, but being with the kids and talking through book topics with them = very much fun. Laurianna is honestly a solid writer – which makes me very happy.
Science

Laurianna worked throughout the week on her science lessons and weekly met with her best friend to go through labs together. The other mom and I chose Biology from Science Shepherd for various reasons, one being the approach to evolution in the book. While we believe in a created world, we wanted the girls to have a solid understanding of the theory of evolution and be able to give a strong debate (or support of Creation). The book didn't quite have the approach we were hoping for, but it is a solid curriculum.
Dissection was the focus toward the end of the year, and the girls worked their way up from small creatures to a fetal pig. I may not have been present for that dissection (or been sad to have missed it for the most part (grins).
Spanish
Spanish is probably the area that we are struggling most with – between having computers die on us and then the program we were using not having support available since it was merged with another company, Laurianna hasn't quite finished her second year. We found another program that we are going to try beginning this year and see exactly where she is (so far she has finished about 1.5 years of Spanish).
When the program wasn't working for her and we were trying to figure out an alternative, she checked out books in Spanish (some of her favorite novels) and worked on reading them alongside her copies. She also has been spending time with several friends who speak Spanish which has been encouraging and helpful to her. Overall, hoping for a much better outcome in the upcoming year!
Personal Finance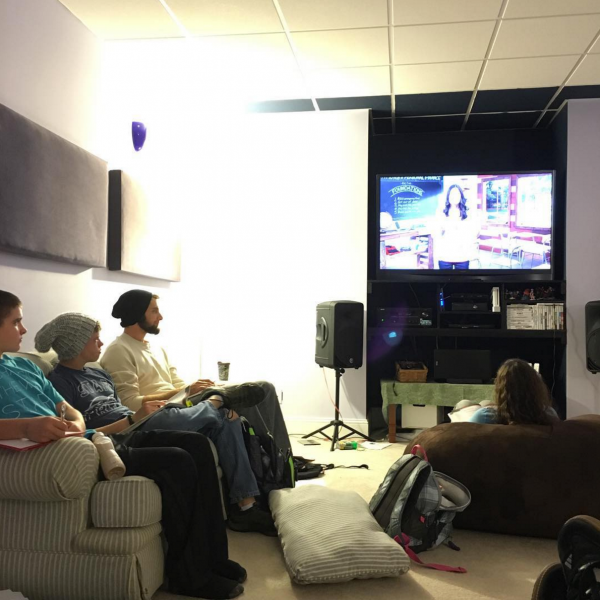 While there really aren't any exciting pictures to show from this class over the past year, our Foundations in Personal Finance class via Dave Ramsey is one I would highly recommend for any high school student. We typically worked on one unit over the process of two or three weeks and the kids completed additional assignments during the week.
One thing I personally loved – the kids created a zero-based budget each month (granted for some kids very easy since they currently had no income), but having them consistently walk through the process was good practice. Overall, the kids learned about a huge realm of topics: creating an emergency fund, insurance, purchasing a car, paying for college (without borrowing money), and hands-on, practical topics they will use for years to come.
For Laurianna, it was very encouraging and gave her some definitely goals for the upcoming years. She has already established her $500 emergency fund and been working hard over the summer to put aside money for her first car.
Apologetics
This was another class Laurianna absolutely loved, and one we completed as a part of our small high school co-op. Although we had a small group of kids (only six), the discussions on current topics and issues that have shaped society were great to listen to. Overall, the Lightbearers program itself was solid, and our only complaint was the need to update video clips to more current clips (rather than from the late 80s and 90s).
PE/Swim
Laurianna received credit for participating in a year-long swim team (she attended practices 3-4 times a week for 1.5 hours at a time). Her swimming did improve over the course of the year and she is definitely one of our more determined and focused children when it comes to practice. Her love for swimming has spilled over into her job for the summer too, and for her birthday she asked for a lifeguarding course – and now lifeguards and teaches swim lessons at a local pool.
Voice Lessons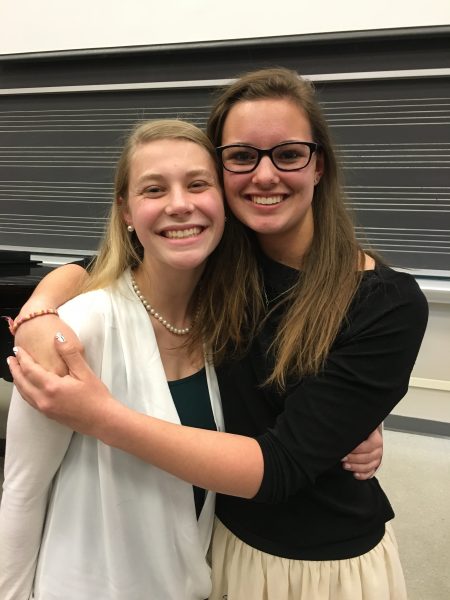 During the spring semester, Laurianna had the opportunity to take part in voice lessons through a local university. We had much fun getting to know her instructor better (what is nicer than having a weekly home lesson?) and preparing for a small recital. Singing is another passion of Laurianna's, so this was an area we were completely blessed to have work out (all thanks to one of her swim team coaches).
This year was wonderful, a bit challenging at times, but puts us another year closer to graduation. Gulp! It's hard to believe the year has flown by so quickly and we definitely can't wait for the upcoming year either!
Other Year-End Reviews
Take a peek at our 3rd grade, 5th grade, and 7th grade year end reviews too! Click on the below images to read the post.