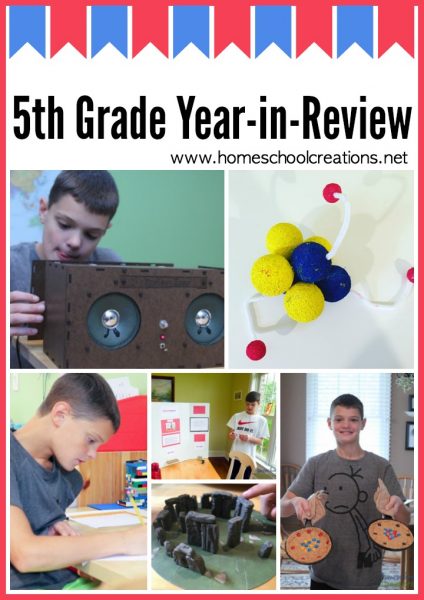 When I asked Zachary what his favorite subject for the year was, he immediately said science. And grammar. (I'll tell you it's definitely not writing, although he is doing fabulous at that). This boy is incredibly hands on and our science choices (and additions) for the year were a perfect fit for him. That said, there were a few things that he wasn't super crazy about – and that's ok too!
Last year I shared a similar series of year end posts and it really helped me figure out how we would approach the upcoming year. You can see all of our curriculum choices in this post here, but below you'll get a good look at what we used for Zachary's 5th grade year and how it all worked out overall.
The 5th Grade Year Plan…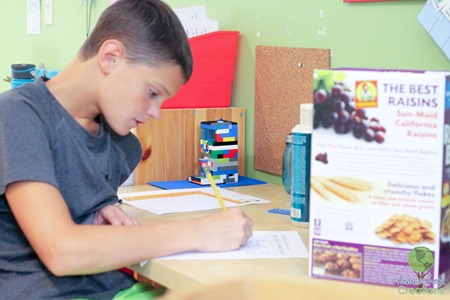 One of the biggest helps for him this year has been his weekly assignment sheets. They have been huge in keeping him on target and making him more accountable for his schoolwork – and what is (or needs to be) finished.
Here's a quick look at the overall plan for our 5th grade year…
Science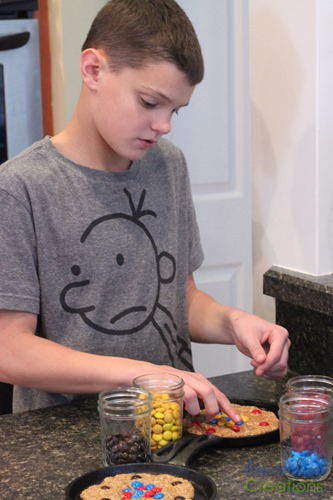 As I mentioned earlier, science is hands-down one of Zachary's favorite subject areas. Christian Kids Explore Chemistry gave him a great opportunity to work more independently in this subject area. He had two days of reading and questions, a review day, and also a day for a hands-on experiment. He learned a LOT about elements and truly loved the course. A few of our favorite projects were building atom models and also making cookie skillet atoms.
In addition to the chemistry course, one of his co-op classes worked on projects with KEVA planks.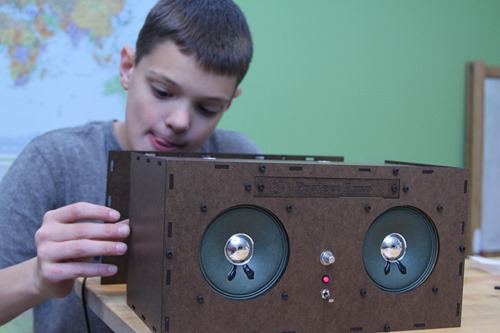 A few months into the school year we started working on the monthly subscription projects from EEME, and Zachary fell in LOVE with them. I shared last week how he learned to build an electromagnet, but there were so many additional ones as well. He especially loved (and continually uses) his Project Amp, a real life amp that connects up with musical instruments or his iPod. That amp has been carted all over the house!
While we already have our choice for science down for him next year (one that has a weekly projects as well), we definitely plan to continue using EEME for additional learning fun!
Spelling
For All About Spelling we typically worked on one lesson a week (a few chunks where we did every other week). We didn't push hard, but over the last year he has shown remarkable improvement in both spelling and reading but did see huge improvements in the area. We also worked on All About Homophones, but that was more of an occasional lesson (maybe seven throughout the year based on what we were learning). For those of you who know me well, you know that it is our favorite homeschool spelling program, hands down!
Reading & Read-Alouds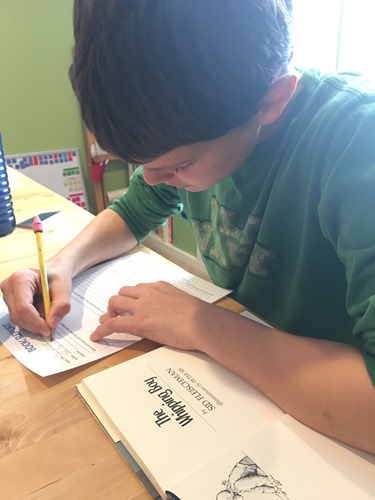 Having a set shelf for Zachary to see what books are in the line-up for him to read over the course of the year has been a big help for both him and me. We managed to get through almost all of the books from Zachary's 5th Grade Reading list, with the exception of The Silver Chair by C. S. Lewis (which he is reading this summer). After most of the books, he would complete a book report and we would discuss key points of the book using this helpful guide.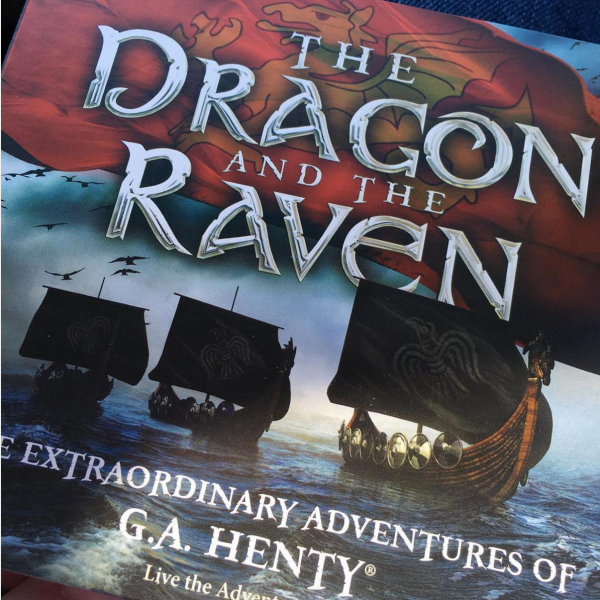 We did listen to some great audio adventures from Heirloom Audio as well, and those CDs have been in the boys' room during their rest time to listen to over and over.
Math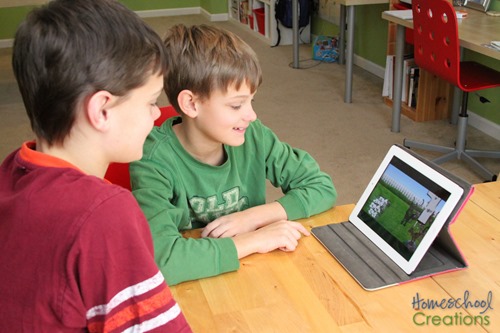 Teaching Textbooks is definitely another program we plan to use next year with Zachary. It has been a perfect fit for our family. We added in some fact learning fun using Times Tales (we used the download version). This program helped the boys focus on some of the harder times tables and we'll keep the videos on hand to review next year as well.
Grammar/Language
Grammar is another of Zachary's favorite subject areas, especially Daily Grams. There honestly isn't much to show in this area, but it is one thing he is determined to work on each day. (grins)
For vocabulary, we worked through several cards a week and will continue to use the cards from Marie's Words next year. All of the kids really enjoyed the visual part of learning the words.
History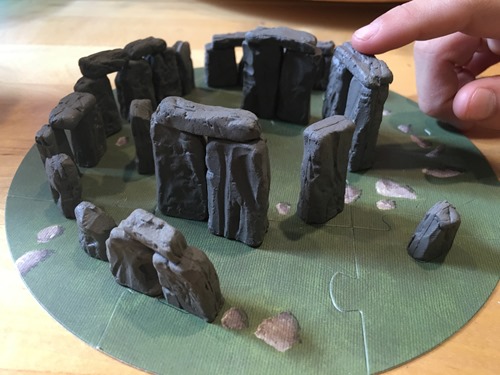 Zachary loves drawing to go along with history, so our comic strip illustration printables were helpful (especially since he would rather draw than have to write notes). He is able to keep up better with the lesson – both of our boys are not a fan of anything that involves physical writing. Any chance we had to build or do something hands-on was also a huge help. The above miniature Stonehenge kit was one of those things the boys loved and had a blast recreating (and then watching endless YouTube videos on different theories).
Next year we will be switching up history a little bit – not because we don't like Mystery of History 1 and Story of the World 1 – but we are going to try to tie in our learning with our high schoolers so we can go on some fun field trips together for US History.
Writing
Zachary worked through the WriteShop Junior E program this year and it was a great pace for him. We have loved their programs, but will be using something different next year for him as he isn't quite ready for the next level of WriteShop.
Bible
We took it slow and easy with Grapevine's New Testament Overview (as a group) and also added in Big Truths for Young Hearts each morning. The latter is one we will continue working through since it's more of a family discussion time and has about 52 weeks of reading.
Art
Zachary is not an art lover at all. Despite that, we will continue it next year (because art is important!), but this time we'll do it as a co-op class with a small group of kids. Being a part of a group of kids will likely make a big difference in his attitude toward it as well. :)
Handwriting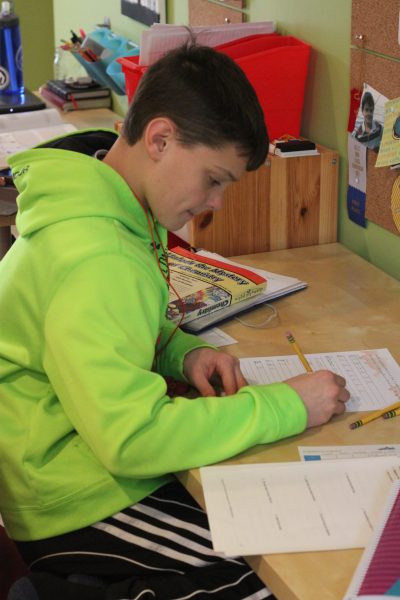 While the cursive program (and memory verse learning) we worked on this year was great, next year Zachary will be moving into more writing overall, so we may skip out on a full handwriting program.
The Bust Subjects
Although I had grand plans with geography for the year, we focused on what we learned through history and didn't on a specific program. Waiting until next year on this one.
Co-op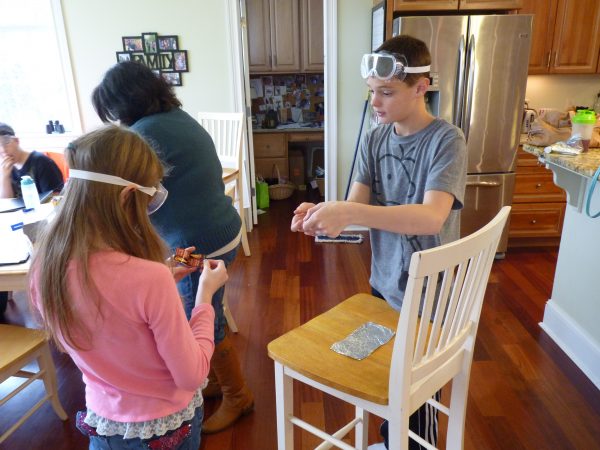 Between two different co-ops this past year, Zachary had a variety of classes, including a lit/science class based on the
Mad Scientists' Club book
, a law/court class (learning how the judicial system works), PE, and a STEM building class. I truly love the chance to get together with other families and work on different classes we might not normally fit into our year. Next year we will only be participating in one co-op (for my sanity).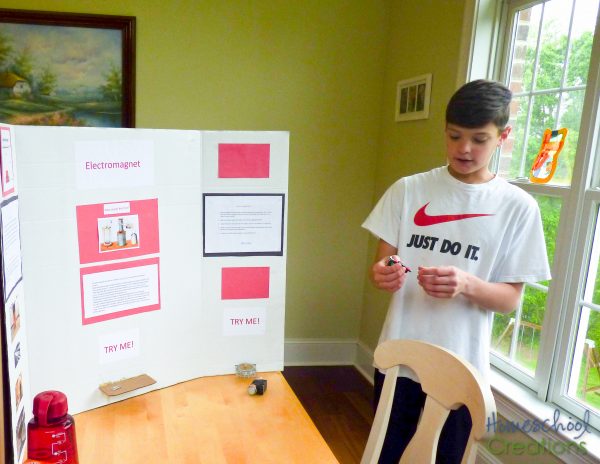 One of the classes (Mad Scientists Club) allowed Zachary the chance to put together a science display for a small science fair, where he shared how electromagnets work. He put together a board explaining more about them and walked everyone through building one using his recent
EEME Project Attraction
.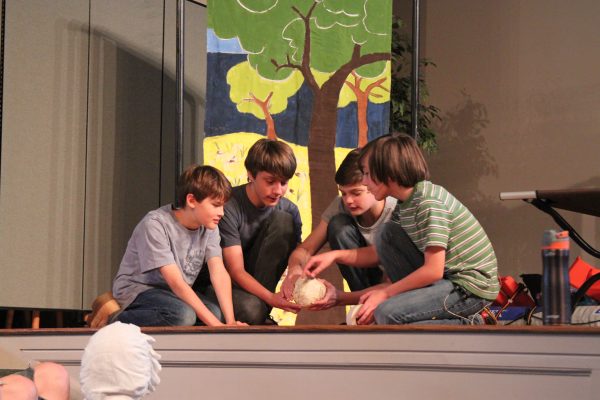 A highlight for Zachary was also taking part in the co-op musical where he had a solo and one of the speaking parts. Typically the kids have to wait until their 5th or 6th grade year to have a speaking part, so he was excited to be a part in this way.
The kids were also a part of a year round swim team, and while they started off enthusiastically, by February/March, their energy was petering out. If we decide to do it again in the upcoming year, we will likely choose a shorter time-frame for the kids. Zachary truly loves it, but it involves a lot of driving and time in the evenings, so sometimes finding the balance is tough!
While this isn't necessarily school related, in a round about way, it is. Zachary was eligible to join Boy Scouts earlier, but we held off until he was showing a little more responsibility in areas at home and school. He has absolutely loved joining up and finished up a week at Scout camp – and had a blast!
Other Year-end Reviews
Take a peek at our other year end reviews for
3rd grade
. I'll be sharing our 7th and 9th grade soon, so be sure to check back – as well as our plans for the upcoming year!