Last week I shared our 3rd Grade Mid-Year Review, and today I'd love to share what our 5th grader has been up to. Pretty much everything we had in our initial homeschool curriculum choices has been wonderful, but we have tweaked (or held off) on a few things – and I thought you all might like to see what Zachary is enjoying the most as well!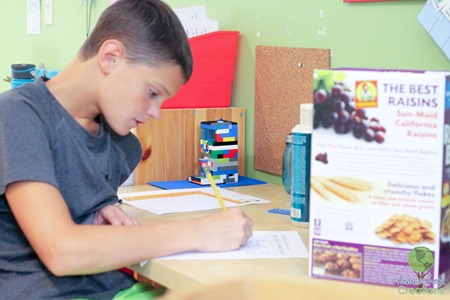 One of the main focuses for Zachary this year was helping him become more independent in his learning – and also more focused. That means less of mom needing to remind and constantly nag, threaten, cajole, or want to hide in the closet and more of "Hey mom! My work is done and you didn't say a thing!"
We may still be working on that last one, but most days are a step in the right direction. Hallelujah.
5th Grade Homeschool Curriculum Choices
Here's a look at the overall plan for our 5th grade year…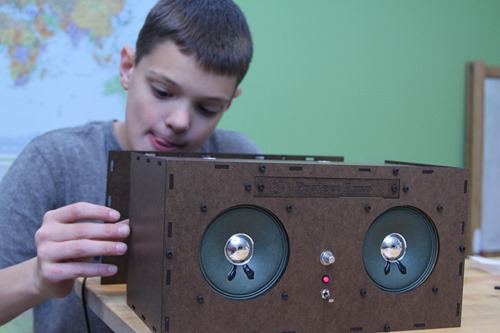 Zachary is most loving history, Christian Kids Explore Chemistry and the various EEME projects (especially Project Amp). One of the biggest helps for him this year has been his weekly assignment sheets. They have been huge in keeping him on target and making him more accountable for his schoolwork – and what is (or needs to be) finished. The special STEM projects are also incentive to get his overall school work done. It may seem mean, but unless his assigned work is completed, he isn't allowed to work on any other projects. Typically this has been amazing motivation for him to get it all done (and fast).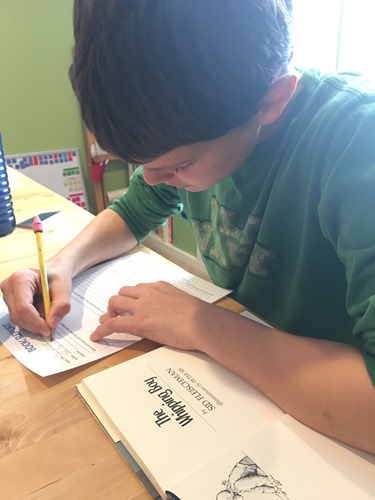 One thing that is so exciting to see is Zachary's desire for reading increase. In addition to the books he is reading for fun (yay!!), he is willingly pulling other books off the shelf to read for school. A little over a year ago this wasn't the case, so it brings such joy to my heart.
Our combination of Mystery of History and Story of the World has been great. Zachary really loves the comic strip illustrations for taking/drawing notes and cracks me up with his drawing. Although we are cycling back to an era of history we have covered before, we are covering some new material and refreshing what we learned before (which is always good!).
The vocabulary cards are another favorite as well. Zachary and McKenna are remembering so much and Zachary specifically enjoys the picture reminders. He's usually first to jump in with an answer and remind me when we don't review the cards.
What We're Adding (or already have)
Times Tales – To help out with the upper times tables, both boys worked through Times Tales (we used the download version)

PE – The kids decided to participate in swim team for the year. Zachary has practices 3-4 times a week, depending on our schedule, and he has really enjoyed swimming. Within the first few weeks he was bumped up to a harder level, which has been very good for him on so many levels.

Boy Scouts – While this isn't necessarily school related, in a round about way, it is. Zachary was eligible to join earlier, but we held off until he was showing a little more responsibility in areas at home and school. He has been over-the-moon excited to begin, and we are thrilled too, since our church has a Scout troop that is amazing with wonderful godly leaders from our church.
What We've Put Aside & Postponed
Geography: Although I had grand plans with this for the year, we are focusing on what we are learning through history and not working on a specific program. Waiting until next year on this one.
What Mom Needs to Focus More On
Read-alouds – Much of our read-aloud time was spent with audiobooks in the car, but was also hard since one child was here and another was there and no one wanted to miss out on anything. We've decided instead to push along in a book and later tell the missing sibling what happened when they were gone. That way we can cover more ground together. Having the kids DOING something (like building with LEGOs or drawing) has been a huge help.
Being Calm – If there is one of my children that can push my buttons quickly, it would be this one (and another one). Sometimes it's very hard to be firm and know when to let something go. There has been a fine balance of figuring out when to let boy wonder be accountable (because he seems to think he knows best) and also pushing to ensure the necessary is completed. And stay calm in the process.
That's about it for our 5th grade mid-year curriculum review! How is your year going so far?
Take a peek at our 3rd grade, 5th grade, 7th grade, and  9th grade curriculum choices for the year as well! Click on one of the images below to look over their curriculum piles.