Over the years our kids have drawn their way through multiple Bible stories using simple stick figures and learned so many Biblical facts and truths. They've even started using stick figure drawing in their other subjects, like history, because the method has been so effective for remembering what they are learning.
They have some fabulous studies to finish out your school year, including an 11 week study on the Resurrection. Our kids loved that study!
Save 40% on Grapevine Student Books
Through February 7th you can take a whopping 40% off all student books and student ebooks from Grapevine! This is their BIGGEST sale of the year and one you don't want to miss.
If you're not sure where to start, browse the Grapevine site a little and get an idea of what would be a good fit for your family. There are studies and ebooks for preschoolers through family studies. We've always chosen the ebook versions of each study, loaded the teacher's manuals on my iPad, and printed off what we need for the kids.
What We Love About Grapevine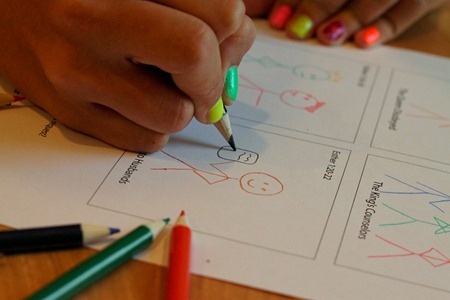 Four-square layout for the studies ~ this feature saves a lot of paper space and ink on printing.

Multi-colored stick figures ~ the variety keeps the kids really involved in the details of the drawings, even though the drawings are based on stick figures

The ebook works PERFECTLY on iPads and Kindles ~ Teachers can save more paper and ink by using the ebooks on laptops or iPad. This feature has changed my opinion of ebooks!!

It is multi-aged focused ~ I love that we can use this with all of our kids, and everyone is learning during the lessons. The visual aspect helps the kids remember more about the lessons and the fact that we can work together as a family means a lot to me.